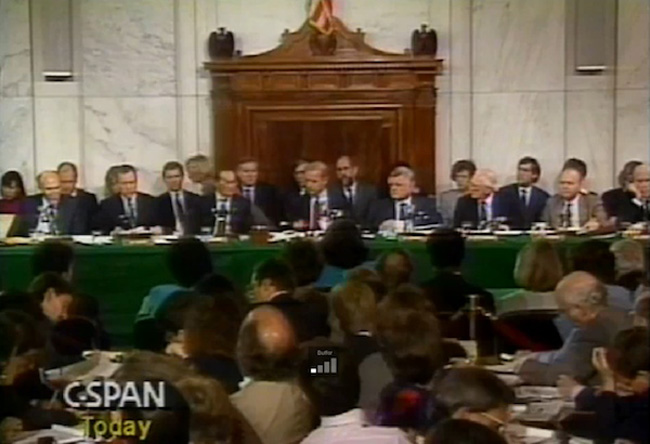 Almost two weeks ago the U.S. Supreme Court ruled by the most chauvinist margin that certain company owners have the right to stick their business where it absolutely doesn't belong: in a woman's uterus. Five justices, all of them men, all of them Catholic, none of them with a uterus that we know of, ruled that companies may deny employees contraceptive coverage on allegedly religious grounds. It's the first time in Western civilization that a majority of Supreme Court justices is actually more Catholic than the reigning pope.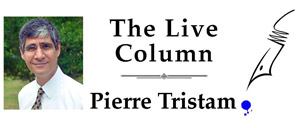 The decision reminded me of another low point in the history of American government. It goes back to 1991 when the 14 men who made up the Senate Judiciary Committee leered down at Anita Hill and ridiculed her claims that Clarence Thomas was not the upstanding judge they thought he was, but a lecher who didn't know his bounds with women anymore than he knew not to speak of "Long Dong Silver" and pubic hair-laced Coke at work.
Most of those 14 senators—who included such stalwarts of feminism as Strom Thurmond, Orrin Hatch, Alan Simpson, Howell Heflin and Ted Kennedy—were so clueless in matters of sexual harassment that they considered it a workplace pastime. So obviously Thomas was confirmed, albeit barely, and became unsurprisingly one of the most callous justices in the high court's history. He still sits there, giving his vote to women-bashing decisions as in the Hobby Lobby decision two weeks ago, that sad echo of the Judiciary Committee's misogyny 23 years before.
The five so expanded the already nauseating notion of corporate personhood as to eliminate the line between a corporation and its individual employees, making those employees subservient to their employers not just as workers, but as individuals, private, sexual freedoms included. It isn't enough that employers already hold near-tyrannical powers over their workers, especially when job-hopping is no longer possible. Now employers can meddle in sex lives.
The religious claim is a mask, and an ugly one, considering that we're in the 21st century, not the 19th. A business has no more right to deny an employee contraception on religious grounds than it has the right to bar blacks or Jews or women from employment on similar grounds. Otherwise we could pretend the 14th Amendment doesn't exist and still apply the 19th century rationale that the Bible justified segregation and the subservience of women, or the exclusion of Jews on similarly outdated bigotries. Why it's no longer OK to exercise that sort of discrimination but it's perfectly OK to discriminate against women's sex lives, equal protection be damned, is clearly not a question our cardinal-envying justices wanted to address.
Defenders of the decision claim the justices were merely granting businesses the right not to approve of contraception that induces abortion. But that argument is rubbish, because it's based on the sort of bunk science, or anti-science, that places religious assumptions ahead of empirical evidence. There are no such things as contraceptives that induce abortion. There are contraceptives that prevent a fertilized egg from attaching itself to the uterus immediately after conception. But to equate that with an abortion would then make every woman  who's ever experienced a miscarriage, sometimes weeks and months into pregnancy, guilty of abortion. That would be nuts, since a third of all pregnancies end in miscarriage, in which case we should be taking all our womenfolk to the International Court of Justice in the Hague for perpetrating genocide.
But never underestimate the power of religion to assassinate common sense. Or the growing power of reactionary Americans who think that because a couple of Fox-trotting crackpots manage to contradict what ought to be irrefutable majorities of scientists, then the science on everything from global warming to stem cells, vaccines, evolution, sex education, health regulations and of course contraception is declared "unsettled" and mere "opinion," on equal footing with the crackpots' own fantasies. Facts mean nothing. Science means nothing. Ideology and its evil twin—"beliefs"— is all. And men like David Green, the owner of Hobby Lobby who should be enjoying his billions to his heart's content, but without molesting America's privates, suddenly manage to graduate their Pentecostal screeds to controlling legal precedent. We most certainly are in Kansas, Toto.
We might have expected a little more from five relatively bright and seasoned justices. But those are the same five who gave us just a few weeks ago that other decision to please the mullahs among us—the ruling that made it legal to pray to an explicitly Christian God at government meetings. Who needs the First Amendment anyway. Our local governments are not so contemptuous of their diverse constituents to do that, except one—Bunnell, where they have the city commissioners themselves  pray at every meeting. Look how well it worked. The city is facing bankruptcy. Let's just pray they don't cut their employees' contraceptive coverage next, assuming they even provide it.

Pierre Tristam is FlaglerLive's editor. Reach him by email here. A version of this piece was broadcast on WNZF.