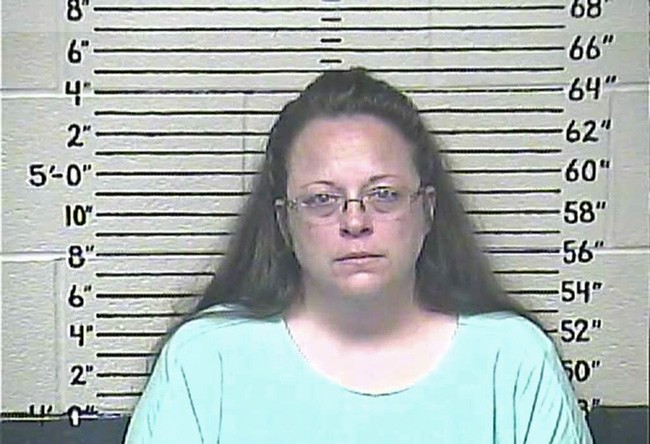 The South has a long history of mistaking Supreme Court decisions for something closer to opinion columns than laws. You can disagree with an opinion column like this one, as the comment section below will soon attest. But you must abide by laws. Southerners sometimes have a hard time with the concept. Andrew Jackson almost 200 years ago defied a court decision that ordered the state of Georgia out of Indian affairs. George Wallace a half century ago thought segregation his god-given right to impose in defiance of supreme court decisions to the contrary. (We owe Wallace the rebirth of Confederate finger-flipping on government grounds.)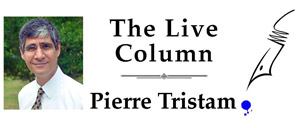 More recently several southern states found ways either to challenge Obamacare, undermine it or refuse to implement life-saving components like Medicaid expansion.  Without looking too far, Bunnell's city government every year snubs court decisions by itself sponsoring, rather than merely participating in, its explicitly Christian "day of prayer."  
Now we have a self-righteous clerk of court in Kentucky, married four times, divorced three,  refusing to marry gays and lesbians. Kim Davis doesn't think the recent supreme court decision legalizing gay marriage applies to her because in her world god's law ranks higher. A federal judge sent her to jail. She could have avoided that had she allowed other clerks in the office to issue licenses, a common sense compromise that skirts the legalities while generously giving religious objectors a way to marry job and belief, however intolerant the belief or illegal the arrangement. But she refused even that much, signaling that this is really not a deep personal belief sort of thing as much as a dogma she wants imposed on people seeking a marriage license as much as on fellow-employees seeking to accommodate them. (Several deputies started issuing licenses Friday, against her orders. Davis's lawyer claims the licenses are "not worth the paper they're written on.")
Davis is not the problem. She's a symptom of a new and viral movement–and by viral I mean diseased rather than popular–that seeks to carve out religious objections all over the law books, turning the First Amendment on its head and making civil government a vassal of religious edicts rather than a protection against them, as it was intended to be. It is an attempt to dismantle the secular state in the name of personal or corporate religious "preferences," the euphemism used to cover what amounts to exclusion and discrimination in, of all things, god's name.
Conservatives revile affirmative action–except when it comes to religion. Religious organizations that have long profited from tax exemptions are now adding increasing numbers of exemptions from regulations to skirt laws, standards, inspections and transparency everyone else must to comply with. That's how Hobby Lobby, aided by the five cardinal-robed Catholic majority on the Supreme Court,  denied its employees contraception they're owed under federal health insurance laws. It's how parents keep their children from being vaccinated while weakening public health's immunities. It's how Florida lawmakers justified the foul attempt earlier this year to legally ban transgenders from using the bathroom of their choice. It's how sectarian child care centers in Florida can legally evade inspections. It's what's kept federal stem-cell research shackled to religiously imposed restrictions of zero scientific validity.
June's Supreme Court decision legalizing gay marriage was a great victory for gays and lesbians and a civil rights landmark. But it's become the rallying cause of  America's mullahs, among them most of this year's Republican candidates for president, to further put Christianity above the law, or at least subject the law to religious tests. That's where Kim Davis got her spiel about god's authority trumping the law of the land. The Taliban, ISIS and Saudi Arabia's Wahhabites make the same claim, but since they do it in Arabic we tend to miss the connection.
As long as we're talking marriage, morals, god's law and religious exemptions, could Muslims seeking to marry four wives or Mormons seeking to marry 40 now have that right under the guise of religious privilege? Could North African immigrants have the right to snip off their daughter's clitoris? Could a Hindu wife immolate herself on her husband's pyre during a home-baked funeral in suburban Somewhereorother? Since the First Amendment could now so easily be flouted, could any of a million Southern nostalgists revive slavery and cite biblical edicts to trump the 13th? Could wife-beaters unite behind St. Paul's misogyny for their next defense in court? For that matter could a humanist fireman who finds dogmatic Christians particularly revolting refuse to answer the call at Southern Baptist church blaze?
Absurd scenarios every one of them, at least in the United States. But no less absurd than the Kim Davises of the world who claim their version of god's authority trumps the nation's secular laws.
I would have more respect for people like Davis if she invoked the country's long tradition of civil disobedience. But the giveaway is in the word civil. It's an appeal not to god or any other otherworldly abstraction, but to civil and human rights. Rosa Parks refused to go to the back of the bus not because she felt she had a god-given right to ride up front, but because she wanted the same rights whites had, here and now. She was seeking equal access. She wanted her piece of the 14th Amendment.
If the civil rights movement often did conflate rights with god, it was a god of inclusion and universal respect. The god being invoked in disputes over gay marriage would be unrecognizable to the civil rights movement, or to anyone who's invoked god in the context of civil or human rights. It's a resentful, angry, petty god, a god of hate rather than a god of love. The Constitution certainly protects counterfeit Christians no matter what they believe. What it does not do is allow the corruption of government that serves us all by those individual beliefs. It's the difference between permissible ignorance and ignorance granted the force of law. The gospel according to Kim Davis, in other words, has no place in civil government.
But we haven't heard the last of that crock.

Pierre Tristam is FlaglerLive's editor. Reach him by email here or follow him on Twitter @PierreTristam.A version of this piece aired on WNZF.