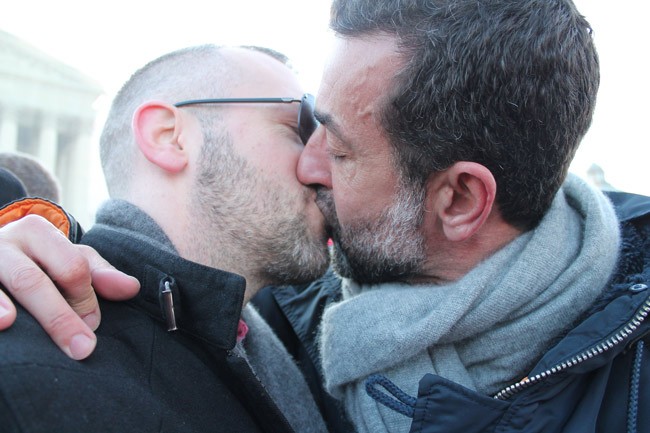 The United States Supreme Court this morning declared gay marriage legal across the United States in a 5-4 decision authored by conservative Justice Anthony Kennedy. The ruling takes effect immediately.
The case, Obergefell v. Hodges, raised two questions, as summarized by Scotus Blog: 1) Does the Fourteenth Amendment require a state to license a marriage between two people of the same sex? 2) Does the Fourteenth Amendment require a state to recognize a marriage between two people of the same sex when their marriage was lawfully licensed and performed out-of-state?
The court answered yes to both questions in a decision that now ranks with Brown v. Board of Education, the 1954 decision that declared school segregation unconstitutional, as one of the last two generations' most historic advances for civil rights.
"It is now clear that the challenged laws burden the liberty of same-sex couples, and it must be further acknowledged that they abridge central precepts of equality, " Kennedy wrote. "Especially against a long history of disapproval of their relationships, this denial to same-sex couples of the right to marry works a grave and continuing harm. The imposition of this disability on gays and lesbians serves to disrespect and subordinate them. And the Equal Protection Clause, like the Due Process Clause, prohibits this unjustified infringement of the fundamental right to marry."
The ruling concludes: "No union is more profound than marriage, for it embodies the highest ideals of love, fidelity, devotion, sacrifice, and family. In forming a marital union, two people become something greater than once they were. As some of the petitioners in these cases demonstrate, marriage embodies a love that may endure even past death. It would misunderstand these men and women to say they disrespect the idea of marriage. Their plea is that they do respect it, respect it so deeply that they seek to find its fulfillment for themselves. Their hope is not to be condemned to live in loneliness, excluded from one of civilization's oldest institutions. They ask for equal dignity in the eyes of the law. The Constitution grants them that right."
Kennedy was joined by Justices Ruth Bader Ginsburg, Stephen Breyer, Sonya Sotomayor and Elena Kagan. Chief Justice John Roberts dissented, as did Justices Clarence Thomas, Antonin Scalia and Samuel Alito. Each of the four dissenters filed a dissent.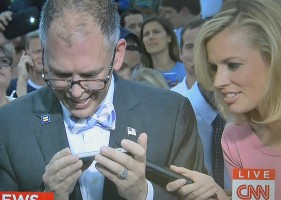 Jim Obergefell, the lead plaintiff whose name will now be always attached to the decision, was live on CNN when he got a call from President Obama on his cell phone at 11:06 a.m. "Jim," the president said, "I figured when I saw you that we were going to be hoping for some good news and wee did. I just wanted to say congratulations. You know, your leadership on this changed the country."
"I really appreciate that Mr. President," Obergefell replied. "It's really been an honor for me to be involved in this fight and to have been able to, you know, fight for my marriage and live up to my commitments to my husband. So I appreciate everything you've done for the LGBT community and it's really an honor to have become part of that fight."
"Well, I'm really proud of you," the president said, "and just know that not only have you been a great example for people but you're also going to bring about a lasting change in this country. It's pretty rare when that happen, so I couldn't be prouder of you and your husband. God bless you."
Moments later Obama spoke to the nation. "Today we can say in no uncertain terms that we've made our union a little more perfect," he said. Toward the end of a speech marked by his deliberately halting delivery of phrases harnessed to a momentously historic moment, he appeared less guarded and more emotional. "That's the consequence of the decision from the Supreme Court. But more importantly, it is a consequence of the countless small acts of courage of millions of people across decades who stood up, who came out, and talked to parents, parents who loved their children no matter what. Folks who were willing to endure bullying and taunts. What a vindication of the belief that ordinary people can do extraordinary things. What a reminder of what Bobby Kennedy once said about how small actions can be like pebbles being thrown into a still lake, ripples of hope cascade outwards and change the world. Those countless, often anonymous heroes, they deserve our thanks. They should be very proud. America should be very proud."
Roberts, who read his dissent from the bench–the first time he has ever done so–ended his 31-page opinion with bitter words: "If you are among the many Americans–of whatever sexual orientation–who favor expanding same-sex marriage, by all means celebrate today's decision. Celebrate the achievement of a desired goal. Celebrate the opportunity for a new expression of commitment to a partner. Celebrate the availability of new benefits. But do not Celebrate the Constitution. It had nothing to do with it."
---
"There is dignity in the bond between two men or two women who seek to marry and in their autonomy to make such profound choices."
–Justice Kennedy.
---
Roberts was begrudging process more than whether gay marriage is just or not. At the top of his decision, he wrote: "The people of a State are free to expand marriage to include same-sex couples, or to retain the historic definition. Today, however, the Court takes the extraordinary step of ordering every State to license and recognize same-sex marriage. Many people will rejoice at this decision, and I begrudge none their celebration. But for those who believe in a government of laws, not of men, the majority's approach is deeply disheartening. Supporters of same-sex marriage have achieved considerable success persuading their fellow citizens—through the democratic process—to adopt their view. That ends today. Five lawyers have closed the debate and enacted their own vision of marriage as a matter of constitutional law. Stealing this issue from the people will for many cast a cloud over same-sex marriage, making a dramatic social change that much more difficult to accept."
Acceptance, however, is broad across the United States. While just 10 years ago overwhelming majorities of Americans opposed same-sex unions and showed their disapproval at the polls through numerous amendments to their state constitutions, including in Florida in 2008, a shift began, in 2004, when Massachusetts became the first state to legalize same-sex marriage–through a court decision, not a legislative one. That decision began an extraordinarily rapid shift in the country that has since led two-thirds of states to legalize gay marriage, either through court decisions or the legislative process, while popular approval for gay marriage has shifted to majority approval. The shift, its depth and manner, belie the chief justice's assertion that courts should not have played a role.
Scalia, like his fellow-dissenters a Catholic who's long opposed gay marriage in principle, leveled a broadside at Kennedy in a footnote: "If, even as the price to be paid for a fifth vote, I ever joined an opinion for the Court that began: 'The Constitution promises liberty to all within its reach, a liberty that includes certain specific rights that allow persons, within a lawful realm, to define and express their identity,' I would hide my head in a bag. The Supreme Court of the United States has descended from the disciplined legal reasoning of John Marshall and Joseph Story to the mystical aphorisms of the fortune cookie."
Reactions poured in quickly.
"We're getting lots of comments from all over the country where courts and clerk's offices are now performing same sex marriage," one of the authors of Scotus Blog, first to report the ruling, reported at 10:51 a.m.
"This is an historic win for couples in Florida and across the country," ACLU of Florida Executive Director Howard Simon said in a statement. "Six months ago, the freedom for all to marry was secured in Florida when a federal judge issued a ruling in our case that struck down Florida's ban on marriages for couples of the same sex. Today's historic ruling means that victory – and similar court victories across the country — will stand and that the remaining states will all be barred from refusing to issue marriage license to loving and committed same-sex couples. The Supreme Court has affirmed what a majority of Floridians and indeed all Americans have come to understand: that the freedom to marry is a precious and fundamental right that we all share under the Constitution, and that no family should be denied that. We are proud of our colleagues from the two ACLU lawsuits that were among the cases that brought about this decision. But more importantly, we are thrilled for the hundreds of thousands of couples and their families for whom this victory has been decades in the making."


The Gay Marriage Decision, 2015
<![if !IE]><![endif]>