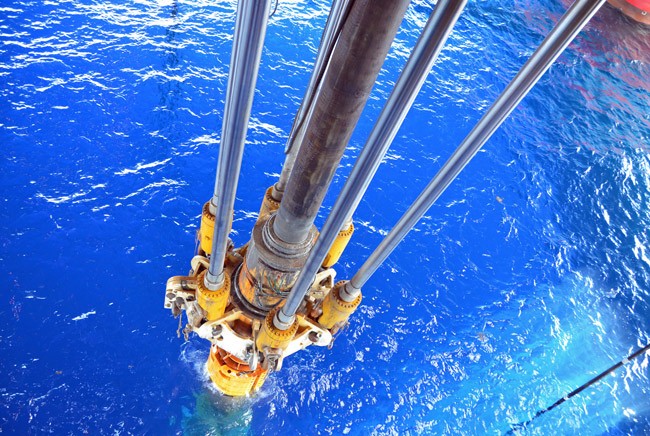 Two weeks ago Flagler County commissioners said they wanted to formalize their opposition to off-shore oil and gas drilling and to fracking, the technique of drilling for oil through hydraulic fracturing of soil and rock beneath the surface. This evening, commissioners are expected to approve two resolutions to that effect.
Currently, some 90 percent of federally owned coastal waters are closed to drilling. Drilling off of Florida's Gulf coast is banned until at least 2022.
But in January, the Obama administration—in a surprise—presented a plan that would allow oil and gas drilling off the Atlantic coast along the coastline of southern states. Leases would be issued in waters starting in Virginia and ending in Georgia, but not off of Florida. That followed a move by the U.S. Bureau of Ocean Energy Management last summer to allow seismic testing related to oil and gas exploration offshore along the entire coast—including off of Florida waters.
Sen. Bill Nelson, the Florida Democrat, sees the seismic testing allowance as a first step toward actual drilling. He failed to get the administration to back off of such testing. In late April, he filed a bill, S. 1171, that would impose an open-ended moratorium on oil and gas-related seismic activity. The moratorium would be lifted only if the National Oceanic and Atmospheric Administration determines that such activity's effects on individuals or populations of marine mammals, sea turtles, or fish "are minimal."
"Drilling off Florida's Atlantic coast would be unwise and impractical," Nelson said. "It would interfere with military operations off of Jacksonville and rocket launches from Kennedy Space Center and Patrick Air Force base, not to mention the environmental hazards it would pose. If you're not going to drill there, then why do the seismic testing?"
Seismic testing triggers largely unknown effects on marine life. In March, 75 leading ocean scientists wrote Obama, urging him to halt the use of seismic testing off the Atlantic coast, claiming the activity "represents a significant threat to marine life throughout the region." Gov. Rick Scott, too, asked the administration in late March to halt testing.
At a May 4 Flagler County Commission meeting, Commissioner Barbara Revels asked the county administrator to draft a resolution supporting Nelson's and the governor's opposition to seismic testing, and urging Congress to pass Nelson's bill. The "enormity of environmental and ecological risk, in addition to that of public health and human safety," the Flagler resolution  reads, "surpass the desire to expand oil and gas exploration and drilling in the advancement of strategic private business goals and objectives."
The resolution makes note of the 2010 Deepwater Horizon disaster in the Gulf of Mexico, and ties the county's opposition to oil and gas drilling to Flagler's tourism industry.
"Long term damage to marine life, ecosystems, business, and tourism around Florida's Panhandle and along the coast has illustrated the gravity of economic and environmental danger oil and gas related catastrophes pose for the entire State should well-drilling in this region be permitted by Congress," the administrator's memo to the commission reads. "Flagler County is a hub for tourism in Florida and as a Coastal County, relies heavily on a clean ocean and beach environment to attract this new business both local and abroad."
Revels also sought a similar statement opposing fracking, even though no such exploration appears likely in the county in the near future.
"I'm trying to think if you can even do fracking in Flagler County," Commission Chairman Frank Meeker said.
But fracking has been drawing increasing attention and causing controversy because of its potential to heavily damage the environment, even though out of view. Fracking is conducted by drilling beneath the soil's surface and injecting shale layers with mixtures of water and chemicals at extremely high pressures to release oil and gas trapped in rock. The relatively new exploration method led to a surge in oil and gas production in the United States, especially in North Dakota, Wyoming and Texas, but it has also been tied to small earthquakes and to the poisoning of water acquifers.
A bill filed in the Florida Legislature in the last, abbreviated session would have called for studies on fracking's effects. The bill died.
"You talk about Florida's water system, and all of our porous lime rock, and they start pumping that goo into our state and we will never have" clean water, Revels said.
And the problem with the limestone is it so easily can dissolve and collapse, and all of a sudden I've got a building falling," Meeker said.
It is "the sense of this Board that the potential high-risk negative impact on the local and regional environment imposed by the process of mass hydraulic fracturing in the State of Florida is too perilous to allow these practices before the conclusion of a responsible scientific study and a potential moratorium by the people of this State," the Flagler resolution reads.
The same day Flagler commissioners said they wanted to make the local government's position known on fracking, the Texas legislature passed a bill prohibiting local governments from banning any sort of oil and gas drilling within their boundaries, including fracking. It was a hint of what's ahead in the political debate over oil and gas exploration.