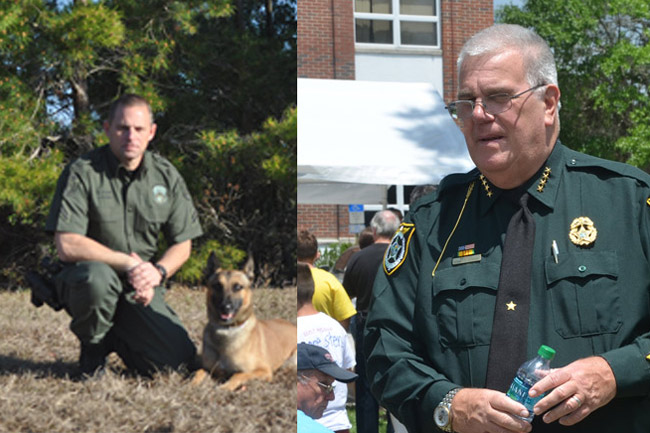 Note: the full Internal Affairs investigation is below.
Flagler County Sheriff Don Fleming, in the closing days of his eight-year administration, has reached a settlement with the Police Benevolent Association, the cops' union, following an Internal Affairs investigation of Jamie Roster, clearing Roster of the most egregious accusations he faced. Roster is the deputy accused of falsifying time sheets and taking in more than $8,406 in unworked hours in the six months between the end of June 2011 and Jan. 10, 2012.
Roster was a sergeant at the time of the investigation, which was triggered by several of the deputies he supervised in a K-9 unit, and was completed at the end of February 2012. He was demoted two ranks after the investigation, but kept his $52,500 salary.
On Friday, the sheriff's office, in a news release, announced that Roster was re-instituted to Sergeant. His discipline: a one-day suspension without pay and a written reprimand "for failing to log in to his Mobile Date Terminal which is required by policy," the release states. The release does not state that Roster was also given back pay of more than $1,000 for time he'd worked but not been compensated for, essentially erasing his financial penalty. He was for a period after March 22 on administrative leave with pay, pending his appeal of the decision.
The sheriff and the PBA shifted the blame for the discrepancies between time sheets and hours worked on a time-keeping system the sheriff and the PBA say must be audited externally. Remarkably, the settlement includes a revelation that time-keeping discrepancies such as Roster's are systemic, with other deputies apparently having similar gaps between time worked and time reported. Those details had not been clear in the internal investigation, though in most organizations, any such discrepancies are usually dealt with very severely.
The settlement amounts to a pardon days before Fleming is scheduled to leave office (on Jan. 8) and yield to the new Sheriff, Jim Manfre, who defeated Fleming in the November election. The settlement triggered serious dissent within Fleming's ranks, with some of his senior staff rallying around Roster, and others opposing the settlement. Especially compromised are the rank-and-file deputies who were supervised by Roster, and on whose testimonies the Internal Affairs investigation rested, in large part, as it found that Roster–who was running a lawn-care business at the time–was often not on duty even though time sheets or computer-assisted dispatch showed him to be so. Those deputies will once again be under Roster's supervision.
Fleming was convinced that Roster would prevail all along.
"He's going to win, that's why I didn't fire him," Fleming said in a recorded, on-the-record interview in July that ranged over a variety of issues he was facing. "He's going to win. Because our time-keeping system is no good. I don't have $50,000 to put in a time thing in there. It's old. We use old-fashioned shit where they write it. I guarantee you, in the long term, between you and me, you watch. He's going to win."
The sheriff was asked if, on principle, Roster had done something wrong, why he would not punish the deputy as he had two other deputies who had defrauded the agency. "On principle there's a couple of things," Fleming said. "He was the only person that we had trained that trained our K-9s, who's certified in the state of Florida, number one. I decorated him the year before with the crime suppression team. He ran that. We had 55 felony arrests, $250,000 in funds taken back. His record at the sheriff's office prior to that was impeccable. Very good. Excellent."
Fleming conceded that Roster at the time had kept his $52,000 salary, but "only until the appeal is over. He is entitled to keep that salary until the appeal is done. When the appeal is done, he goes down to a deputy–if he loses." But if he wins, Fleming said, by law he has to be re-instituted to his former rank. The sheriff noted at the time, when he was confident of victory, that not a single voter had made an issue of the Roster case with him.
"I feel like that if I'm guilty of anything," Roster told the investigator in February, "I'm guilty of not properly tracking my time and not documenting every minute and just doing too much on my own."
The release issued early this afternoon by the sheriff's office states that "Mitigating facts presented during the grievance process revealed there is an agency wide issue on how Sheriff's Office employees are recording their hours worked. While Sgt. Roster's investigation revealed a policy violation, it also determined this was not an isolated incident."
The release goes on: "In the agreement reached between attorneys for the Police Benevolent Association and the Sheriff's Office, an external audit of time keeping practices and policies is required. A preliminary report from the audit conducted by the Law Offices of Allen, Norton & Blue indicates there are other deputies assigned to specialized units who have more hours unaccounted for than those of Sgt. Roster. Using the same formula as that used to compute Sgt. Roster's hours, one deputy assigned to a specialized unit was missing 1032 work hours with another deputy having a deficit of 1267 hours."
Deborah Johnson, the public information officer who issued the release, was asked who the two deputies with those hours were, and what documented report those findings were based on. "We do not have a final written report on the findings," Johnson wrote back. "The two folks cited in the release were deputies assigned to specialized units and we do not have the names of the deputies. This was an audit conducted by outside counsel and we expect the written report next week."
The release goes on: "Samplings of several deputies' time keeping records were reviewed and indicated potential issues with the integrity of the agency's time keeping system." It then quotes Fleming saying what he had intimated in the July interview about an antiquated system. "We focused on providing technology for deputies to do their jobs on the streets. This investigation found an internal problem that we need to address," Fleming is quoted as saying.
"Once completed, the external audit report will be shared with the transition team to help Sheriff-Elect James Manfre determine the best course of action to help the Sheriff's Office move forward," the release concludes. The sheriff's office considers the Roster case closed.
"Obviously something failed in the sheriff's office that allowed this to happen, so we need to analyze what the failures were and make changes," Manfre said this afternoon. "I can't comment on it right now because we are reviewing the situation, I'll be speaking to counsel, I'll be reviewing the IA, and we'll be making a separate determination, which we will." By separate determination, Manfre specified that he does not mean issuing different or further punishment, as far as Roster is concerned. "I cannot issue additional punishment," Manfre said. Rather, he said, "everything will be evaluated, from the whole system that allowed this to occur, from Mr. Roster right on up."

Flagler County Sheriff's Internal Investigation, Jamie Roster Case, 2012