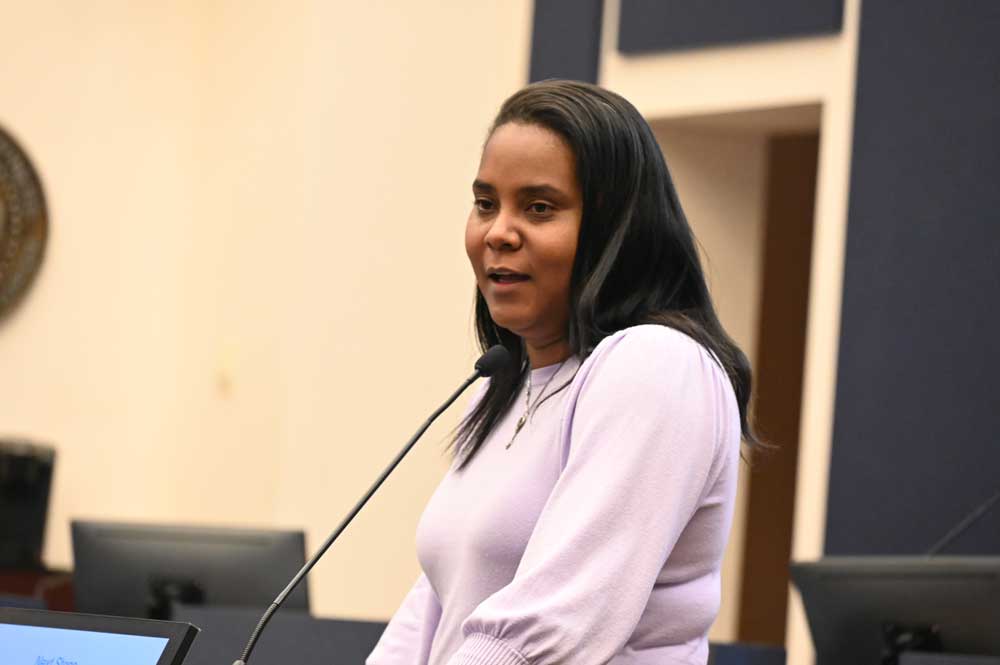 The Flagler County School Board is planning to appoint LaShakia Moore its interim superintendent from July 1 to at least the beginning of January.
Moore would fill in for Cathy Mittelstadt, who a 3-2 majority of the board fired last month when it decided not to renew her contract when it expires on June 30. Mittelstadt had elevated Moore from her position as principal at Rymfire Elementary, where she had won the district's Principal of the Year award in 2019, to Director of Teaching and Learning for the district in 2021, and to assistant superintendent a year later. Former Superintendent Jim Tager appointed Moore principal at Rymfire in 2018 after her 10 years in teaching ranks.




Moore's coming appointment was no longer a surprise. Some board members have been talking about it out of the public eye for months (as have members of the chamber of commerce, who were in part behind the push to fire Mittelstadt), and in recent weeks have been talking about it openly at board meetings. In part that was by necessity as it became clear that the board would have to have an interim no matter how fast it tried to conduct a search for a permanent replacement.
The surprise at a workshop today was the clear consensus for an idea floated by Board member Colleen Conklin, after the board had just heard of the nearly dozen superintendent positions open around Florida right now.
The Florida School Board Association is helping the Flagler board find a new superintendent. But it is also helping numerous other school board do the same. "thinking about that a little bit, that means we're asking someone to really possibly put another district in a very bad position with leaving at the beginning of the school year," Conklin said, suggesting a January start for the new superintendent instead, "so that if somebody is working with another school district, it's a more appropriate place for them to break their working relationship with the district to make a move and leap instead of starting the school year and come October 1, leaving a school district. Because I can tell you personally, I would not want that individual. Right off the bat, I'd have an issue with that, because it would be concerning to me about starting a new position, a new school year, and then leaving another district in the lurch in October."
Conklin was referring to Dusty Sims, the former Flagler Palm Coast High School principal who, the very day before the 2018-19 school year began, and just after welcoming 600 freshmen to FPC by attributing the school's acronym to the words "focus, purpose, commitment," left the school in a lurch by taking a job with the state Department of Education.




Tager, the superintendent at the time, scrambled to find a replacement. He found it in an administrator who'd retired three years earlier, and who lasted just 10 months, adding to the kind of turnover in that principalship that the district has been trying to stop since. Yet Sims was courted earlier this year by a school board member for the superintendent job in Flagler schools (he's applying for such jobs around the state).
Conklin said there's another reason to wait for a start time of January: it would give the school board association more time to focus on Flagler's search, when–presumably–the rush to fill positions elsewhere will have eased.
Past that point, board members spoke of Moore as if she was their unquestioned interim, as if they had already had discussions about it. In fact, they each had one-on-one conversations with Moore, though the board at no point had discussed setting up those meeting: once the board spoke of Moore as a possibility last month, she contacted the board members to meet with them, setting up today's discussion.
"You know, you're superwoman, but it's not fair to expect you to continue to juggle all the responsibilities of assistant superintendent in addition to the responsibilities as the superintendent," Conklin said of Moore. "What we were talking about is the redistribution of some of those responsibilities in a temporary fashion with her team so that things don't fall through the cracks. So I think she was going to work on that and kind of look at roles, responsibilities, things that she's directly responsible for."




"I'd love for LaShakia to know she's got this semester," Board Member Sally Hunt said. " I personally have so much confidence in LaShakia that that timeline–I want to make sure we get the best leader," she had said.
The approach had the support of board members Will Furry and Christy Chong. "I want us to take our time because I want this person to stay, for this to really be a decision that we all agree on," Chong said.
Then Conklin suggested that the new superintendent contract be timed "off cycle" in such a way that it could diminish the risk that the contract would run out just as a new board comes in. She suggested a four- or five-year contract. There wasn't as much agreement on that so much as agreement to further discuss the idea.
The delaying of the start date for the new superintendent until January, Kristy Gavin, the board attorney, said, "is going to make things a lot easier for FSBA and some of the heavy lifts that they're asked to do because everyone wants that superintendent yesterday." Yet another superintendent position came open just today, Gavin noted, when Duval County's Diana Greene, one of the rare Black superintendents in the state–and Florida's 2021 Superintendent of the Year–was forced into retirement by a divided board. She joins many other superintendents, Mittelstadt among them, who have been forced out by a sharp ideological reconfiguration of Florida's school boards.
The attorney and Moore have not met yet to discuss the terms of her employment as interim. But her contract will define expectations, a salary, and a safety clause: Moore wants to ensure that she can return to her position as assistant superintendent when the interim term is over. The board will vote on those terms in June.