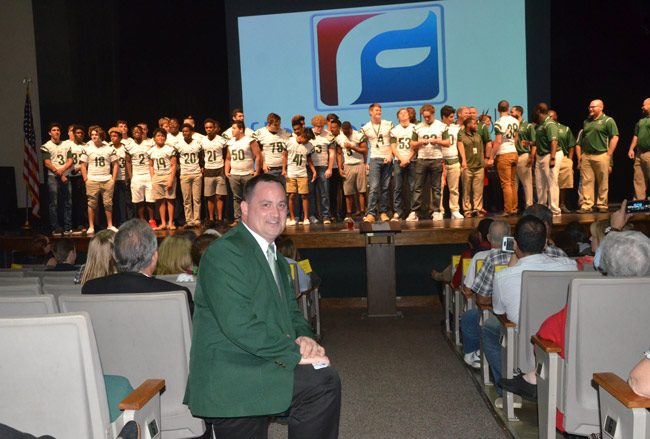 Wednesday evening Dusty Sims was on stage at the Flagler Auditorium, welcoming more than 600 incoming freshmen about to start school at Flagler Palm Coast High School Friday. He told them what FPC's letters stand for, metaphorically, anyway: "Focus. Purpose. Commitment." He spoke of the innumerable opportunities at the school, urging students to take advantage of them. He spoke of this year's theme: "If not you, then who?"
At about 8:15 this morning, Sims, the popular and charismatic principal at FPC since 2015, shortly after he'd been named Florida's assistant principal of the year, gathered his faculty and staff in the school's media center and announced that he would be leaving FPC by the end of next week.
The state Department of Education just tapped Sims for a job in the department's accountability division, helping failing schools turn around. Sims will be overseeing such schools in the department's northeast region, covering schools from Duval to Brevard. The actual title, characteristically interminable for state job titles, is Regional Executive Director for School Improvement of the Northeast Region.
The announcement was a shock to the staff and emotionally difficult to Sims, according to people who were there, who described the moment as bittersweet. Sims could not immediately be reached.
"I've always looked for providing opportunities for everyone, whether they're an adult or a student," he was quoted as saying in a release issued half an hour after his announcement. "Our staff has done a wonderful job in sharing our goal. Their success has provided me with this opportunity to help other schools in our state."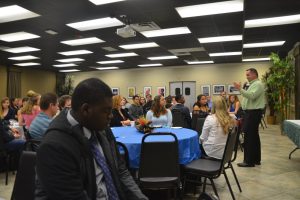 "It was very hard for him," one member of the faculty at the announcement said. "He loves not only the staff here but the county, this is where he established long-lasting friendships and helped students" become successful.
"First of all I'm happy for Dusty and his family," Superintendent Jim Tager said this morning shortly after the announcement. "It's an opportunity he wants to pursue. He made me aware of it a couple of weeks ago. I'd never hold anybody back from something they want to do to move forward. It's a loss for us, he does a fantastic job in a very big school, it's almost like his own city over there, he's done a remarkable job at FPC." FPC's enrollment is at 2,500. It has 113 teachers, a support staff of 51, and another dozen or two staffers in custodial and food service ranks.
Tager singled out Sims's role in bringing the school to within a few points of being an A rated school and in describing him as a "relationship-builder"–a theme Sims himself touched on Wednesday evening when he spoke to students, when he stressed the importance of relationships started in high school that would last a lifetime.
A replacement for Sims has not been named. The position was posted in mid-morning, with a salary range of $88,500 to $95,500 and an Aug. 13 deadline.
"It's the beginning of the school year so I'd like to fill it quickly, but more importantly I'd like to find the right person for the job," Tager said. Ideally, he said, he wants someone in place by the end of next week, with time enough to work on a transition with Sims. "It's a great job so I anticipate getting some great candidates. Timing is a little bad but Dusty is doing everything to get the school up and running."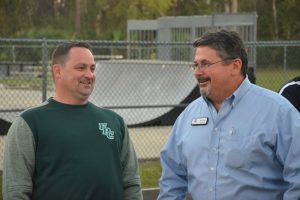 There's no doubt that the position will draw significant interest: it is coveted not just as a significant job in itself, but as a slingshot to high-impact education careers.
FPC has not held on to its principals for more than a few years at a time, with each principal going on to make much broader marks on education: two principals in the past decade and a half have gone on to be superintendents locally–Bill Delbrugge and Jacob Oliva. Oliva last year became a vice chancellor at the state Department of Education. Lynette Shott, the principal who'd taken over at FPC between Oliva and Sims, was herself soon elevated to a district position, overseeing student and community engagement.
"I'm a Matanzas parent, my oldest son goes to Matanzas, my youngest is going to go to Matanzas," Jason Wheeler, the district's chief spokesman, said after the announcement. "But FPC, that's the high school here. It was a big, big deal for Matanzas to beat FPC in football. They could have lost every other game, but that made the season. And you look at administrators in others schools, here in the district office–how many people have come from that school. And you look at our teachers, how many of them graduated from FPC." Wheeler added: "It just goes to show we're producing some pretty good people here."
Tyler Perry, president of the FPC Student Government Association, had shared the stage with Sims Wednesday evening, welcoming the new batch of students. He was at the school this morning with members of the association, helping teachers set up their classrooms. "I've had a number of principals," Perry said of his years through the Flagler school district. "I've never had such a personal interaction with a principal. You can ask anyone at FPC, it's not just that I'm student government president." He described Sims routinely walking the hallways, high-fiving students, shaking their hands, asking them about their day, doing lunch duty and rarely sitting behind a desk. "To a lot of kids that's really important, they want someone they can see face to face and Sims has always been that kind of principal."
Like faculty and staff, Perry described himself as "a little bit conflicted," but he said that "most of all I'm excited for him. Obviously it's a little bittersweet. He's done such an amazing job here at FPC in making this feel so much like a community."
Sims, 41, is in his 20th year as an educator. He started his career as a teacher and head baseball coach at Harrison High School in Indiana. In 2003 he joined the staff at FPC as a baseball coach and 10th grade English teacher, when Bob Nocella was the principal. Ten years later Nancy Willis, the principal at Old Kings Elementary at the time, hired him as an assistant principal. He returned to FPC in 2011 as dean of students under then-principal Oliva, and became assistant principal when Shott took over. He has three young children. His oldest is an 8th grader this year and had been looking forward to entering FPC as a ninth grader under her father's leadership.