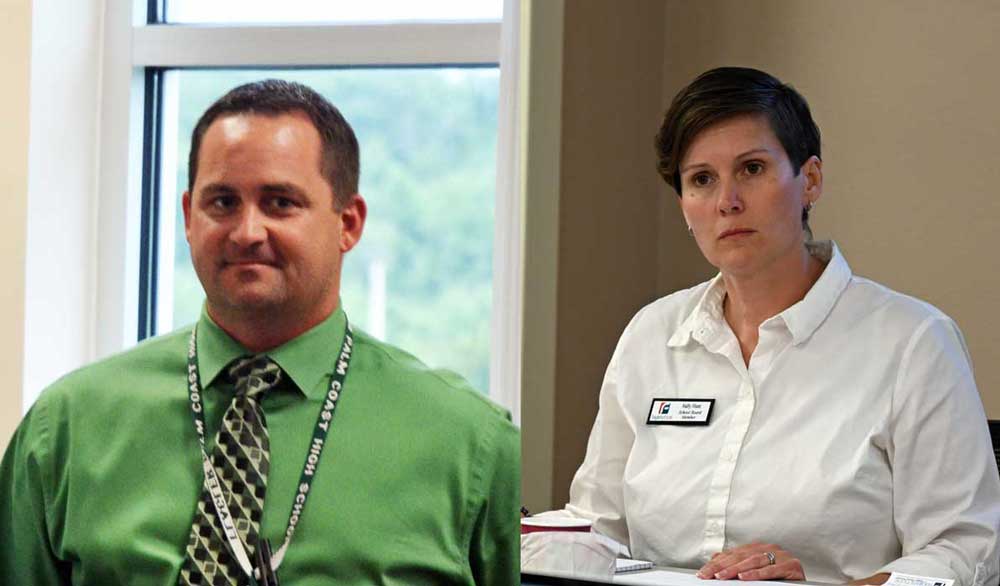 Less than three months into her tenure as a Flagler County School Board member, Sally Hunt was courting Dusty Sims, the former Flagler Palm Coast High School principal, as a replacement for Superintendent Cathy Mittelstadt, according to Hunt herself.
The meetings were conducted neither with the board's approval nor its knowledge. The meetings were taking place even as Hunt portrayed herself as neutral on Mittelstadt's future. The superintendent's contract expires at the end of June. The board is awaiting Mittelstadt's self-evaluation and will conduct its own evaluations, all due this month, plus one-on-one meetings between the board members and Mittelstadt, before deciding whether to extend or not renew the contract.
Hunt has been discussing her plans with Paul Peacock, the Wadsworth Elementary school principal with whom she's been meeting regularly–and more often than with the superintendent–even though Peacock has a bitter grievance soon to go before the school board, and even though Peacock is threatening litigation stemming from that grievance. Hunt says she is seeking Peacock's advice on Sims. The three of them were together at least on one occasion, on Feb. 8, at Peacock's school.
Hunt's maneuvering contradicts pretenses of neutrality and transparency at school board meetings.
Hunt's moves are not a surprise. Hunt's statements during workshops about Mittelstadt's future were nowhere near supportive, triggering speculations that, as the board's potential swing voter, she could join Board members Will Furry and Christy Chong to doom the renewal of Mittelstadt's contract.




Furry and Chong have not said openly that they want to get rid of the superintendent. But they were elected on a platform that overtly attacked the majority that supported Mittelstadt, leaving little room for mystery. Nevertheless, they  have been more respectful of the process, seeking to let it play out as outlined. Their vote, as board members, is getting more seasoned by the week and could still be in play: compared to Hunt's at times bizarre behavior, Furry has emerged as more thoughtful in comparison.
Hunt's approach has been categorical. By the end of February, rumors about Hunt's contacts were rampant, but could not be confirmed. Public record requests, including but not limited to those filed by FlaglerLive, sought to trace Hunt's contact through documents. Hunt has so far refused to turn over her phone to the district's IT department for downloads of school-business related texts. She has refused numerous requests for comment or interviews, by text, email and phone. The school board attorney said today Hunt has agreed to produce the texts herself, but had not done so.
Documents obtained in the last two weeks fill in blanks. They show when Hunt has checked into Wadsworth Elementary, tracing her frequent meetings with Peacock and others there–at least eight such meetings recorded by the security check-in system, though there may have been more: board members don't always check in and may be waved in. The same system showed that she checked in nearly at the same time as Sims on February 8, a meeting she described as a "meet and greet," and according to her, again met him elsewhere on Feb. 16, then met Peacock the next day to discuss Sims.




Rather than release all communication records as requested,  Hunt on Monday–four days after she claimed in her own words she had resigned, then un-resigned–issued an email to local media: "Because of recent news/blog articles and inquiries, I've done my best to provide context to my SchoolPass logins at Wadsworth, including a couple additional SME (subject matter expert) meetings with other district staff."
The email included a grid outlining all her Wadsworth visits, with Hunt's explanation for each. Several involve inquiries into a potential program to arm school staffers. Hunt's explanation for the Feb. 17 meeting was this: "Requested meeting with Paul Peacock for questions regarding Dusty Sims (from my 2/16 meeting with Dusty to discuss his possible interest in the Flagler Schools superintendent role should the board or Superintendent Mittelstadt not renew the contract)." The parentheses are in Hunt's original rendition.
Sims, who works with the state Department of Education, has not returned a phone call or a text seeking comment about his meetings. Nor has Hunt. Sims abruptly left the principal's job a day before the beginning of the 2018-19 school year to take a job at the education department, leaving the district reeling for a replacement and the school in a leadership turmoil for over a year. ("Quite frankly," School Board member Colleen Conklin said, "I don't know why we would consider an administrator of our largest high school, who left us the day before school started, to be a superintendent.)




It isn't clear why Hunt would want to, or need to, discuss Sim's "possible interest in the Flagler Schools superintendent role" with Peacock. That is only one of the many perceived improprieties of Hunt's maneuvers disturbing fellow-school board members. In the context of Peacock's and the district's currently antagonistic stance regarding his grievance and other issues, Hunt's close contacts with Peacock complicate the matter further and raise questions about Hunt's judgment.
Each school board member is assigned a pair of schools to be their board "liaison." Hunt is assigned Wadsworth and Rymfire Elementary. She has been to Wadsworth at least eight times, in one case for five hours, since January. She has been to Rymfire once.
In the one interview she gave a few weeks ago she said she had difficulties establishing a rapport with the superintendent–not a surprise to most: Mittelstadt is not the back-slapping sort, projecting an austere professionalism that doesn't brook flummery, though she is approachable and generous with her time. In the span of time she's met with Peacock eight times, Hunt has met with the superintendent four times outside of scheduled board meetings, according to the superintendent's calendar. She cancelled at least two meetings since Feb. 9, when the contacts with Sims began and questions about Mittelstadt's future emerged. Just two days earlier, the board had held a retreat to develop a better rapport.
"I believe that it is extremely not normal for a school board member to be having those kinds of conversations with any staff at any schools at any time, unless it was on the dais and in the sunshine," School Board Chair Cheryl Massaro said. "To me, it's it's very–how can I say this–troubling that a school board member is taking on those responsibilities, beyond their job description pretty much. That concerns me. It's troubling. I don't know how to react to that, at that point. Our job as school board members is to deal with policy and oversee daily operations, not to be involved in daily operations. That's the superintendents job."




Massaro said Hunt is "putting the horse behind the cart" by seeking her own candidate for a position that, if it comes to that, would likely be open for a national search with its own elaborate process. "I've never heard in all my 40-plus years, of this kind of maneuvering for a position that does not yet exist," Massaro said. (Perhaps not at the school board, but one member of the Flagler Beach City Commission only last month was maneuvering in exactly the same way to replace the city manager there. The maneuver derailed, once it was reported.)
"If you remember when we actually hired Ms. Mittelstadt, how long it took to get to that point, and the people that came from all over the nation who applied and every one of them had been a past superintendent," Massarto said. "I think that's certainly the route that would be taken again, and you need community input. Then you come out with individual interviews it's a laborious process. It's not just–okay, you're in."
Hunt, like any elected official, is free to speak with whoever she pleases, and say whatever she pleases on any platform, including open, public discussions of upcoming matters that may be voted on. But lines can be crossed, or "lanes," the term currently favored at the district, transgressed.
Notifying an individual of an existing opening in the district is one thing. Soliciting a person is something else: "Now they're going to be beholden to you," School Board Attorney Kristy Gavin said. Soliciting or engaging an individual in discussions for the superintendent seat may not be "in the best interest per se" of the district, "because then it becomes a question of whether or not you need to recuse yourself."
Within that context, "a board member can act in what they believe is in the best interests of their constituents because they are an elected official, but they would not be able to make a representation," Gavin said. "For example, if she were to request a meeting with Mr. Sims and say, I'm here on behalf of the board, we'd like to know–you see where I'm going? She doesn't have that purview, to make that kind of a statement. She could have any meeting she wants as a board member, expressing her interest, and possibly that is her purview, because maybe that's what her constituents are wanting. I don't know. But if she were to request the meeting on the basis that she is representing the board and the board gave her authority, we would have had to have that out in the sunshine. Or there are other board members meeting out of sunshine to give her that authority, and I don't think either of those two things happened."




Chong declined to comment. Furry did not respond to. Conklin, who has been on the school board since 2000, serving with seven superintendents, looking for a superintendent "is typically a board decision that is made through a very outlined process. And if you were to remove a superintendent you would have a process of doing that with interim superintendent, which typically would come from within." She said she'd reserve further comments until she hears from Hunt. But she said consistency in the superintendent's office was "critical for student success. It takes three to five years to build any sort of culture or create any sort of systematic change. Three to five years, and in three to five years, we've had how many superintendents?"
Jacob Oliva left the district in January 2017 after serving as superintendent since 2013. Jim Tager served from June 2017 to June 2020, when Mittelstadt began.
Mittelstadt's appointment may have been a surprise to many in the district, who had assumed that Vern Orndorff, a former assistant superintendent, had the inside track. Orndorff, district officials recalled, had lined up his top staff: Peacock and Sims. Peacock had been Orndorff's assistant principal when Orndorff was principal at Indian Trails Middle School (Marcus San Filippo, now the principal at Bunnell Elementary, was the other assistant principal at ITMS), and Sims was at FPC. Curiously, the only other school Hunt has visited is Bunnell Elementary–twice, at the end of January, and at the end of February, according to records.
Hunt herself remains mum, not only with reporters: she is a rare sight at the school administration, though she has not gone as far as her predecessor and compared people in the building to Satan. She has directed inquiries to her email account.
When queried through her email account, the following message immediately bounces back: "Hello! Thank you for your email. Your message has been received and reviewed. To ensure district staff have full visibility to questions, comments, and concerns; please submit feedback and/or request information via https://www.flaglerschools.com/connect-with-us/lets-talk. For all other emails, I will reply as quickly as possible."
She has not.
Reader Interactions