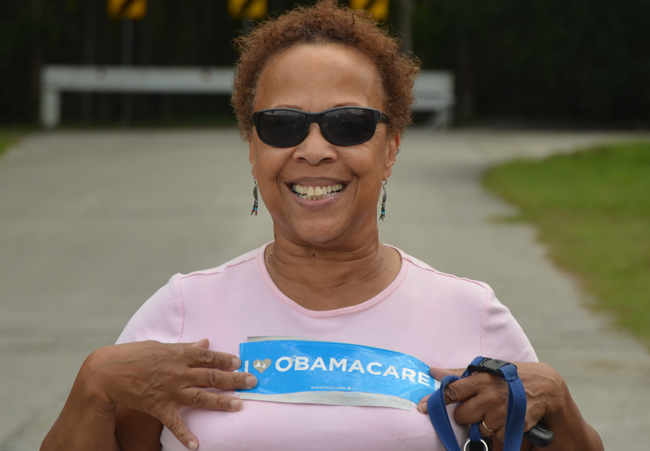 It was a small, almost muted demonstration in front of the Flagler County Health Department at high noon Tuesday: a core group of just 12 people, later joined by several more, showed their support for the health care law whose central provision—insurance availability for almost all—went into effect today.
They held up signs that celebrated what opponents have vilified as Obamacare ("Obamacare is awesome! By the People, For the People"). They had a little criticism for the health department, where federally supported navigators meant to help people get on the insurance rolls are prohibited ("No help here: go to healthcare.gov"). They spoke to a half dozen reporters and photographers from five local news organizations. And they clustered among themselves, chatting a lot about the new law and, since this was an event organized by the Flagler County Democratic Club, spoke contemptuously of opponents of the law and their representatives in D.C., whose uncompromising stance led to the first shutdown of the federal government in 17 years, beginning at midnight Tuesday, at the same instant that the new provisions of the Affordable Health Act kicked in.
There was no chanting, no taunting, and little interaction with traffic, since there was hardly any traffic. Several cars drove by the demonstrators to go into the parking lot of Flagler Pines, the assisted living facility, driving slowly, looking bemusedly at the unusual activity. A couple of delivery trucks drove by. The health department parking lot was mostly empty: very few people went in or out of the building during the hour-long demonstration.
Democratic Club President Merrill Shapiro organized the demonstration. Click on the image for larger view. When it was drawing to a close, Merrill Shapiro, who heads the local Democratic club, summed up the showing: "Some might say we're small numbers compared to the tea party, but we're big in our hearts, and we're big in meaning and in understanding.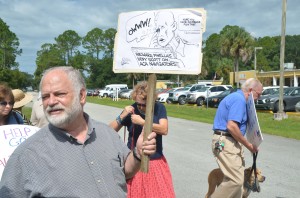 "Your speaking out saying ah, finally, poor people, people who have pre-existing conditions, people working part-time, all of them now can have access to health care, just like the wealthiest of us. That's what's such a good and wonderful thing, and that's cause for celebration by every single American. We thank you. So numbers mean one thing, but our presence means something else, and it's significant."
Patrick Johnson, the department's director, stayed put in the building. At the top of the hour he'd phoned Shapiro to tell him to remove his and others demonstrators' cars from the parking lot ("it was not part of the agreement," Johnson said), even though the lot was not much in use and demonstrators' cars were few. Johnson caught a glimpse of the gathering group through the department's front bay windows as he spoke to two reporters about Monday's stories regarding a local health advisory, having little to say about the demonstrators outside. "People have their right to assemble. That's what I see," he said. "The story is out there."
So it was, and not just on a grassy slip between the health department parking lot and Dr. Carter Boulevard in Bunnell.
"We're here of course to support the roll-out," Ralph Lightfoot, one of the demonstrators, said. "There hasn't been a lot of community support for the program. I think eventually it'll be a very good program. I think that's what the Republicans are afraid of, that it may become successful like Social Security and Medicare. God forbid that we have a program that would help the poor person. You know, when you can get insurance for $100 a month, that's just great. We have so many people, particularly here in Bunnell, who could use something like that, because as you know, any catastrophic illness can just about wipe you out financially. There's a whole bunch of people who can attest to that. But there's so much misunderstanding on the thing."
Vivian Lindeolisson, a native of Belgium who's been in the United States 40 years, and in Palm Coast eight, spoke about the time when going to Sweden for a two-week vacation and having a root canal and a crown taken care of over there was cheaper than it would have been in the United States. Root canals and crowns are not part of the coverage under the new health law, but the point she was making is that the United States is only now catching up to the modern world when it comes to civilized insurance coverage.
"My mother immigrated to France," Lindeolisson said, "she just had a stroke, she still has her house, the third day she was in the hospital they started speech therapy, physical therapy, she went back to being totally functional. Eighty-six years old, no death squads." Lindeolisson was referring to the so-called "death panels" tea party opponents of the health law claimed, falsely, were part of Obamacare. The false belief remains a potent pat of the mythology that contaminates opponents' perspective on the law, making more rational debate on the issue more difficult.
Lindeolisson tried to bring her mother Stateside, but immigration rules have barred that, absent what she calls "unlimited wealth. "So I cannot take care of my mother. I have to do it over there." As for herself: "I'm on Medicare since this year. Before that I paid $12,400 a year, just for me," for coverage, "with a high deductible. So now, down to less than $200, I'm in paradise. I couldn't wait to get old." She has, in other words, some of the best insurance provided any group of people in the country. Why was she at the demonstration? "Because I have a son who's 37 years old, he's never had a chance to get insurance because he was born with a pre-existing condition, and he's never been hospitalized. He could not get insurance. And I'm here for my grandchildren. I want them to have the same freedom as all the other industrialized countries in the world, where you don't get bankrupt because somebody got into an accident or got sick."
The demonstration was a first of sorts for the Democratic club. The location was not the best for visibility, but it had symbolic value, Shapiro said, acknowledging that his club has a long way to go before it could catch up to the sort of verve tea party activists can unleash on local streets: when the tea party mobilizes, its bands can cover long lengths of sidewalks like human locusts.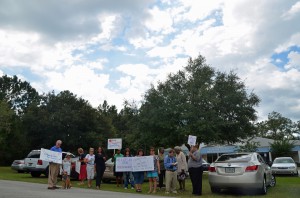 "There is no question that we envy the tea party," Shapiro said, "not for their intellectual consistency or understanding, but rather for their organizational ability, and that they do have people who follow the party line, and who walk in lockstep  with what the leadership of the tea party tells them to do—show up at Old Kings and Palm Coast Parkway, show up to this meeting show up there—they do it, and we envy them, and their ability to get out in the streets and create."
Shapiro added: "There's no question that they are superior and we can learn a lot from that, but their issues are wrong, their message is wrong, and we're going to prove it over and over and over again. The world will prove it. The ultimate outcome of Obamacare will prove that they were wrong in opposing it. They were wrong in being uncompromising. What's going on in Congress is another issue, but we feel that their inability, and the tea party in general, their inability to compromise. The Massachusetts delegation to the constitutional convention that ultimately brought out the constitution was very, very unhappy with slavery being in effect ensconced in the Constitution, and slaves being counted as what, three-fifth of a person, they're very unhappy with that, they hated it, yet they recognized that to move forward they had to compromise some of their values and some of what they thought. So they signed the Constitution and they enabled the government to be formed here in the United States of America that has served us rather well for the past 230-some odd years. We need once again to return to people who are willing to compromise and say, in the spirit of compromise, I don't get everything I want, the other guy doesn't get everything he wants, somewhere in the middle we will meet and we'll be both equally unhappy. That's missing. That's why the vilification of Obamacare in just nonsensical ways."