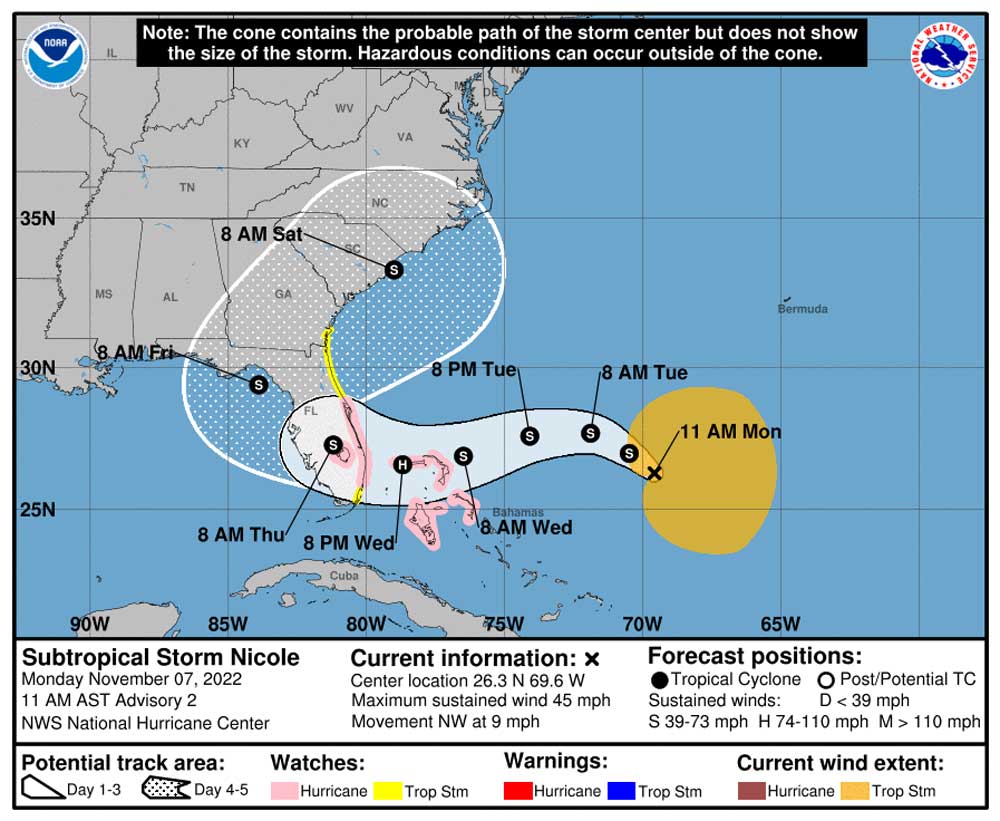 Monday, Nov. 7, 5:07 p.m.–Flagler County emergency management officials are cautioning residents of the barrier island, from Flagler Beach to Marineland, to be ready to evacuate as early as Wednesday as sub-tropical storm Nicole strengthens into a hurricane, making landfall in south Florida in the first hours of Thursday. Talks are ongoing possibly to stand up a shelter at the Palm Coast Community Center.
Officials are projecting a storm that may replicate the hazards and impacts of Ian, if with considerably less rain and inland winds: the storm is expected to bring a worrisome storm surge of up to 5 feet, between 2 and 4 inches of rain (a decline since this morning's forecast), coastal flooding, power cuts, and more–and potentially dangerous–damage to what remains of Flagler's dune structure. In many places, including the heart of Flagler Beach, the dunes are gone, leaving no room for further damage short of damage to State Road A1A or damaging breaches that would cause flooding on the island.
"At this time, it is expected that Flagler County will see conditions similar to what we saw with Hurricane Ian, to include coastal flooding and power outages but with less rainfall and therefore less inland flooding," said Emergency Management Director Jonathan Lord. "If we call for evacuations, we will open a shelter."
If county officials call for any evacuations, they are required to have a shelter in operation, including a special-needs shelter for people with medical needs. That shelter usually opens at Rymfire Elementary and is run by the Flagler Department of Health, which itself needs time to stand it up. But in this case, the need for sheltering will be limited and officials want to minimize impacts on the school district, especially with voting precincts set up at at Rymfire, Old Kings and Wadsworth Elementary, and at Matanzas High School.
With that in mind, the discussion right now between emergency management officials and the health department is to open a shelter, if necessary, at the Palm Coast Community Center on Palm Coast Parkway. That shelter would be a combination special needs and general population.




"If we'll be evacuating we do know there's a small handful of special needs patients who are registered that live east of the Intracoastal Waterway, so it would be that group possibly that would need that sheltering," Bob Snyder, who heads the Flagler Health Department, said Monday evening. The Health Department itself would not close, but would deploy a small staff to the community center. The staff has not yet been told of those operations, pending a decision by Lord likely Tuesday.
"At this point, the National Weather Service isn't predicting hurricane-force winds for our area, but we don't know what later forecasts will bring," Lord said. "The outlook for our area has not improved. I do recommend that all residents do the basics, like fuel up your vehicles and make sure you have a week's worth of basic emergency provisions."
A 5 p.m. National Weather Service advisory from Jacksonville read as follows: "Impacts from Nicole will be widespread and affect our area through the week. Strong northeasterly winds and high astronomical tides will deteriorate conditions ahead of the storm and exacerbate surge flooding along the coast, Intracoastal waterway and St. Johns River Basin. Tropical storm force winds are anticipated to begin over the coastal waters on Tuesday and potentially begin along the coast on Wednesday."
"A few tornadoes mainly for Flagler county" are also possible, the Weather Service says. See the full briefing below.
That leaves the open question of whether schools will close past Tuesday. Schools are closed on Tuesday regardless, at least for students, to accommodate Election Day: that was already planned. Schools are also closed on Friday in observance of Veterans Day.
A Flagler County school district spokesman this afternoon said the district is monitoring the situation and is in twice-a-day contact with the Emergency Operations center as it calculates if and when to close schools Wednesday or Thursday.




Peak impacts from Nicole in Flagler are expected to be on Thursday and Friday. But evacuations are always ordered ahead of a storm's arrival, with enough time to give residents room to prepare and evacuate. Because of the devastation and death toll that followed in Lee County after emergency officials there delayed the evacuation calla head of Hurricane Ian, gambling that it would not strike their area as severely, emergency officials across the state are likely to be extra cautious with evacuation calls, not taking any chances. Lord is by nature a cautions emergency manager who does not gamble on such calls.
The storm's path can also change, as storm paths often do–for better or for worse. Nicole can either shift to a northerly direction sooner, accelerating emergency conditions in Flagler, or shift its path on Thursday and Friday further west, which would diminish the emergency in Flagler.
In fact, the European forecasting model, which has a solid record of accuracy, is projecting that more westerly path, with Nicole moving north through Florida's Big bend, well west of Flagler. Click on the image below to watch an animation of the European Forecast's model of Nicole as it swings over Florida between Tuesday and Saturday:
For now, Flagler remains fully inside the cone of probability as far as Nicole's path is concerned, giving officials no room to take chances.
Many other events have been postponed: Celebrate America, scheduled for this weekend at the Agricultural Museum, has been moved to the following weekend, on Nov. 19. In palm Coast, the University of North Florida 2022 MedNexus Innovation Challenge, originally scheduled for Wednesday, has been postponed to Nov. 16 at 5 p.m. at City Hall. In Flagler Beach, the ribbon-cutting to mark the Irma and Pal Parker Senior Conservation Preserve, Kayak Launch, and Park, has been rescheduled to Nov. 16 at 5 p.m. Daytona State College and the University of Central Florida have not yet made decisions on classes and activities later this week.
But Election Day is on: Flagler County has been on a great run with vote-by-mail and early voting turnout, ranking Flagler second in the state as nearly 42,000 voters have already cast ballots, or 44 percent of the electorate.  The county needs 21,000 voters to turn up Tuesday to break the 2018 turnout rate, Supervisor of Elections Kaiti Lenhart said this evening.
All precincts will be open for Election Day tomorrow, from 7 a.m. to 7 p.m. Anyone who has not yet voted by mail or voted early must vote in their assigned precinct on Election Day. Find your precinct here: https://www.flaglerelections.gov/For-Voters/Find-Your-Precinct
The National Weather Service issued the following briefing Monday at 5 p.m.:
nws-jax-briefing


Sub-Tropical Storm Nicole to Become Hurricane Before Florida Landfall, With Impacts to Flagler's Coast
Monday, November 7, 11:45 a.m.–The "blob" of a disturbance that swirled in the west Atlantic for several days has turned into Sub-Tropical Storm Nicole, defining a clearer path that now has it becoming a hurricane before it makes landfall in South Florida late Wednesday.
Flagler County Emergency Management Director Jonathan Lord confirmed this morning that the situation for Flagler has become more troublesome since he had spoken of the storm on Sunday evening. The National Weather Service in Jacksonville is forecasting widespread impacts with prolonged coastal flooding, possible tropical-storm-force winds, locally heavy rainfall, rough surf and life-threatening rip currents at area beaches.




A tropical storm watch and a storm surge watch are in effect for the Flagler County coast. A Tropical Storm Watch is also in effect for all of Flagler County inland. Expected rain amounts for the week in Flagler County have been increased to between 4 and 6 inches. The local risk of flash flooding is around 5 percent. Peak storm surges along the Flagler coast are expected to reach up to 5 feet
After landfall Nicole would degrade into a tropical storm again. But its current path has it curving around south-central and southwestern Florida, freshly ravaged by Hurricane Ian. Nicole would then make a sharp turn to head back northeast along the Georgia coast and the Carolinas.
Flagler County is entirely in the cone of probability as Nicole moves northeast Friday and Saturday. That means the storm's center could move anywhere within that cone. Lee County officials did not take that into account soon enough as Hurricane Ian was approaching. The delayed reaction is part of the reason the county accounts for almost half the 130 deaths attributed to Hurriucane Ian–the most destructive storm in Florida since 1934.




Late this morning the National Hurricane Center had issued a hurricane watch for the east coast of Florida from the Volusia/Brevard County Line to Hallandale Beach, and for Lake Okeechobee, along with a Storm Surge Watch for the east coast of Georgia and east coast of Florida from Altamaha Sound southward to Hallandale Beach. That includes all of Flagler County's 18 miles of beaches, which were severely damaged by Hurricane Ian. A tropical storm watch is also in effect for Flagler County.
Nicole was moving northwest near 9 mph. It is expected to slow later today before turning westward or west-southwestward, approaching the Bahamas on Tuesday and the east coast of Florida by Wednesday night. Maximum sustained winds are now near 45 mph with higher gusts.
Gradual strengthening is forecast during the next few days, reaching hurricane intensity by Wednesday.
The National Hurricane Center's path is a consensus forecast that combines analysis of numerous models. One of those, the consistently accurate European model, has Nicole making landfall in the early hours of Thursday, crossing the peninsula then cutting north along the west coast, from Fort Myers to Tampa Bay, before turning northeast.
The previous update is below.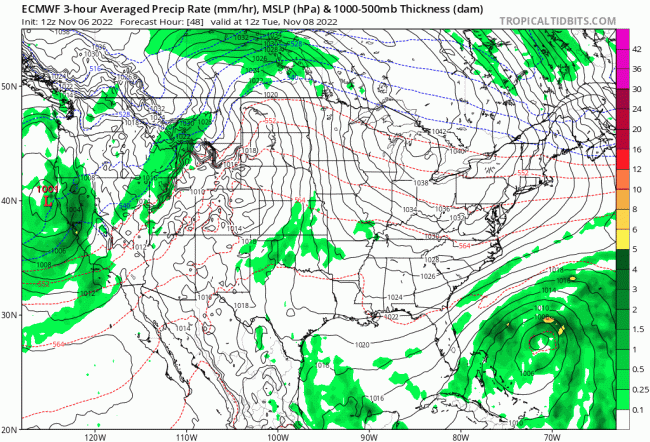 Nearing Storm Keeps Officials Guessing About Path, But Damaging Impacts to Shore Likely Regardless
Sunday, November 6, 5 p.m.–It is more likely that a "blob" of a storm that has been stirring in the southwest Atlantic for the last few days may become named storm–Nicole or Owen, depending on what another one farther out does–and its impacts on Florida won't be significant until the middle of the week. It remains disorganized, its path hard to predict, even as its damaging effects on dunes and beaches remain at the top of local concerns, said Flagler Emergency Management Director Jonathan Lord Sunday afternoon.
The county is making two sandbag locations available starting on Monday.




"They're torn. They're very much torn," Lord said of forecasters. The forecasts are originating with the National Weather Service in Jacksonville for now, not the National Hurricane Center, because it has not yet become a named storm. But the NHC is still issuing  "discussions," or advisories.
"The Weather Service still is not comfortable calling it a tropical cyclone," Lord said. "If it is not a tropical cyclone, it'll continue to be harder to forecast because they behave differently, they're steered differently. They behave more like a front, the word the Weather Service said earlier today actually."
Whether the storm develops one way or the other isn't the chief concern right now. The National Hurricane Center's outlook is: "Regardless of development, there is an increasing risk of coastal flooding, tropical-storm-force winds, heavy rainfall, rough surf, and beach erosion along much of the southeastern United States coast, the Florida east coast, and portions of the central and northwestern Bahamas beginning in the early to middle part of this week," the outlook states. Tropical storm, hurricane, and storm surge watches could be issued in parts of the eastern Florida coast as early as Monday. That's bad timing for Flagler County's severely weakened dune system, as state and local officials have not yet managed to reinforce most of the weakened parts of the coast except for a sand-dumping project at the south end of the county. "Our whole focus is on that right now," Lord said.




On Sunday, Gov. Ron DeSantis issued his own advisory, urging residents to be prepared, as did Florida Emergency Management Director Kevin Guthrie. "As the Division continues to support communities in their recovery from Hurricane Ian, we are now closely monitoring 98L," Guthrie said, using a technical term for the storm. "It is critical for Floridians to review their disaster preparedness plans and follow all directions from local officials in anticipation of potential impacts."
When Lord analyzed the storm on Friday, he said the local effects in Flagler were expected Tuesday and Wednesday. Now, he said, if there are to be local effects beyond the beaches, those have been pushed out a dozen hours, with the activity concentrated between Wednesday and Friday.
The European forecasting model, one of the more accurate models available, is showing the storm backing into the southeast portion of the Florida peninsula Wednesday into Thursday, crossing toward Tampa Bay, then making a sharp turn northeast, passing over Northeast Florida Friday. But it would be doing so as a wide, low-pressure storm without an eye. Rain amounts would not exceed a few inches for the whole week, winds would be limited on the mainland, with gusts more pronounced on the barrier island. "There is no forecasting model that shows significant rain throughout the week," Lord said.
Residents are limited to 10 sandbags per household.
Sand, bags and help will be available at the following locations on Monday:
Flagler Technical College – 5633 N. Oceanshore Blvd., The Hammock – 8 a.m. until supplies are gone.
Bay Drive Park – 30 Bay Drive, The Hammock – 8 a.m. until supplies are gone.
"While it is unlikely Flagler County will order evacuations due to this storm, property owners on the coast will need to pay attention to weather forecasts and should expect direct impacts to the beaches and dune systems," a county advisory issued late Sunday afternoon states.
Tuesday schools will be closed for students to accommodate Election Day. It is expected to be drizzly.
No-Cost and Low-Cost Preparedness Measures for Floridians
Make a Plan – Every household should have a disaster plan specific to the needs of their household, including consideration of children, pets and seniors. Every individual in the household should assist in developing the emergency plan and understand the plan.  Visit FloridaDisaster.org/Family-Plan for more information.
Know Your Zone, Know Your Home – It's important for residents to know if they live in an evacuation zone, a low-lying, flood-prone area, a mobile home or an unsafe structure during hurricane season. It is also very important for residents to know their home and its ability to withstand strong winds and heavy rain. This information will help residents better understand orders from local officials during a storm. Visit FloridaDisaster.org/Know for more information.
Have Multiple Ways to Receive Weather Alerts – Every household should have multiple ways to receive weather alerts and follow all directions from local officials. Residents are encouraged to have a battery-operated or hand-crank weather radio to ensure they can continue to receive alerts from the National Weather Service in the event of power outages or damaged cell towers.
Keep Gas Tanks Half Full – Residents should keep their vehicle's gas tanks at least half full during hurricane season to ensure they have enough fuel to evacuate as soon as possible without worrying about long lines at gas stations and to avoid gas shortages prior to a storm. For Floridians with electric vehicles, it's recommended that the battery be maintained between 50% – 80% capacity at all times, depending on the type of vehicle and what the vehicle's manual recommends. Visit FloridaDisaster.org/HalfwayFull for more information.