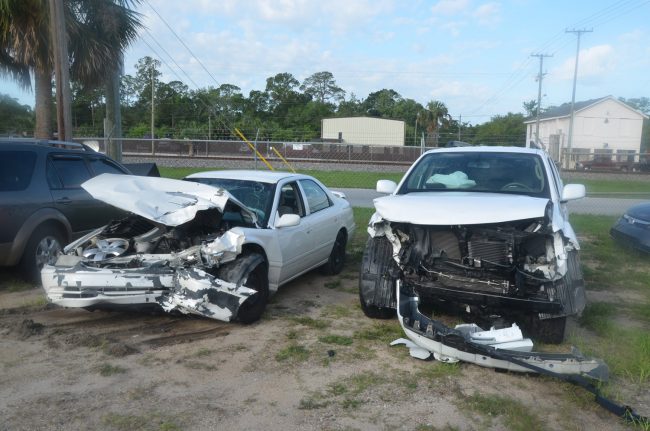 Daniel G. Torres, 37, of Palm Coast, was killed in a head-on collision as he drove the wrong way south on Old King's Road near Palm Coast Parkway early this morning. Two people in the other vehicle were injured.
The crash took place at 2:15 a.m. Marlene Adams, 65, and her husband Clifford Adams, 70, of Palm Coast, were returning from a friend's house where they'd watched the basketball finals. Marlene was at the wheel of their 2011 Nissan Pathfinder SUV.
She was in the left lane of Old Kings Road, heading north just after turning from Palm Coast Parkway when, according to the account she gave a Florida Highway Patrol investigator, she noticed headlights coming her way, evidently on the wrong side of the road, and right about the time when she was approaching the intersection with King's Way, the entrance to the Staples shopping center. She maneuvered to get out of the way by going left onto the turning lane, but just then Torres left his lane and veered toward her, causing the crash.
Torres, who was employed at Mezzaluna, the Palm Coast pizzeria, drove a 2001 Toyota Camry that belongs to his mother, a resident of Palm Coast's P Section. Torres carried a driver's license that had expired in 2016. He was transported to Halifax hospital, where he was pronounced dead at 4 a.m.
A Flagler County Sheriff's deputy who had just completed a security check at the Staple's shopping center witnessed the crash. He'd stopped his patrol car some 50 to 75 feet from the southeast entrance access to the shopping center when he saw the Camry driving south in the wrong lanes. The deputy pulled out onto south Old Kings to stop the vehicle. The deputy reported seeing the white car (the Camry) and another car avoid striking each other just south of the traffic signal at Celico Way. Instants later, he saw the Camry strike the SUV head-on.
The deputy checked on all the victims, and saw in the Camry that Torres was slumped over, groaning but unable to speak. "I also observed what appeared to be vomit on the driver side floor area," the deputy reported. Marlene and Clifford Adams, who were taken to Florida Hospital Flagler, had chest and leg pains. The FHP investigation lists as pending as to whether alcohol was involved, regarding Torres. Adams was cleared of any alcohol-related issues. All involved wore seat belts.
Aside from the Sheriff's Office and FHP, the Palm Coast Fire Department, Flagler County Fire Rescue and the Palm Coast Fire Police responded. Saxon's Towing of Bunnell towed both vehicles.