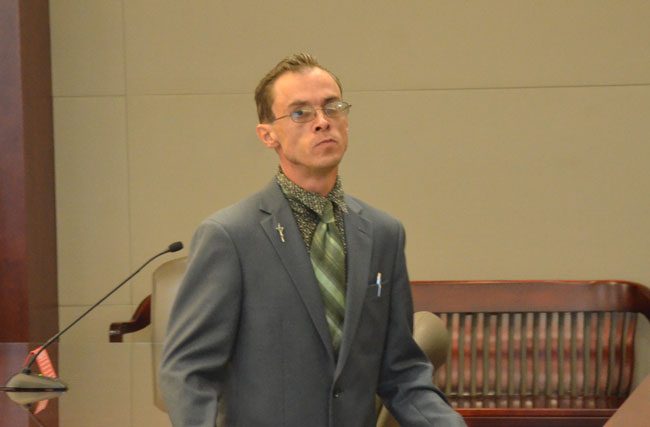 A jury of four men and two women found Jonathan Canales, 31, guilty of attempted first-degree murder and aggravated battery with a firearm in the shooting of his ex-girlfriend, Tiffany Norman, 29, in their Mondex trailer four years ago.
The jury deliberated just under two hours to render a decision near 6 this evening, ending a five-day trial in a case dating back to a shooting and its lurid aftermath on Cherry Lane in the Mondex on Nov. 15, 2014, when Canales delayed care for Norman as he scurried around the double-wide's living room and kitchen, cleaning up blood.
Canales faces mandatory life in prison when he is sentenced on Nov. 29. The delay is a formality: the judge has no leeway in the sentence. The defense will appeal, as is routine in such cases.
Canales, a former serviceman who allegedly served with the Third Infantry Division in Iraq, listened to the verdict as immovably as he'd sat for the five days of trial.
Norman, enwrapped by the victim's advocate on one side and her mother and sister on the other, listened also with little reaction at first, but moments later she was smiling as she hugged Melissa Clark, the assistant state attorney who had prosecuted the case with methodical steeliness to the end: not one for theatrics, Clark lets evidence provide what drama may be necessary to sway jurors toward it.
"Obviously we're very happy that the jury came back the way that we believe the case showed that this was not an attempted suicide, but in fact was an attempted murder and a domestic violence case," Clark said. "We're very excited that that's exactly what the jury saw, and they came back accordingly, and he'll be sentenced in about a month."
Canales chose not to testify ("I'm going to go ahead and plead the fifth," he told the judge). But it was Canales's words and demeanor, two and a half hours' worth from a sheriff's deputy's body cam video and his interrogation with a detective, that demolished his pretenses of innocence. The jury watched him make up one story after another to explain the shooting, in language laced in obscenities, narcissism and repeated denigration of Norman.
Assistant State Attorney Melissa Clark, who prosecuted the case, tallied at least seven versions Canales concocted between the two video segments.
The fabrications were as glaring as Canales's indifference to Norman and his self-absorption, which had been potentially fatal to Norman even after the shooting: he refused to call 911 because, as he told Norman, "they're not going to see this my way." He feared being accused of attempted murder from the beginning. In that, his fear was well-placed.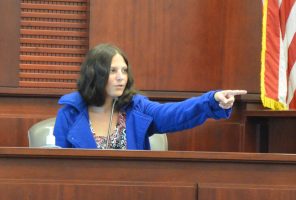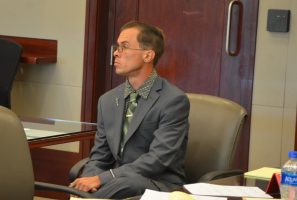 Norman, the mother of a boy in common with Canales and of two other children before she met him, had remained away from the courtroom until her testimony Thursday. She then sat with family and a victim's advocate, watching the remainder of the trial. She had cried once while on the stand. She cried during the prosecutor's closing, when she saw and heard, likely for the first time, the Canales video clips from the night of the shooting in the Mondex, on Nov. 15, 2014, as he was caught on a body-cam pacing outside the trailer in the dark, describing one of his many versions of the shooting. He'd been drinking. He was not entirely coherent. His paranoia was: he would subsequently be institutionalized in a psychiatric hospital for a couple of years, deemed incompetent to stand trial, which is one of the reasons the case dragged so long. The jury was never told of that aspect of the case.
The defense–Canales was represented by Garry Wood of Palatka–had contended all along that Canales never pulled the trigger, that Norman was attempting to kill herself, just as she once had before when she tried to slash her wrists, according to Canales.
The jury had seen and heard Canales describe the shooting with innumerable contradictions and inconsistencies. But Canales's words aside, one of the most striking moments in the trial took place Thursday when Norman was on the stand and Clark asked her whether she knew her way around guns and whether she'd tried, in 2014 or before, to kill herself:
Clark: "Ms. Norman, have you ever shot a gun?"
Norman: "No, ma'am."
Clark: "Are you comfortable with guns?"
Norman: "No, ma'am."
Clark: "Do you like guns?"
Norman: "No, ma'am."
Clark: "Did you ever go shooting with him?"
Norman: "No, ma'am."
Clark: "Do you know the difference between a revolver and a semi-automatic?"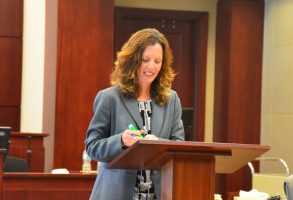 Norman: "Not really."
Clark: "Do you know the difference between a shotgun and a rifle?"
Norman: "No."
Clark: "Do you know how to load a rifle?"
Norman: "No."
Clark: "Do you know how to load a shotgun?"
Norman: "No, ma'am."
Clark: "Do you know how to load a revolver?"
Norman: "No, ma'am."
Clark: "Did you shoot yourself on November 15, 2014?"
Norman: "No, ma'am."
Clark: "Did you try to commit suicide on November 15 of 2014?"
Norman: "No, ma'am."
Clark: "Prior to November 15 of 2014, have you ever attempted suicide?"
Norman: "No, ma'am."
Clark: "Have you ever tried to cut your wrists to commit suicide?"
Norman: "No, ma'am."
Clark then asked Norman step down from the witness box and stand before the jury and exhibit her arms and wrists. Earlier she'd asked her to do the same to display her neck, where the bullet pierced her skin below the left ear. The second time was to show the absence of evidence of a blade's scars anywhere. It was a jarring moment: an alleged victim essentially being made to prove her innocence of suicidal intent to a jury.
"Tiffany Norman has been saying from the very beginning: she didn't do this," Clark said.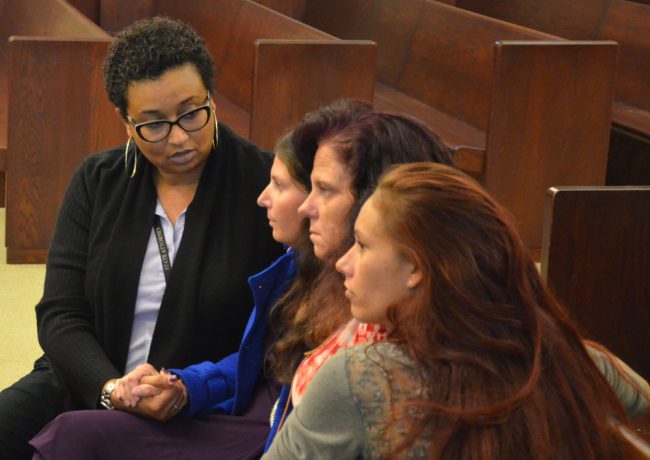 Wood picked up on Canales's words to a detective during his interrogation, falling back on a defense of icy logic: if he wanted to kill Norman he'd have used a weapon more powerful than a .22. If he wanted to kill her, he'd have finished the job. If he wanted to kill her, he'd have shot her execution-style, with a gun to the back of the head. But it likely did not help Wood's case to pile on and suggested something even Canales had not suggested: that if Canales wanted to kill his ex, he would have done it "Mafia-style," with a shot to the back of the head.
"It doesn't make sense," Clark had repeatedly said as she went through Canales's various stories and claims, including why, if she wanted to kill herself, Norman–who said she did not know how to handle guns, didn't like guns and never learned to load them–would choose a rifle, load it and use it, when there were more powerful weapons all over the house. It was also never clear why she would have made herself left-over chicken for dinner first or chosen to kill herself in the most open, central part of the house, where the children she'd just taken to the park for two hours could see her.
"There's no aspect about suicide or attempted suicide that makes sense at all," Wood retorted. "To say that Ms. Norman did or tried to do to herself made sense could never be the case."
When paramedics and cops first showed up at her house, two to three hours after the shooting, they found her hunched over on a step in front of the trailer, Canales sitting a few feet away from her, not tending to her. Norman scribbled on a notepad that she hadn't done that to herself, though she conceded she didn't know she'd been shot.
Wood argued to the jury in his closing argument that Norman wrote the note because she had a guilty conscience, taking a gun to herself with three young children sleeping in the back. But she hadn't asked to write the note. She was answering a cop's question: who did this?
The prosecution and the defense tangled over several other aspects of the case. One point of contention was whether the shooting took place as Norman was eating her dinner at the kitchen table, where she says Canales sneaked up on her and shot her in the neck, or on a mattress in the living room, where Canales says she had sat and pointed the rifle at her head.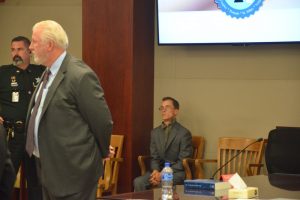 Michael Knox, the defense's only witness and an expert in reconstructing crime scenes, proved less helpful to the defense than expected: a stickler for scientific objectivity rather than a mercenary for one side or another, as some paid expert witnesses can sometimes be, he said he couldn't say with certainty where the shooting took place. He repeatedly equivocated the same way on other questions, weakening the defense's case.
Another point was whether Canales spent between two and three hours cleaning the house before 911 was called. Wood said he was tending to Norman, though the defense never explained the long delay between the shooting and the 10:45 p.m. call to 911. The prosecution said he undressed Norman in the bathroom, left her there in the dark then frantically spent the time cleaning up what he had described as "blood everywhere," including cleaning himself: he was nearly spotless, his hair wet, when cops showed up.
Wood made much of the indisputable fact that several key pieces of evidence, including the mattress in question and the chair where Norman was sitting when she says she was shot, were never collected for evidence or properly processed for blood or DNA–"Just completely sloppy evidence worked up in this case," Wood said.
His contention was that there could have been blood in the kitchen from other sources, other times, other tenants.
Almost an hour into deliberations, the jury asked to see again the 11-minute video of one of the two Flagler County Sheriff's deputies who arrived at the Cherry Lane property–the one who spoke to Norman as she sat, near-catatonic and bleeding, on the front steps of the trailer. The jury came back to the courtroom to view the video, and seemed satisfied several minutes in, after Canales, in the video, pointed to where the rifle was. One of the jurors, a woman of about the same stature as Norman, also asked to see and manipulate the rifle. She cocked it, apparently measuring the strength it took to do so, or gauging Norman's ability to handle the firearm. The jury then went back in to deliberate.
Whatever its conclusion was, it did not favor Canales.
"Mr. Canales never planned or contemplated or decided hey, I'm going to kill her, and let me go ahead and fire this gun off," Wood had told the jury in his closing argument, countering the charge of attempted first-degree murder. "There's no evidence of attempted second degree murder," either, or attempted manslaughter, Wood said. It's what defense attorneys always say in their closing: they argue that none of the potential charges apply, just as the prosecution always argues that the most severe charge does.
The judge in his instructions to the jury was that it should "follow the law." But there's always a point where the law gives way to belief: whose version the jury believes. There was little question that the jury put little credence in Canales's many stories which, due to their number, by definition made him not believable.
Norman had just two stories: the one she told on the stand, and the one her wound told, which came down to the same story: Canales had shot her.