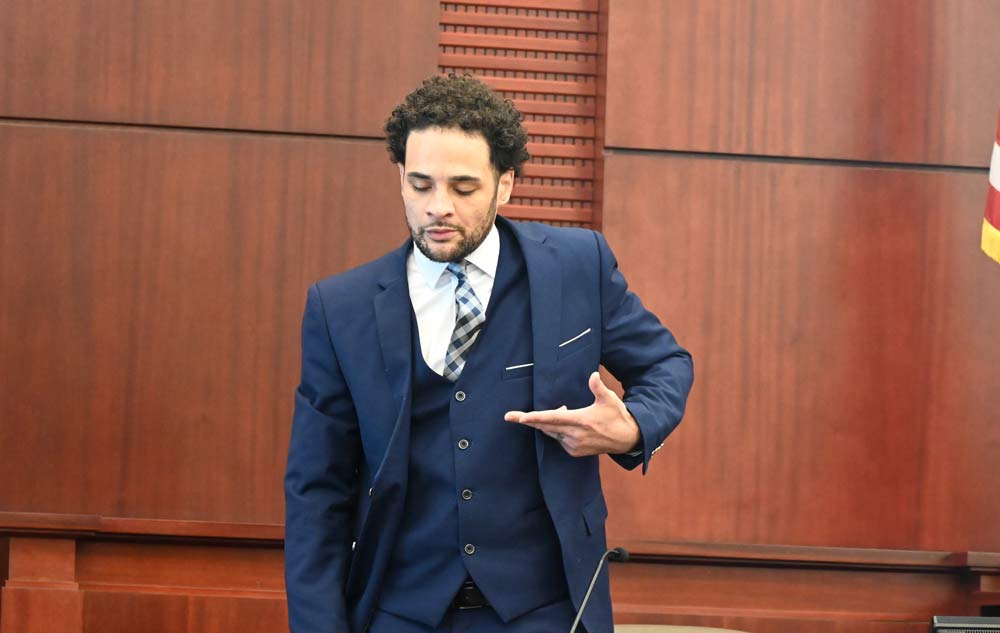 It was not an exactly calm man the jury saw when Brenan Hill took the stand this afternoon in his own defense. Not the sort of man who helped himself much in his trial on a second-degree murder charge that could send him to prison for life if he is convicted.
Not because of his emotions: the jury got used to seeing and hearing him wail, cry, bemoan and pity his own fate in so many audio and video segments played over the last three days that when he put on a similar display this afternoon, the tears and the sniveling had lost their bite, their authenticity, especially since at one point they seemed theatrical, as when he took a long pause to make an "O" of his mouth and exhale in cadences. There was an element of timing in it all. He reserved the emotional panoply only for the 48 minutes that his own attorney, Gerald Betts, questioned him.




When Assistant State Attorney Melissa Clark began her cross-examination, it all stopped. The tears, the panicked breathing, the snivels, the appearing and disappearing white towel he'd used to wipe his nose. (It was provided to him by bailiffs, making it only an unintentional if unfortunate echo of the white towel he used to wrap the gun with which he'd fired the bullet that eventually killed 22-year-old Savannah Gonzalez in March 2021.) The mumbling increased, as did the strange movement of his lips, a rhythmic quivering, and some head-shaking.
Hill was collected, but seething. He was a cauldron of a man, his head constantly angled down–he looked at the jury for all of 60, maybe 90 seconds for the entire 70 minutes he was on the stand–his answers to Clark clipped and often sounding exasperated, just as often sounding unresponsive for long moments. The silence was not dramatic or emotional. It was the silence of resentment. Here was a woman he could not yell at.
It was not a good look for a man accused of murdering his girlfriend during an angry argument in a relationship with a documented history of anger, some of it on video, some of it the jury had just watched.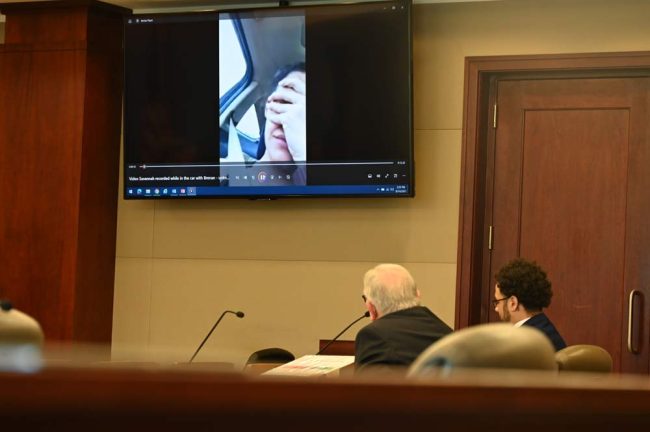 Not much earlier before he took the stand, Clark had played videos and had a detective read some of the texts Hill exchanged with Savannah. The jury heard him call her the vilest names, call her a "piece of shit loser," call her "dumb," an "idiot," blame their homelessness on her–all because she had stashed away his drugs somewhere: he was an addict and a dealer (he faces other felony charges in both regards), she wanted him off the drugs, and he was losing it, as addicts do when they're separated from their fix.
"I want to die," he tells her. She tells him: "You're only going to die if you don't change. You're only going to die if you don't change. You need to change. You need to change." He wails, exactly the sort of loud, agonizing wail the jury had heard from him when he spoke to a deputy at AdventHealth Palm Coast after driving a bleeding and unresponsive savannah there–after hiding the gun, after calling his mother rather than 911 and beginning his odysseys of fabrications with his mom, telling her they'd been the victim of an armed robbery. But the wailing in his confrontation with savannah, on the video she was taking, was because he was without his drugs.




When Clark went through some of the vilest things he told savannah, "this woman you say you loved," he snapped: "You never spoke harsh words to someone you cared about?"
"Mr. Hill we're talking about you," Clark immediately fired back, returning to her questions about how he'd claimed never to have put a hand on savannah, even though he's heard telling her he'd "smash" her, and heard telling her, "don't make me hit you."
On March 3, some three weeks before the shooting, savannah had sent a text to her mother: "I will not stop until he pays the price for his actions. come Monday I will follow through with everything. I'm in the process of getting my belongings from his mother's house, because I was staying there and that made it easier for him to abuse me. Thank you for calling me. I needed that reassurance more than you'll know."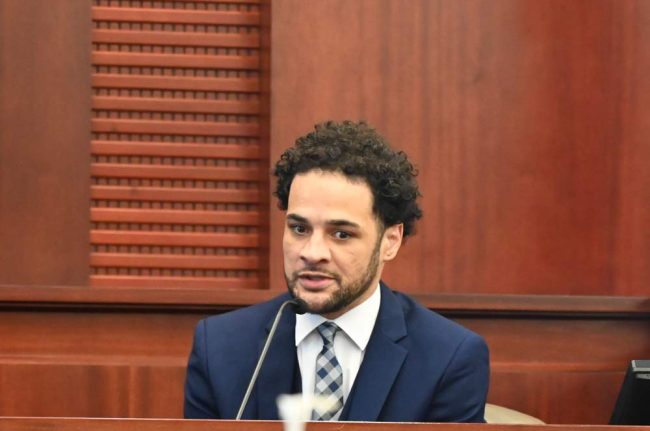 On the stand, Hill insisted he never put a hand on savannah, wouldn't do that sort of thing, and re-enacted the shooting for the jury: he'd just taken her to Burger Bros where she was to start her shift. She didn't want to go in, even though he said she'd insisted they be on time. They'd just lost their room at the Microtel. She wanted to find a place to stay, another hotel. She was upset–that's his account–so he tried to console her, telling her he'd sell the gun he'd bought only a week earlier, for $200 to $300. He had a hand on her knee, a tender touch. He took the gun out of his waistband, with his left hand, though he's right-handed, his right hand still on her knee–that's his account–and he tried, one-handed, to take the bullets out of it, to uncock the gun, with his finger on the trigger.
"My thumb was on the hammer. My finger was on the trigger," he said, using words he'd heard a firearm experts use earlier that day as she explained an outlandish, almost impossible way the gun could fire.
Where was the gun pointing, Bettman asks him. Hill cries. "The gun was pointed in her direction," he says. ""I wasn't thinking about it." He said his thumb slipped, let go of the hammer, and the gun fired. (It was then that he started breathing rhythmically.) It was never clear how, with Hill sitting in the driver's seat and pointing the gun sideways, or slightly up, the bullet could have traveled in a downward trajectory into savannah's brain stem, where it would go on to provoke months of debilitating damage, strokes, spinal fluid leakage, and eventually, last November, her death.
"Why didn't you call 911 first?"




"I was freaking out. Calling 911 wasn't going to get her there any faster." (Nor was finding a towel to wrap the gun in, or hopping out of the car to hide the gun, or spending a few moments covering up the gun, or calling his mom, the steps he took after the shooting as savannah lay dying.)
"Several times you repeated different versions that were not true. Is that correct?" Bettman asked him.
"Yeah."
"Do you regret that?"
"Yeah."
"Why do you think you did that?"
Hill said: "I wanted to get her the energy and wanted to make sure she was OK, nothing in police officers could have did for her would have helped her. different or would have helped her. She was where she needed to be. I wanted to be there to give her energy because that's what she believed in. The energy of the universe. en she could meet the energy of the universe. I wanted everyone who cared about her to be there and to give her the energy so she can get through this." He added, speaking of the cops: "I never thought I could tell them that it was an accident without them making accusations to some bullshit because they'd find some other shit that has nothing to do with that."
Hill did not seem to grasp that that was the only thing he had fed the cops: "shit that has nothing to do with" the shooting, surely leaving jurors to wonder if he wasn't doing the same with them.
There was also a story about how his left hand had been injured a couple o years before the shooting and left him with very diminished feeling in the forefinger–a story he never told detectives at any point, even when he said he was owning up to the "accidental" shooting.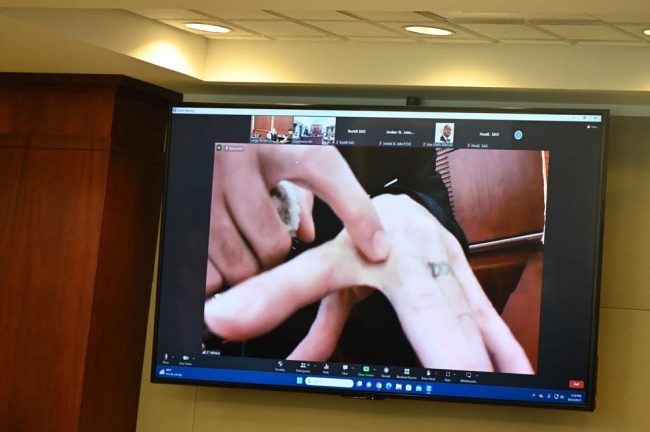 Clark, who prosecuted the case with Assistant State Attorney Tara Libby, built the case against Hill as if evidence were a three-act tragedy. They devoted Tuesday to letting the jury hear Hill in his own words. They had copious recordings of Hill the day of the shooting, when he repeatedly spoke with deputies and detectives, and when he lied every time, making up tales of an armed robbery, pinning it on a Black man, making himself and Savannah out to be victims, and showing himself as an emotional wreck.
The prosecution devoted Wednesday and this morning to over a dozen law enforcement witnesses and the medical examiner who deconstructed every technical aspect of the case. It was dry, forensic, at times grim, but this was the factual part, the timelines and the DNA proof and the bullet casing and the gun's mechanics, much of it not even meant to be incriminating so much as it weaved a factual noose constricting around Hill's many lies.
This afternoon, Clark brought out the third act, the emotional part, the video clips that savannah took as Hill yelled at her, and that briefly showed her young face starting at the lens, or palming her eyes, or hiding the camera eye. Clark was connecting the dozen images of savannah's dead, atrophied body, of her actual brain, of a picture of the gunshot behind her head, which the jury had seen that morning, to the protest of some of them–"bring it on if you must but I'm not happy about it whatsoever," a juror told the judge–with savannah in her last days, a young woman in the flush of life, about to be shot.
And after Hill was done with his own defense, Clark brought out a final rebuttal witness: one of the detectives who'd interviewed Hill in his jail cell five weeks after the shooting, when hill first unholstered his accidental shooting theory, when he told the detectives: "fuck it, I don't care. I'm not holding this shit in no more… This is a proffer, straight up."
He went on to blame it on the gun, that he'd taken the gun out of his waistband, "hit the decocker," and "it fired… that's what the fuck happened." He was adamant: "I didn't have my finger on the trigger, what-so-fucking-ever. That's why I was freaking out. I couldn't understand it."
The detective summarized that exchange to the jury, without the profanities: "He was adamant that his finger was never on the trigger."
But that's not what Hill had told the jury. He had said explicitly that his finger was on the trigger, and that "As I squeezed the trigger, I thought I had a secure grip on the hammer, which I did not."
So there was one more lie: either what he told the detectives in his jail cell was false, or what he told the jury today was false. The two statements could not both possibly be true, though there is a third possibility: neither statement was true, and Hill is still lying.
With that, the day, and the case, ended. Circuit Judge Terence Perkins dismissed the jury, summoning it back for 9 a.m. closing arguments Friday, deliberations beginning well before lunch, and a very likely result (if not necessarily a verdict, given the court's recent minor streak of deadlocked juries) by afternoon.