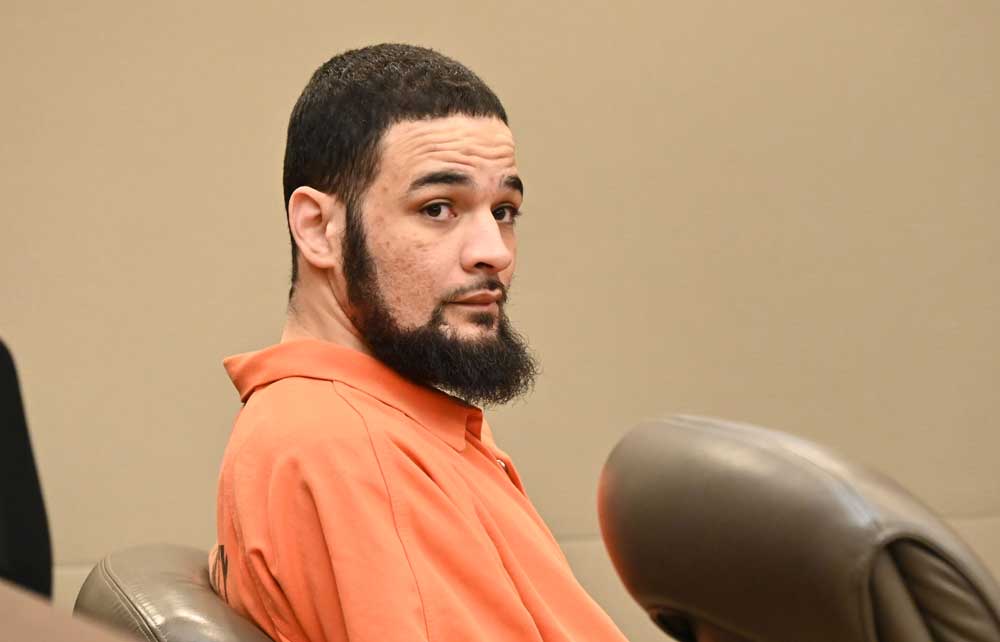 There's no question that Brenan Hill confessed in an interview with detectives that he shot Savannah La-Rynn Gonzalez, 22 at the time. Hill, 33, facing a second-degree murder charge in the shooting two years ago near the Microtel in Palm Coast.
The question before Circuit Judge Terence Perkins at a hearing this morning was whether the confession was admissible in court.
Hill's attorney, Britney Sanford-Soles, argued it wasn't: Hill had asked for an attorney before the confession, which should have shut down the interview immediately. Assistant State Attorney Melissa Clark said was admissible because Hill's request for an attorney was ambiguous, and he kept talking.
Perkins agreed with the prosecution. The jury will hear the recorded confession, in its full context.
It's a blow to the defense, but not necessarily because of the substance: while it's not yet known what Hill's defense will look like, his claim that the shooting was an accident appears to be the heart of it. His confession is focused on just that, so it probably doesn't reveal anything the jury will not hear in the defense's opening argument.




But the defense generally doesn't like to let juries hear recordings or videos of interviews with detectives because defendants rarely come off well in them. Without serious coaching, Hill's demeanor–its sullen contempt, even toward the judge, was on full display this morning–will not help him in court. His narrative in the recorded confession isn't likely to, either, assuming the case isn't pleaded out.
"It was a horrible fucking accident," Hill told four detectives three weeks after the shooting. "It was a stupid fucking piece of shit gun, bro."The interview took place on April 15, 2021. The shooting had taken place on March 26. Hill was at the county jail on drug charges unrelated to the shooting, though detectives knew he was their prime suspect in the shooting. Gonzalez was still alive, if barely so.
Hill, to whom truth-telling appears to be incidental, had initially claimed that as he and Gonzalez sat in a car near the Microtel off Old Kings Road, they were the victims of an armed robbery, and the robber's gun went off. Detectives immediately had their doubts.
Now Hill wanted to come clean. "You know, fuck it, I don't care. I'm not holding this shit in no more," he told them. "This is a proffer, straight up." His use of the word "proffer," a legal term that means offering up evidence and that is rarely used outside judicial proceedings or law school, betrayed his familiarity with a system he'd been evading at the time of the shooting. He was–and still is–a fugitive on aggravated assault charges stemming from a brutal incident involving the mother of his child in Pennsylvania. (The defense tried to keep that woman from testifying at the coming trial. The defense failed.)




The story now, Hill was telling the detectives in the jail interview, was that he had acquired a gun that he was going to sell. He didn't want to sell it loaded. So he took it out of his waistband, where it was bothering him because it was digging in. He supposedly "hit the decocker," as he put it, and "it fired," he said. "That's what the fuck happened." He used the word "pow" to describe the gunshot. He said he freaked out.
He was charged with attempted second-degree murder almost three months after the shooting. When Gonzalez died last year, the state re-filed, removing "attempted." It would be a straight second-degree murder charge with a maximum penalty of life in prison on conviction. The trial is set for August.
A detective asked him whether he'd ever threatened Gonzalez. He said he didn't–a demonstrable lie that Gonzalez's evidence will discredit at trial: she had recorded him threatening her.
The key point Sanford-Soles, Hill's attorney, argued today was that Hill had clearly invoked his right to an attorney during that jail interview: "The detective asked the defendant if he wants to call his attorney and the defendant responds back as, 'yeah, I would like to.' But the interview continues forward and the defendant makes incriminating statements."
Under the law, police aren't required to stop a custodial interview–meaning an interview with an individual who is either detained or under arrest–when the defendant makes an ambiguous request for a lawyer. Hill made those ambiguous requests: 13 minutes in, he tells the detectives that his attorney advised him not to talk, and 17 minutes in he says "the lawyer said don't say anything without me being present." He also asks the detectives: "Can we do this later?" But he kept talking, and all those statements could reasonably be interpreted as ambiguous.




When asked directly whether he wants to talk to an attorney and he says, "yeah, I would like to," it's unquestionably not ambiguous, Sanford-Soles argued, and the interview should have stopped then, and the statements disallowed in court.
Clark, the prosecutor, showed that the statement, "yeah, I would like to," was decontextualized. The transcript of that segment of the exchange between Hill and the detective, as read by Clark in court, went as follows: "Detective says, do you want to call an attorney? The defendant says, yeah, I'd like to, and this is where the confliction comes in. You come here for me to show humanity and not a monster. I'm not a monster." That statement is at the 18 minute mark of the interview.
Hill goes on to say that in an initial statement to a detective, soon after the shooting, he was under the influence, and felt that detective's energy going in a direction Hill didn't like. He thought he was going to be charged with murder. At the jail, he told the detectives during the April interview: "I think you're trying to help me but you have a job to do and that is where the confliction comes in. I tell you what happened and you put charges in and send me up the road. I took the victim off the street. Her family did not do anything for her. I did so much good for the victim." Hill at that point made a scabrous allegation, and went on, portraying himself as the victim's savior–the savior of the victim he shot: "I made it special for her. I did everything to be a good man to her and then this accident happened. I don't–F' it. It is what it is bro, not holding it in no more, this is a proffer straight up."
It was then that he described the shooting.
"So I would argue to you he's talking about he's conflicted. He doesn't want to be portrayed as a monster. He keeps kind of engaging with the officers," Clark said. "He's literally telling them I'm conflicted. Part of me wants to talk to you. Part of me doesn't want to talk to you." Because of that back and forth, Clark said, "a reasonable officer in that position would not take that as he is asking for a lawyer and I need to stop. And so that's why I would argue, judge, that this is not an a statement that should be suppressed."




To the defense attorney, "the statement from Mr. Hill that he was conflicted on whether to talk to them or not came after the unambiguous statement, 'Yeah, I would like to,' in response to law enforcement officers stating would you like to call your attorney. Right there, the interview should have ceased."
Perkins, who heard the full recording, did not agree, deeming Hill's statements "equivocal, and ambiguous, at best," and ruled in favor of the prosecution. "Having reviewed the balance, there was never a subsequent follow up or subsequent unequivocal request to speak to counsel," Perkins said. "If anything, it was just the opposite. It was a voluntary participation in the interrogation in that regard."
But Sanford-Soles was right: many a judge would have just as convincingly agreed with the argument that it would only take one unequivocal statement from the defendant, at any point in the interview and regardless of context, to invoke the right to an attorney. In fact, detectives interviewing suspects frequently say just as much to a defendant they're interviewing.
In this case, however, Hill, in the same breath, spoke the words that might have ended the interview even as he continued speaking additional words–in the same sentence–that seemed to negate his wish to stop. It might have taken an overly scrupulous officer perhaps reared on the prose of William Brennan and Earl Warren to have seen it Sanford-Soles's way. In Florida today, that's not the prevailing interpretation of law.
Should the trial hinge on Hill's defense that it was an accident, it might recall the case of William Carson Merrill, the former Palm Coast resident of Covington Lane who shot and killed his wife, Stefanie Merrill, 11 years ago as she was bathing their child. He had been "activating the laser on his firearm and making adjustments to his firearm," according to court records (one of 30 guns he kept at home illegally, being a previously convicted felon), and doing what responsible gun owners never do: pointing the gun at his wife. The gun went off. He was charged with manslaughter, pleaded, and was sentenced to 25 years in prison.




If Hill's defense hinges on an accidental shooting–and the case does go to trial–the defense may seek a lesser conviction on a manslaughter charge from the jury. But Hill's case is different from Merrill's in most regards. There is considerable evidence of threats of violence toward Gonzalez before the shooting, and there is evidence of actual violence against the mother of Hill's child in Pennsylvania. Hill also faces a charge of aggravated battery with serious bodily injury, a first-degree felony, and a charge of firing a gun in a car, plus drug charges. The case is more leaden than one bullet fired on March 26, 2021.
Today's hearing, which also included Hill's arraignment on the murder charge, took all of 20 minutes. Hill pleaded not guilty. Hill's attorney had zoomed in. When Perkins asked Hill whether he understood what was done today, Hill, who'd sat, slouched, mostly staring at the carpet or the table in front of him, barely raised his head toward the judge or acknowledged him in words, nodding imperceptibly at best. Perkins suggested he follow-up with his attorney before he was ushered out.
The trial is being delayed to August because Hill's attorney will be on maternity leave starting in April, and her co-counsel, in a severe reprimand from the Supreme Court, was required to suspend practicing law for a few months.

Reader Interactions