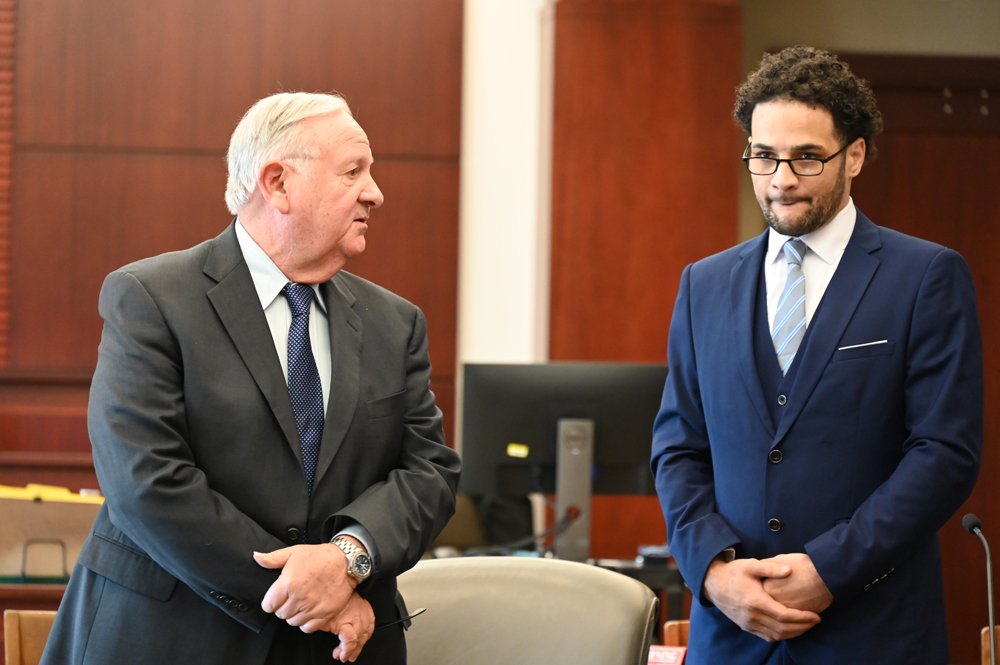 Opening arguments in Brenan Hill's trial on a murder aren't until Tuesday morning. But Gerald Bettman, Hill's attorney, made his intentions clear in his remarkably brief interactions with potential jurors at the end of a day of jury selection Monday: the shooting was accidental. It had nothing to do with domestic violence. It was a homicide, but not a murder.
Obviously, the prosecution disagrees, though it did not tip its hand today as Bettman did.




Hill, 32 at the time, shot Savannah Gonzalez in March 2021 near the Microtel in Palm Coast. He did so not long after Gonzalez, his girlfriend, had recorded him on her phone verbally abusing her and threatening to kill her.  Hill lied to sheriff's deputies initially, saying he had been the victim of an attempted robbery. Gonzalez died more than a year after the shooting, upgrading the charge from attempted murder to second degree murder. If convicted, Hill faces a minimum mandatory sentence of 25 years in prison, up to life in prison.
In Bettman, Hill has a grizzled, sharp and disarming attorney whose grandfatherly demeanor masks the sort of penetrating shrewdness that won his local clients two high-profile acquittals in the last two years–Benjamin Allen, who had been accused of murder when he was 16, and just last July, Nysean Giddens, who had been accused of murdering a man by selling him drugs that killed him.  In both cases, Betts filled moats of doubt between the defendant and the prosecution's evidence by exploiting–and at times ridiculing–the slightest vulnerabilities in the state's cases.
He will do the same in Hill's defense.




Bettman wasn't explicit he seemed to make his case today. He wouldn't be allowed to be at this stage–or at any stage outside of his opening and closing arguments. But Bettman's questions were so obvious that Assistant State Attorney Melissa Clark, the prosecutor, objected time and time again as Bettman's questions were so tendentious.
"Has anybody here never made a mistake?" Bettman asked, eliciting titters from the jury pool of 46 (it had started the day at 50). "Does everybody here think it's possible to have a shooting that's accidental?" There it was: the shot that eventually killed Gonzalez was reduced to a mistake.
He asked jurors if they understood how a semi-automatic weapon worked,  if any of them had had a safety course in gun handling, if anyone disagreed with the statement that "a gun is very dangerous," if they thought a gun could fire accidentally, if they thought they had to have a safety course before owning a gun–"You do in New York, you don't here," a juror said.




In fact, while Florida's law recently changed, individuals applying for concealed carry permits at the time of the Microtel shooting were required to have a safety course. Hill did not have one. When Bettman began asking jurors if they'd hold it against someone for not having a safety course, Clark objected. 
Hill had recently moved to Palm Coast from Pennsylvania, where he faces unrelated charges of aggravated assault in a domestic violence case: the alleged victim will be testifying for the prosecution in this case this week.
Bettman also revealed that Hill would take the stand.
Jury selection ended with the selection of six women and two men, including the two alternates who will not go back to the jury room once the jury of six will deliberate.
Clark's questioning of the potential jurors had been very different, focusing in large part on the juror's experience with domestic violence and, to a lesser extent, with guns.
Over a dozen jurors spoke of such experiences–abuse that inflicted their loved ones–mothers, especially–abuse they witnessed or or were told about, including in one case a juror's mother who was so repeatedly abused that she ended up killing the abuser, and serving five years in prison on a manslaughter charge.




The prosecution's questions were unsparing, the answers candid in confessional ways: unlike jury selection involving sex crimes, when jurors are asked to reveal their own experiences with molestation and typically ask to do so outside the presence of the jury pool, today most of the juror's responses were in front of their peers, as if, for a time, jury selection had turned into a group session for domestic violence survivors. 
In some cases, it was the alleged abuser who was spoken of sympathetically: One juror thought what happened to her brother was "absolutely not" just, when he spent a year in jail after he intervened to stop the juror's sister-ion-law from abusing her children. Another juror, a man, felt that most domestic violence cases did not need to be brought to justice, that they should be dealt with within the family. Neither juror made it onto the panel. 
Nor, of course, did a retired law enforcement officer who, hiding his truculence not one bit, all but insulted the court and Clark as she was asking questions: "I'm retired and I don't want to have anything to with anything but what my life has to do with," he said. "This is an inconvenience to me." He said he'd have walked out within 20 minutes of jury selection beginning had there not been civil consequences. 
Others begged off jury duty for reasons that never fail to be heard during selection–impending travel, an upcoming funeral, a close family member's severe health difficulties, language barriers, and so on. While the court is loath to excuse jurors nom matter the reason, in the end, most of those reasons are accommodated.
Opening arguments begin at 9 Tuesday morning. The trial is expected to take all week, with potentially close to two dozen witnesses.

\