One clap rang out in the courtroom when the clerk read the verdict: not guilty. 
It came from the side of the courtroom where some two dozen family and friends of Nysean Giddens were sitting. On the other side, the family and friends of Shaun Callahan were perhaps first in shock. Then some of them wept, as Giddens himself was weeping, though for different reasons. 




After deliberating nearly four hours, a 12-member jury this afternoon acquitted Giddens of first degree murder in the overdose drug death of Shaun James Callahan, 37, at his Palm Coast home in September 2020.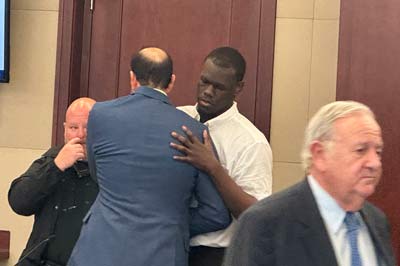 The Flagler County Sheriff had originally charged Giddens with manslaughter. A grand jury in June indicted him on the first-degree murder charge, a capital felony. The difference between the second degree felony manslaughter charge and the murder charge is the difference between 15 years and life in prison. But the jury is not told those differences, nor is it told what potential penalty Giddens faces. Some members of the jury may know it. Most usually do not. 
It didn't matter in this case–the first case in Flagler County resulting in an acquittal of a person charged with murder or manslaughter as a result of another person's overdose death. Nearly a dozen individuals in Flagler County have been prosecuted since 2018 under a law authorizing prosecutors to charge murder or manslaughter in drug-induced homicides. Giddens, 25, is only the second individual in Flagler to take his case to trial. 
He was acquitted, but not freed. He still faces a second degree felony charge of drug possession with intent to sell within 1,000 feet of a school, a third degree felony charge of unlawfully using a phone to deal drugs, and sale of a controlled substance, also a second degree felony. But he could be freed on bail, now that the revocation of his bond, which followed his arrest in the Callahan case, is no longer valid. 




Giddens's fate rested on the defense that attorney Gerald Bettman built, with Matthew Maguire in second chair. At the heart of that defense was Bettman's argument that the prosecution could not tie Giddens directly to the fentanyl that killed Callahan. 
"That's all we have in this case is opinions. It's not [Giddens's] fault they don't have evidence," Bettman told the jury, referring to the prosecution.
Bettman then delivered to the jury an especially effective if brutal judgment of his own, a judgment that caused one, then two, then three members of Callahan's party to storm out: "It was a self-inflicted injection of a controlled substance by Mr. Callahan," Bettman said. "That's what it's about. He was responsible for his own death because he took fentanyl from somewhere else. There's no evidence–and this the most important thing–there was no evidence that Mr. Giddens delivered that fentanyl. " Giddens, who testified on Wednesday, had admitted to dealing cocaine to Callahan–pure cocaine, cocaine that he had delivered to him, from the same batch, in a previous sale, as he claimed. 
Assistant State Attorney Jennifer Dunton had sought to establish that direct, undoubted link between Giddens selling fentanyl-laced cocaine to Callahan and the "proximate cause of Mr. Callahan's death" by overdose shortly after Callahan had picked up the package of drugs from the mailbox, where Giddens had allegedly left it for him. 
Dunton started her closing arguments this morning by holding up a ream of papers printed with Callahan's texts leading up to his death. "It reads like a book of Shaun Callahan's last day on earth, second by second, minute by minute," she told the jury, which had heard a deconstruction of the texts in the previous days of trial. The data was pulled from Callahan's phone, with time stamps. 




As Dunton related the sequence of events, Callahan had just gotten a  new job. He said in a text he would take a little cocaine to make it through the day, as he had the night before, with beer. He goes on to work, has exchanges with his girlfriend about their son, who was sick, he exchanges texts with his mother and others, and continues working. At 2:34 p.m., he gets the first contact from Giddens, which Callahan doesn't answer right then. He has contact with two other individuals who were also dealers, Callahan suppliers, but doesn't hear back from them. 
He then answers Giddens, or "Duke," as Giddens was known, to let him know he was still working, but a drug deal took place between 5 and 6 p.m.–with Giddens. 
Callahan lived with his parents. In the evening he watches TV with his son, until his girlfriend returns home from work at Publix around 9:30 p.m. She did not see anything wrong with him at that point.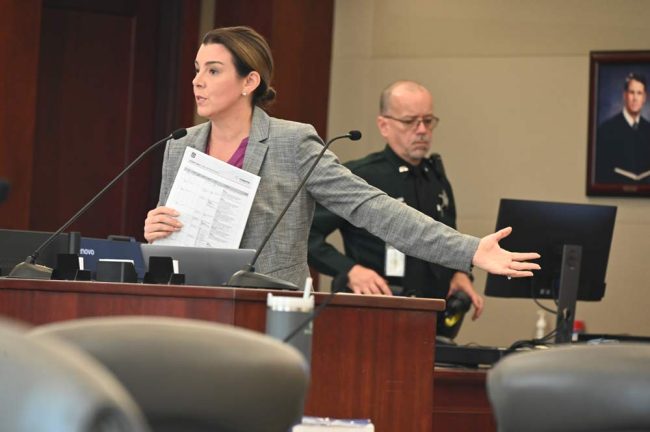 Giddens dropped off the drugs at 10:30 p.m. by placing them in the mailbox. Callahan retrieved the drugs. His girlfriend found Callahan dead the next morning around 8 a.m., with his phone in his hand. His last text's timestamp: 10:44 p.m. 
Dunton told the jury that Callahan didn't want fentanyl. "There's no evidence he was a fentanyl user or a heroin user," the prosecutor said. There was no evidence of any other delivery than that from Giddens that day. The only drugs found in Callahan's system aside from a cutting agent and caffeine were cocaine and fentanyl. "All we have to deal with is fentanyl and cocaine," Dunton said. 
But, Bettman told the jury, a lot of evidence was removed from Callahan's room the morning he was found, as his girlfriend and family sought to protect his reputation. 
"They took away the proof of who did it and they took away the proof of Mr Giddens not being guilty,"  Bettman argued. "Who said that they saw Mr. Giddens deliver it? Nobody. The substance that killed Shaun Callahan was never in the possession of Mr. Giddens. There's no evidence of that." 




Defense attorneys and rights organizations have argued for many years against the validity of prosecuting drug dealers on first degree murder charges for the overdose death of their clients, because a first degree charge by definition requires what they refer to as mens rea, the Latin, legal term for criminal intent. A dealer would have had to know and intend to kill the client–a very difficult case to make even for prosecutors, which is why the Giddens case started as a charge of manslaughter. 
That's probably the charge the prosecution expected the jury would convict on, as another Flagler County jury did in the case of Javonte Hamilton last August, what proved to be the first such case to go to trial in the county. 
For the defense to be successful, it could not argue against the validity of the law, hint at its controversial progeny or even refer to the history of the Giddens case–starting as a manslaughter charge, only to be upgraded to a first degree murder charge after a grand jury indictment. Rather, the defense had to cast doubt on the origins of the drug that killed Giddens. In essence, it was as if Giddens were one of several bombers dropping bombs from planes, Callahan was a victim, and the prosecution was attempting to pinpoint a specific bomb as having come from Giddens's plane. (Callahgan did, in fact, have other suppliers.)
The prosecution's case seemed incontrovertible to the extent that Giddens had sold drugs to Callahan, and in an ironic turn of events the prosecution may well have had an easier time making the case for manslaughter as a starting point, especially since that would have reduced the jury from 12 to six members. 




The first degree murder charge appears to have tripped up the jury as excessive, and though manslaughter was a possible alternative on the verdict form, on a 12-member jury, it only takes one hold-out to prevent a conviction, and result in a hung jury. The prosecution may have been convincing enough for a majority. But in a capital murder case, a majority is not enough: the jury had to be unanimous. By the time it emerged, its unanimity was only for acquittal.
And for Bettman, an affable, grizzled attorney who, rather than resort to dramatics, talks to the jury as if he were talking to acquaintances at a seminar, today's verdict was the second time he'd won an acquittal in a high profile case in Flagler County in two years–both times for Black defendants facing nearly all-white juries: in May 2021, a jury acquitted Benjamin Allen in the shooting death of Elijah Rizvan during a drug deal, when Allen was one of four individuals carrying out the deal with Rizvan. Bettman had tried that case with Gary Baker.
The Giddens case was tried before Circuit Judge Terence Perkins.