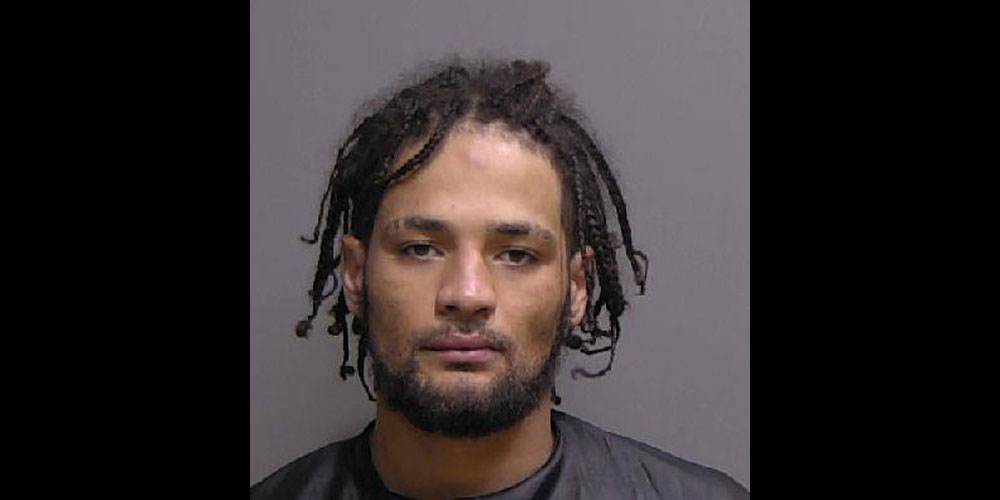 Brenan Hill now faces a second-degree murder charge in the shooting of Savannah Gonzalez near the Microtel in Palm Coast in March 2021.
The State Attorney's Office today filed an amended information, or charges, in the case, a day after Hill's trial was moved to August 2023. It had been scheduled for November, then moved to February.
On Wednesday, Assistant State Attorney Melissa Clark, who is prosecuting the case, informed Circuit Judge Terence Perkins that Gonzales had died several weeks ago subsequent to injuries she suffered in the shooting. The prosecution had waited for the medical examiner's determination on the cause of death to move forward with the amended charges.
Previously, Hill, 33, had faced an attempted second degree murder charge. Though more grave, the new charge does not materially change the sort of sentence Hill faces, if convicted. He faced the possibility of life in prison even on the attempted murder charge. He still does. The state has added two new charges: aggravated battery causing serious bodily injury with a firearm, also carrying a maximum penalty of life in prison, and throwing a deadly missile in an occupied vehicle.




Hill, formerly of 19 Flemingwood Lane in Palm Coast, has been at the Flagler County jail on no bond since March 26, 2021. He is also being held on a slew of drug charges, and on a fugitive-from-justice warrant out of Pennsylvania, where he is wanted for absconding over aggravated assault charges he incurred in assault against the mother of his child, Shanell Torchia, who will also figure in the Flagler case. (Torchia in a previous interview with FlaglerLive did not object to being identified by name.)
The State Attorney at trial intends to introduce what's referred to as similar-fact evidence in its case against Hill. In simple terms, it will introduce evidence of the assault against Torchia, to which Hill himself refers in a series of threats he made against Gonzales shortly before he shot her. Gonzales was in the habit of video recording him.
One such video records his anger as he interrogates Gonzales about the whereabouts of his drugs. "I will beat the shit out of you," Hill tells her at one point, later getting angry over the fact that Gonzalez had not bought a gun for him, as he had demanded. He then tells Gonzalez: If I was going to kill you I would fucking kill you. I don't need a gun." He adds: "You will get your face smashed in like Chanel did, don't touch my fucking drugs." The transcript in a prosecutor's motion refers to Shanell. The victim was also in the habit of sending the videos to Torchia.
Further videos quote him as threatening Gonzalez: "I am going to hurt you so I can leave," "Please don't make me hurt you," and some apologetic statements.
It is ordinarily illegal for an adult to video or audio record another person in private conversation without the person's consent. When detectives asked Hill whether he knew he was being recorded, he said he "did not care," making that prohibition moot in prosecutors' view–and the evidence therefore legally admissible in court.




The defense disagrees, and argued against admissibility–both of video evidence and of Hill's history of violence with Torchia.
Perkins ruled on Tuesday that both the video recordings and evidence involving the case in Pennsylvania will be admissible.
Two weeks before the shooting, Gonzalez had written her brother: "I will not stop until he pays the price for his actions. Come Monday I will follow through with everything. I am in the process of getting my belongings from his mothers house [sic.] because I was staying there and that did make it easier for him to abuse me. Thank you for calling me. I needed that reassurance more than you'll know."
On March 26, 2021, authorities were called to the area of the Microtel off Old Kings Road, after Hill himself drove a wounded Gonzalez to AdventHealth Palm Coast, where Hill claimed she had been shot by an armed robber. He was evasive with authorities about where the alleged shooting took place, blaming the shooting on a "black man with dreads." But when taking the victim to the hospital, he had also driven out of his way to get rid of the gun, throwing it in the woods.
The delay to an August trial is not quite related to the new, graver charges. Hill's defense teams asked for the delay for two reasons. First, Britney Sanford-Soles, the lead attorney in the case, is expecting a child in coming weeks and will be on maternity leave from April through July.
Second, her co-counsel, David Taylor, was disciplined by the Florida Bar and ordered by the Florida Supreme Court to suspend his practice for two months, from Jan. 9 through March 10, as part of his penalties. He was also publicly reprimanded.
A Florida Bar investigation found that Taylor had improperly engaged in conversation with another attorney's client, in a case in which Taylor was involved, but without the other attorney present, though Taylor knew that the client had representation (the other attorney had just left the room). Separately, Taylor's assistant had improperly solicited inmates at a Duval jail with promotional materials. Taylor must also attend ethics school.

see:
Reader Interactions