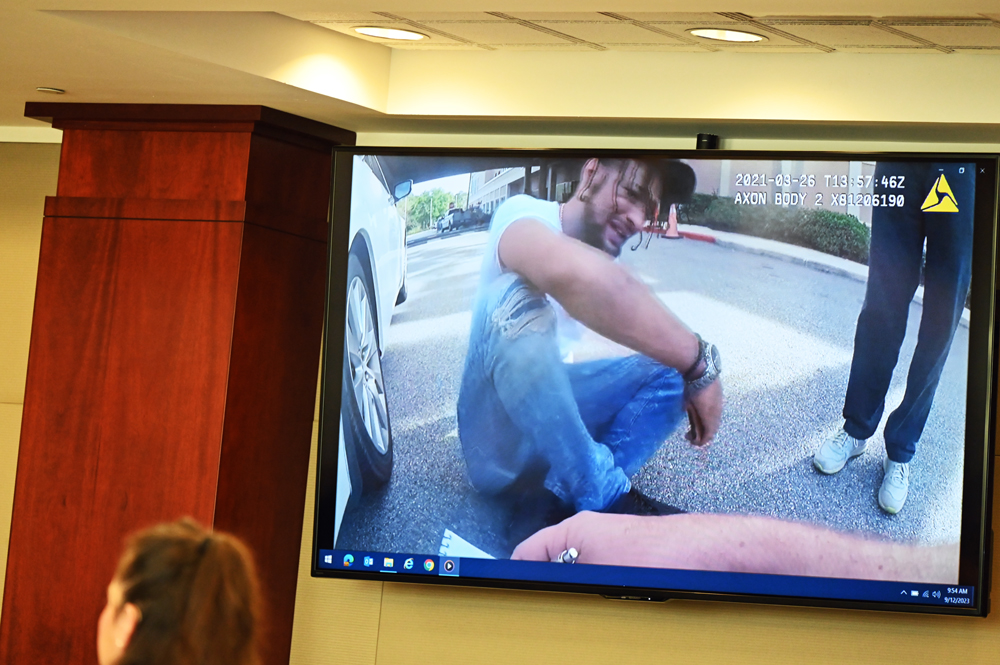 Brenan Hill lied at least six times times about what led to him shooting Savannah La-Rynn Gonzalez in the head on March 26, 2021, including a lie to his mother. The 22-year-old Palm Coast woman never recovered. She died last Nov. 9. 
The jury in Hill's second day of trial on a second-degree murder charge today got to hear Hill speak four of those lies, in video and recorded statements to law enforcement, as the prosecution made its case.




Hill first lied to a 911 dispatcher about a botched robbery "in an alleyway" that resulted in Savannah's shooting. The prosecution did not play that 911 call.
Nor did the jury hear about the way Hill's mother described the call she got from Hill–before he called 911: "I received a phone call, disturbing phone call, and Brenan was very obnoxious on the phone and very emotional," his mother said in a deposition, "screaming in the phone that Savannah had been shot and they had been robbed and that she was dead. I believe he said those words to me. And he was screaming that someone robbed him."
She told him to go to the hospital on the possibility that Savannah could still be alive, hung up and called 911 herself. 
Hill, a cigarette in hand but as if in agony with loud lamentations, lied to the first deputy he saw at the hospital, where he'd brought Savannah, 22. Recorded on a body cam, Hill said he'd been the victim of an attempted armed robbery. He grabbed the gun. The gun went off, striking his girlfriend. The man ran off with the gun. He said the shooting took place near a park with a pond down from the Microtel motel, which deputies took to be Graham Swamp.
Hill then lied to detectives who spoke to him further at the hospital, repeating a similar story, along with other fabrications about what the robber wore. He said he immediately drove Savannah to the hospital. That was not true, either.




Hill the same day lied again to detectives in an interview room at the Flagler County courthouse, where the Sheriff's Office had most of its operations back then, telling  a similar story about a Black man in dreadlocks attempting to rob him. An hour into that interview he got frustrated: "I don't want to do this no more," he told the detectives, asking to go "home," though he had no home: his mother had kicked him out, he'd told detectives.
During the interview, the sheriff's Real Time Crime Center had been busy verifying Hill's claims. Detectives pointed out that his story didn't track with license plate readers.  had picked his Honda Accord going to Publix at Palm Coast Parkway and Belle Terre Parkway before he took I-95 to the hospital.
Hill changed his story yet again, lying about that, too. He conceded to going to Publix with Savannah, but said he went there to sell a man his gun. The man took the gun, pointed it at Hill and tried to rob him, and so on. It's not clear why he'd made up the lie about the robbery taking place in a park-like setting south of the motel. He was arrested–not on charges related to the shooting, but on an out-of-state warrant for a probation violation.
Three weeks later interviewed him again. They'd found the gun Hill had hidden in bushes near Publix, unraveling his lies up to that point, and also found videos Savannah had taken of Hill threatening her the day before the shooting: "I will beat the shit out of you," he told her. "If I was going to kill you, I would kill you. I don't need a gun… you will get your face smashed in like Shanell, don't touch my fucking drugs." Shanell Torchia is the mother of his child in Pennsylvania, who pressed domestic violence charges against him. 




Hill changed his story. He said he wasn't going to lie anymore. He said he'd planned to sell the gun, was unloading it, and it fired accidentally, striking Savannah.
Gerald Bettman, who is representing Hill–"I am really honored to represent Mr. Hill," he told the jury this morning–has to overcome that confederacy of lies in the jury's eyes. He is basing his defense on the only possible strategy: Hill lied all those times, yes. But he's not lying now. The gun fired accidentally. There was no intent to harm Savannah. 
To convince the jury, Bettman will have to portray a believable Hill, as will Hill himself: he is taking the stand in what's expected to be a week-long trial. Bettman will also be undermining the state's forensic evidence to paint a scene that Has Hill attempting to unload his gun and firing it by mistake, striking Savannah behind the left ear.
Assistant State Attorneys Melissa Clark and Tara Libby, who are prosecuting the case, are arguing a different line. The lies are covering up Hill's "short fuse," the way he yelled at and smacked Savannah when he was angry–she had complained about his abuse in texts–the way he intentionally shot her that day out of anger.




"Everything the prosecutor just told you is exactly the truth," the defense attorney told the jury. "But there's one thing she left out–that it was not an intentional shooting. It wasn't even a shooting that he meant to happen. It was an accident. Everything she said was true. But the problem is that the cover of the lies that you've talked about is sometimes worse than the actual excusable homicide."
Bettman told the jury that Hill is not on trial for lying, or for domestic violence. Only for what happened in that moment in the car that day. He said experts will not support testimony by a trauma physician about the angle of the shot (downward, from the back of the head). Bettman says the gun was shot with Hill's left hand, not his right. 
Two of the three physicians who treated Savannah and who testified today detailed her severely debilitating brain injury as Savannah declined and eventually died, but did not have expertise or memory regarding the bullet's trajectory. The third physician, a trauma surgeon at Halifax hospital who'd spent a career treating gunshot wounds and soldiers' war injuries, asserted that the bullet entered from the back of the head–and chuckled with derision when Bettman suggested it entered from around the left ear. 
It could not have happened from the left ear? Bettman asked Dr. Slobodan Jazarevic. 
"No." 
"It came from back of the head?"
"Yes."




"Are you sure you're talking about this chase?" Bettman asked.
"Yes, are you?" Jazarevic immediately replied. Bettman had challenged the physician's expertise in the forensics of gunshot wounds. 
"It's true that he lied to officers because he didn't know what else to say, but he's not here for lying," Bettman argued to the jury. "He got rid of the gun but he did not get rid of Savannah, he rushed her to the hospital to try to save her life." (Not exactly: he took a detour to get rid of the gun first, bounding into the woods near Publix as Savannah was paralyzed, bleeding and all but comatose from the gunshot.) 
The day's testimonies by physicians was sandwiched between the longest of the detectives' interviews with Hill–the two-hour video interview at the courthouse that featured Hill's fourth set of lies, until detectives confronted him with contradictory information from license plate readers.
The jury almost did not get to see that part as Bettman objected to the last  39 minutes of the video being shown the judge–even though the video is in evidence, and the prosecution had shared it with Bettman since July 17. Circuit Judge Terence Perkins, who is presiding over the case, overruled Bettman's objection. 
"He's objecting because he changes his story gain," Clark said of Hill. 




With detective Sarah Scalia on the stand–Scalia was the lead investigator in the case–the prosecution resumed showing the video, at a point where a detective asks Hill if he had a gun the night before, when his mother–who had spoken to detectives–had worried he was going to shoot himself. "Did you have a gun?" Gorge Fuentes, the sheriff's detective, asks Hill.
"No," Hill lied. By then he's mumbling, deflated, lying back on the couch, upset that he'd just been told of the warrant on his probation violation, and that he was no longer free to leave. Fuentes tries to keep him speaking, then tells him "we're just sorting it out," and leaves Hill by himself.
When Fuentes returns, he comes back with a sergeant who tells Hill he's had "an army ion the field" trying to make sense of Hill's information and timeline. He had a laptop with him, with images from license plate readers and surveillance cameras. He knew Hill had been lying all along. He didn't let on, doing what detectives usually do: presenting contradictory evidence without judgments. Not yet. They wanted to hear how Hill would explain it all.
He didn't. He was hunched, his head between his knees, unresponsive to question after question from Fuentes and his sergeant.
"Time to be strong, man, dig down," the sergeant tells him. "Brenan, unfortunately this stuff doesn't go away, it escalates, and shit happens, unfortunately." The sergeant goes on, suggesting the gun went off by accident. He tells Hill that Hill's tears suggest he feels bad about what happened. Fuentes tries, too. "I can tell you have a big heart. Shit escalates."
"Stop assuming shit," Hill tells Fuentes. "Fucking escalate nothing."
Minutes later, Hill changes his story yet again, saying that he, in fact, owned the gun and had gone to sell it to the alleged man.
"What you're doing now is not helping, because it's a lot of lies," the sergeant tells him. By then the sergeant knows, and tells Hill, that he's made up the robber. "And what does lying get you? It ain't helping her, it ain't helping you. The only thing that's helping you is showing remorse."
Hill doesn't budge. The sergeant has had enough and leaves. Hill's next stop was the county jail, where he's been since.
Bettman was right: the long video had the cumulative effect of showing Hill in a bad light again and again, even as detectives offered the very theory that Bettman has made his defense. Hill watched it all in the courtroom, next to Betts, and will get the chance to refute it all when he takes the stand where–judging from his various interactions with detectives and his mother–he may not keep his composure the whole time. The only question is: will the jury believe any of it.