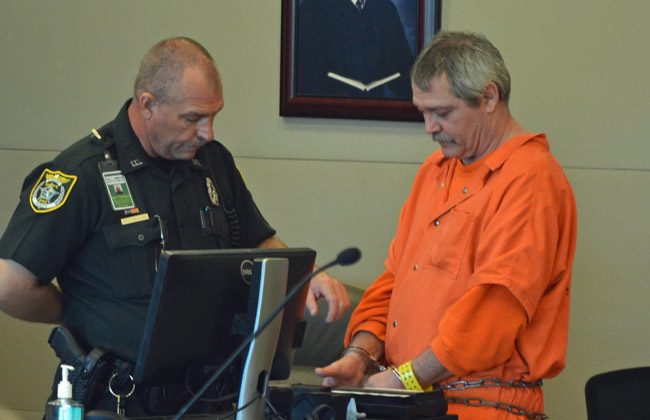 As his court papers certify, Paul Stout, 49, has a lengthy and violent criminal history in three separate states. It includes rape, six arrests for domestic violence, violations of injunctions (or no-contact orders), violation of probation, cruelty toward a child, receiving stolen property, forgery, and threatening to commit crimes with intent to terrorize.
He was also found guilty of carrying a gun as a convicted felon, and two years ago was found guilty of possession of child pornography. He is a registered sex offender.
He was imprisoned for a little over a year and released on probation, then promptly violated his probation last November and December by having contact with a 6-year-old girl–having dinner with her, watching movies, having her help him with yard work, high-fiving her–even though his probation prohibited him from having contact with anyone under 18. He is one of the few dozen sex offenders in town who are prohibited from distributing candy at Halloween and must submit to a curfew. He served an additional four months at the county jail.
Add now another charge: bigamy.
But it's not exactly new. He's being charged a second time for the same offense, for which he was charged in September 2013 in Flagler. The 2013 charge was dropped that December. "The State Attorney's office failed to prosecute him on those charges so those charges were resubmitted this year," a sheriff's spokesperson said today, "and the State Attorney picked up those charges and signed the warrant on December 11, which then gave our fugitive unit the opportunity to arrest him this morning." The spokesperson said an individual may be rearrested on the same charge if the statute of limitation hasn't elapsed.
With the exception of one document, nothing has substantially changed from 2013: According to Stout's latest arrest report, his first wife, 43, who lives in Indianapolis, was surfing Facebook when she discovered that he was married to the woman in Palm Coast. The first wife and Stout had married in 1996. They separated in 2005 but were never divorced. When she discovered his current status, she contacted the Flagler County Sheriff's Office and sought to pursue charges. The absence of a dissolution of marriage was documented even after Stout told authorities that he had secured a marriage dissolution from Kern County, California.
When he was arrested for child pornography–he had been downloading and sharing videos and images of children in sexual situations through a file-sharing program that alerted authorities–he had been living five years at at 19 Patchogue Place in Palm Coast with the woman who would turn out to be his second wife (though she did not know it), his stepson (whom he'd be accused of attacking in a domestic violence incident), and a female friend of his wife's. He blamed the file-sharing program on a nephew.
When detectives initially interviewed the second wife in Palm Coast in 2013, she declared herself unaware of Stout's previous marital history and said she too wanted to pursue charges. She was interviewed again in February and submitted a certificate from Kern County documenting again that there'd never been a dissolution of the first marriage, though she also provided a dissolution document from Flagler County showing Paul had divorced his first wife here–in February 2014, ostensibly proving that he had married his second wife while still married to his first.
That last document was not part of the first investigation.
Stout since was unable to provide detectives documentation showing he had not been married to both women at the same time. (His current marital status is unclear.)
The difference this time, a sheriff's spokesperson said, is "just a different state attorney that looked at it and decided to follow through with the charges."
Bigamy is a third-degree felony punishable by up to five years in prison. Stout, who now lists his home as 1687 Papaya Street in Bunnell, was booked at the county jail this morning on $1,500 bond. He remains there for now.