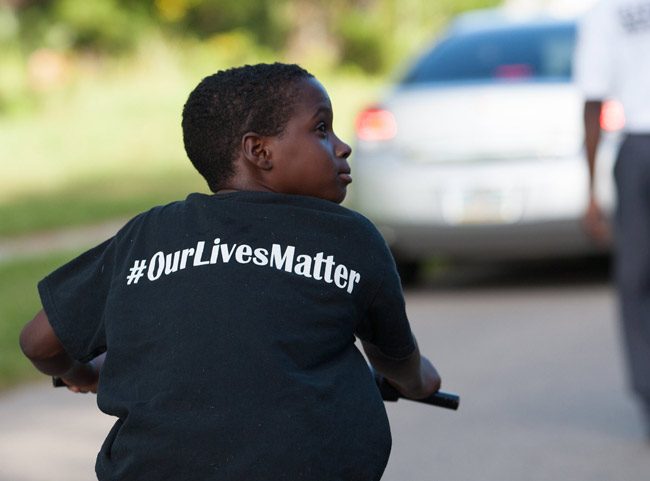 The Bunnell City Commission Monday evening awarded its Outstanding Citizen Award to two young city residents, Russell Rouson, 10, and Steven Dozier, 12, for alerting police and helping to save the life of an 88-year-old woman who had hurt herself in her home in June.
"I'm extremely proud of you Russell, and Steven too," Bunnell Police Chief Tom Foster told Rouson, who was awarded a certificate and a medal at a commission meeting. Dozier couldn't make it.
Norma Ward is an 88-year-old resident of North Pine Street in Bunnell. She'd been ailing. She lives alone. On June 17, she fell in her house, hurt herself, and bled. She couldn't get back up. She needed help. So she started dragging herself through the house, out the door and into the yard, trying to crawl her way to a neighbor's  house to get help.
She couldn't make it. She later told police that she'd been in her yard half an hour, calling for help.
Rouson and Dozier happened to be on their bicycles in the neighborhood: Dozier lives on South Anderson Street. Rouson lives a few doors down from Ward on South Pine Street. He's well known around the neighborhood and in his church for being conscientious: his intelligence has caught the attention of his pastor, who spoke of his certain bright future to a reporter at a recent solidarity march in Bunnell, in which Rouson took part—on his bike.
At 3 p.m. that Friday afternoon, the two boys heard Ward's calls for help. They went to her, tried to help her up but couldn't, and called 911 on their cell phones, then stayed with Ward until a Bunnell police officer arrived. They waved him down as he drove up.
"It's my opinion," the officer wrote in his report, "that the help and quick thinking of Russell and Steven helped avert a tragic incident."
The two boys, Foster said, have "distinguished themselves by performing an act of kindness for a person in crisis, wherein their service aided in the preservation of a human life.  Both young men are well deserving of the Outstanding Citizen Award."
Rouson, a student at Imagine School at Town Center, had dressed up in a suit complete with a boutonniere for the occasion—"dressed like he was appearing before the supreme court and proud," in thre words of Flagler County Commission Chairman Barbara Revels, who happened to be in the audience as she was there to address the commission on a separate matter.
"Well deserved," city commissioners told Rouson of his award.
"Remember this day, this is the beginning of a long life of taking care and helping others," Mayor Catherine Robinson said.