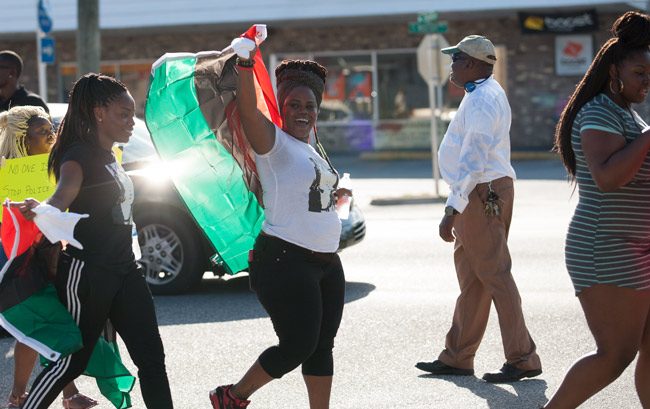 Ten minutes before 6 there were all of six people in front of the Bunnell community center, including Sims Jones, standing at the entrance of the center in a translucent white shirt that refracted sunlight like snow. "They're arriving," he said, unconcerned. The march, never branded with a particular name but unmistakably kin to Black Lives Matter marches that have been taking place across the country, was to start at 6 p.m.
And somehow by then the parking lot filled up with people, music, signs and hugs, so that by the time the marchers began their modest loop within Bunnell they numbered upward of 100—more if you include the eight cars that, by the end, had paralleled and escorted the marchers back to the pavilion in the Carver Gym playground, where the organizer, Bunnell resident Courtney Ousley—who prefers to go by Ras Nico ("Ras" is Arabic for head, or chief)—Jones and others summed up the one-hour event with more of the calls for unity and "all lives matter" refrains that had animated the march.
There was no question about the message, adorning numerous colorful signs—"Black Lives Matter," "All Lives Matter," "Please Don't Shoot Me," "No One Is Above the Law Stop Police Violence" and several signs calling for justice for Corey Tanner, the young black man, allegedly a fugitive, gunned down by U.S. Marshals in Espanola two years ago even though he was unarmed. Participants amplified the message with chants to unity and harmony across all colors, and for responsibility within the black community.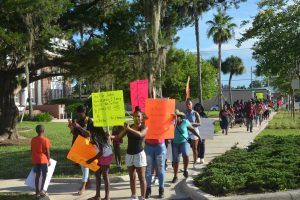 "We've got to come together as a body of people. It doesn't take just police, it doesn't take just the community, it doesn't take just the clergy, but it takes all of us working together to get things done," Jones told the assembled marchers at the end. "They have to admit there are things wrong in the sheriff's department. The police department's got to admit: there are things wrong in the police department. We've got to admit there are things wrong in our community. When things happen in our community, we want the police department to find the person who did it so we can have justice. But then when they come to us, we keep our mouths shut. We've got to learn to start opening our mouths and tell on those who are doing wrong because they're messing up our community, just like we're going to hold the police department to a higher standard, we've got to have a higher standard."
Anyone who assumes that the marchers or the black lives movement they reflect would somehow be confrontational, angry, even biased—let alone "racist," as a few malinformed extremists have called it—would have been disappointed this afternoon. Nico took some pleasure in the size of the crowd, ridiculing an earlier call today, in these pages, for the march to be postponed in light of the Baton Rouge shootings.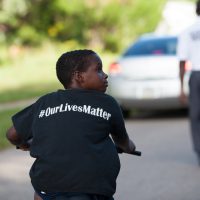 "When people try to do good things you're always met with opposition," she said. "We actually were met with opposition today, they actually wanted us to cancel our event, show support for the officers that lost their lives, however, I felt that it was more important for us to come together as a community so we could work on changes that we need to make here in our community. It's a lot of times where you want to do something then somebody comes, no, you can't do this, no, you can't do that, and a lot of times, and a lot of times we get discouraged and we just give up. But this? I'm about to cry. Today, we let them know, we're real and we're ready and we're going to do everything we ought to do to make sure our communities are straight."
Rev. Wendy Butler, the assistant pastor at Fellowship Restorational, opened and closed the event with rousing prayers: "we ask that what we're doing is not in vain," she said, adding to approval that "not just black lives matter but all lives matter, black, white, green, purple, all lives matter." And she said, "Lord, we ask that you put protection on our police department, too. Just have your way with them Lord, let them understand where we're coming from. Let us all be able to work together as one."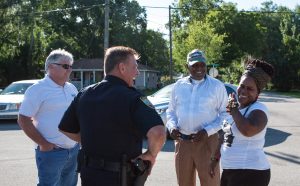 There was not a cop in sight, at least not visible sight, except just before the march began. Bunnell City Police Chief Tom Foster pulled up in his car, City Manager Dan Davis next to him. He was stopping just to say hi, he told Nico and Jones, speaking with them briefly, and telling Nico, whom he referred to by her more formal name, that she had his cell phone number if she needed anything. The pair then drove off, and at no point during the march, which went from the community center to U.S. 1, then east on Moody Boulevard, then down Anderson Street and back to the Carver grounds, would a single police or sheriff's deputy be seen. "We've got our own security, they can go rest," Theodore Moore, 28, said, attired as he was in clothing imprinted with the words "Security" here and there. He was providing security with a colleague.
It would have been unnecessary anyway. The marchers got honks from passing cars or cars stopped at crossing points, from all appearances honks of support. Those who walked by or drove by drew their cell phones to take pictures or video, as many marchers did, several of them broadcasting the entire march live on social media. The only punishing thing was the sun as marchers kept a brisk pace and chanted, "We need community, we need unity, we need justice."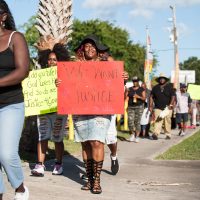 "A lot of people are dying, including officers," Modris Dunlap, 28, said as he rolled along with the marchers on his hoverboard. "So we're just trying to get everybody to come together to make change. Make change in all the communities, all over the world, it's not just here, but it starts with us." This community, he said, "has a big chance if we all get together."
Stacey Watson, 42, is a Bunnell native but has live in Palm Coast the past 16 years. She was eager to march. "I will support anybody that's doing anything that's positive," she said. "We have to get together more often instead of just when something tragic happens. We need to be together before it happens."
But the getting together was limited to blacks: among all the marchers, only two were white, three by the time the event concluded at the pavilion. The third was John Pollinger, who ran for sheriff four years ago and is now helping the Don Fleming campaign for sheriff. He had just returned from a funeral, so he didn't make the actual marching.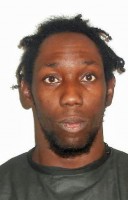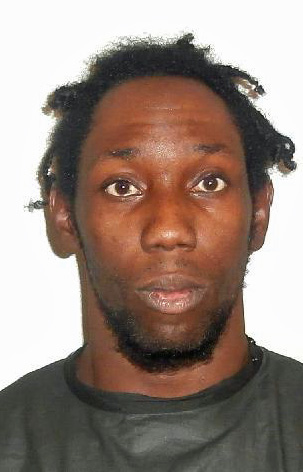 Among those speaking at the end was Brenda Williams, Corey Tanner's mother. Hers were not conciliatory words: she is among the growing ranks of mothers who have lost a son to police bullets, and the hurt doesn't wane. "They targeted my son, they lied on my son, and they killed my son," she said unequivocally. "We are tired of being targeted and abused. Police, they abuse their power and authority. They cause destruction. They destroy lives. They destroyed my life. But I'm trying to come back. Thanks to my family and friends, I'm on the right track. So I'm here to say that we do all need to come together, but who can we trust? Can we trust the police? Can we trust them?" There was only an isolated "no" or two. "They falsely accuse people and write false reports. I'm not talking about something that's hearsay, it's something that I've known for a fact that I've seen with my own eyes and heard with my own ears. We have to stop this. They cannot continue to get away with this. Don't let our kids down. I don't want to see another black child taken away from us at an early age because of that." Then came the applause. "Show us love and respect and we in turn will do the same for them. As Rodney King said, why can't we all get along, and show love for one another?"