Wednesday Briefing: Chris Sepe on Blue, Black and All Lives, Indian Trails Stampede, America's Colored Prisons
FlaglerLive | July 27, 2016
Today: Partly cloudy. A 20 percent chance of showers and thunderstorms in the afternoon. Highs in the lower 90s. South winds around 5 mph shifting to the southeast in the afternoon. Heat index readings 99 to 103. Tonight: Mostly clear. Lows in the mid 70s. South winds 5 to 10 mph. Details here.
Today's fire danger is moderate. Flagler County's Drought Index is at 477.
Today's tides: at the beaches, at the Intracoastal Waterway.
Today's document from the National Archives.
The OED's Word of the Day: arré, int..
The Live Community Calendar
Today's jail bookings.
Today's Briefing: Quick Links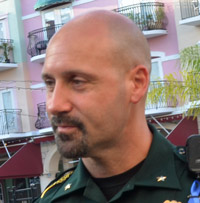 "This isn't just about Blue Lives Matter. I don't even like that term. I just want peace and unity in Flagler County and beyond. We can't control outside of Flagler, but we have a hand in what goes on within Flagler, so events like this where we can invite people of all walks of life to get involved and come out–whether or not you're pro-law enforcement or anti-law enforcement, it's still a time to come together in peace. You can not like us. Doesn't mean you have to try to kill us. People have freedom of speech, they can verbalize their discontent for law enforcement and their actions, but at the same time it doesn't have to turn violent. And I think there needs to be a little bit more communications from both sides of the fence–law enforcement in the community, break down the walls, and we've got to learn to come together. We have a job to do. People have to respect that. But while we do our job, we have to respect the community as well, and we try to instill that amongst the men and women of the sheriff's office here in Flagler. We can help control that. But it's up to our community leaders and people who are active coaching and part of churches to reach out to the people they can touch, and encourage them to do the same things that we're doing. Nobody's here to pass blame. Nobody's here to pass judgment."
–Flagler County Sheriff's Cmdr. Chris Sepe, at the European Village Stand With the Blue event last week.
Note: all government meetings noticed below are free and open to the public unless otherwise indicated. Many can be heard or seen live through each agency's website.
The Flagler County Economic Opportunity Advisory Council meets at 9 a.m. in board chambers at the Government Services Building. It will hear a report from Rebecca deLorenzo, president of the Flagler Chamber of Commerce.
The Indian Trails Middle School Mustang Stampede, where students and parents get to pick up class assignments, is scheduled between 10 a.m. and 3 p.m. at the school.
The Flagler County Parks and Recreation Advisory Board meets at 10 a.m. in the first-floor conference room of the Government Services Building. No agenda was posted online.
Heritage Crossroads: Miles of History meet at 3 p.m. in the Government Services Building, 1769 East Moody Boulevard, Building 2, Bunnell, in the 3rd Floor Conference Room. Sisco Deen of the Flagler County Historical Society will speak. The public is invited. For information call 386/439-5003.
Ribbon Cutting: Cruise Planners and Memory Hopkins Realty, 4440 N Oceanshore Blvd, Unit 105, Palm Coast, 4 p.m.


Updated jail bookings and day and night shift incident summary reports are available here.
Ex-Cop Stavris Pleads, "I Wouldn't Make It Out of State Prison," and Gets 3 Years for Lewd Facebook Use Involving Children: Stavris, 32, had faced up to four years in prison. His defense attorney had asked for probation, and that his 10 years' service as a cop should count in his favor, though the prosecution argued that precisely because he was a cop, he should be held to a higher standard.
European Village Resident Ralph Wolff, 68, Critical After 4-Story Fall: According to a Flagler County Sheriff's Office spokesman, Wolff had locked himself out of his apartment–414B–above Players' Lounge. He convinced a neighbor to let him use the balcony in an attempt to hop from one balcony to the next, and gain entry into his home that way.
School Board Readies to Approve Lowest Tax in at Least 22 Years, But Without Cheers: he new tax rate equates to a 4.2 percent decrease from the current rate for homeowners and businesses, which will make a noticeable difference on tax bills.
Bunnell's Tucker Upsets Colleagues With Surprise Bid to Merge Fire Department With County: Elbert Tucker on three occasions in the past few years–in 2010, 2011 and in 2014–had been pushing for the city's police department to be dissolved, and for the sheriff to take over policing in the city. The commission rejected the proposal each time. Now, fresh from his re-election victory and at the beginning of what he says is his last three-year term, Tucker wants to do dissolve the fire department.
Frank Meeker, County Commission Workhorse and Tenacious Optimist, Is Dead at 61: Frank Meeker, who spent the last 10 years as a workhorse of the Palm Coast City Council, then the Flagler County Commission, died this morning after a rapid deterioration from cancer. He was 61.


In Florida and in State Government:
Note: Some proceedings below can be followed live on the Florida Channel.

The Florida delegation to the Democratic National Convention will hold a breakfast, with speakers expected to include U.S. Reps. Ted Deutch and Frederica Wilson of Florida, U.S. Sen. Sherrod Brown of Ohio, U.S. Sen. Tammy Baldwin of Wisconsin and U.S. Sen. Mark Warner of Virginia. The convention session later in the day is expected to include speeches by President Barack Obama and Vice President Joe Biden. (Breakfast at 8:30 a.m., Philadelphia Marriott Downtown, 1201 Market St., Philadelphia. Convention session expected to begin at 4:30 p.m., Wells Fargo Center, Philadelphia.)
Cabinet: Aides to Gov. Rick Scott, Attorney General Pam Bondi, Agriculture Commissioner Adam Putnam and state Chief Financial Officer Jeff Atwater will meet to discuss issues in advance of an Aug. 2 Cabinet meeting. (9 a.m., Cabinet meeting room, the Capitol.)
The Revenue Estimating Conference will analyze issues related to the Florida Lottery. (9 a.m., 117 Knott Building, the Capitol.)
LBGT: State Rep. David Richardson, D-Miami Beach, will be part of a panel discussion by elected officials during a summit held by Equality Forum, a group that advocates for lesbian, gay, bisexual and transgender rights. The four-day summit is being held at the same time as the Democratic National Convention. (Elected officials panel at 2:30 p.m., National Museum of American Jewish History, 101 South Independence Mall East, Philadelphia.)
Wastewater rates: The Florida Public Service Commission will hold a customer meeting to discuss an application by Ni Florida LLC to increase wastewater rates in Pasco County. (6 p.m., West Pasco Government Center, 8731 Citizens Dr., New Port Richey.)
–Compiled by the News Service of Florida and FlaglerLive


In Coming Days in Palm Coast, Flagler and the Occasional Beyond:
♦ July 28: Flagler County School Board's District Strategic Plan Steering Committee meets at 5:30 p.m. in the third-floor main conference room of the Government Services Building in Bunnell.
♦ July 29: Marketing 2 Go's Cindy Dalecki is the speaker at the3 Volusia Young professional Group's lunch meeting, talking about "How Social Media is Changing the Way We Connect," 11:30 a.m. at Halifax Hospital through the France Tower Lobby. Please bring your photo ID to get through security. Free to club members, $15 for guests. RSVP at Sarah@daytonachamber.com.
♦ July 30: Solar Plunge to benefit the Flagler Beach National Flight Academy Scholarship. Registration will be $10 per person and includes a t-shirt and goody bag. Late registration will be from 7:30- 8:30 a.m. in Veterans Park followed by The Plunge at 8:45 a.m. After the Plunge enjoy music in the park and light refreshments.
♦ July 30: Meet the Candidate Night hosted by the Flagler County Tea Party, at the VFW Post 8696, 47 Old Kings Road North, starting at 5:30 p.m. All welcome. Most candidates running for local and state offices will be there.
♦ Aug. 1: The Flagler County Commission hosts a tribute to the late Frank Meeker, who served on the commission from 2012 until mid-July, when he died of cancer. The tribute is in board chambers at the Government Services Building at 10:30 a.m.
♦ Aug. 10: School resumes for all students in the Flagler County School District, two weeks earlier than last year, but with a new calendar that enables students to complete their coursework ahead of high-stakes exams, that ends quarters more logically with holidays, and that restores a full week's holiday around Thanksgiving, Nov. 21-25. See details here.
♦ Aug. 11: Flagler Votes Hob Nob, the Flagler County Chamber of Commerce's pre-election event for voters to meet candidates, from 6 to 8 p.m., at the Flagler County Association of Realtors' building, 4101 E Moody Blvd in Bunnell. Participating candidates must pay $150 a table for their space, but it's otherwise free to attend. As part of their free admission, attendees will enjoy light snacks, great conversation and a ticket to vote in an electronic "straw poll," the results of which will be revealed at the end of the evening. Beer, wine and water will be available for nominal cash donations.
♦ Aug. 19: The latest pre-trial hearing in the case of Florida v. Kimberle Weeks, continued from July 22, is scheduled for 3 p.m. before Circuit Judge Margaret Hudson in Courtroom 402 at the Flagler County Courthouse. Weeks now faces nine third-degree felony counts, down from 12, stemming from allegations that she illegally recorded various individuals in her capacity as supervisor of elections and in her private life. Weeks resigned that post in January 2015.


♦ Sept. 7: The Flagler Youth Orchestra holds its open house for all new or prospective students who'd like to join the county's largest (and free) music program. The open house is at the Indian Trails Middle School cafeteria at 5:30 p.m. Any Flagler student, including homes chooled students, in grades 3-12, are eligible to enroll (must be 8 years old by Sept. 1, 2016.) Students may elect to play violin, viola, cello or doublebass. One-hour classes are held at Indian Trails Middle School Mondays and Wednesdays, from 3 to 6 p.m., with students enrolled in the hour block appropriate to their skill level and schedule. The first class for first-time students is Sept. 19. (Auditions for returning students start on Aug. 22, the first class for returning students is Aug. 31.)
♦ Sept. 10: African Art: Ancient Egypt to the Contemporary World, a pair of presentations by Bertrand Green, former chairman of African American studies at Lehman College, City University of New York. The first session is from 10 a.m. to noon, the second session from 2 to 4 p.m., at the Hilton Garden Inn, Palm Coast. $20 for PCAF members, $25 for general admission. Call 386/225-4394 or email pcaf@cfl.rr.com to reserve your seat.


Hillary is off to a very rocky start at the DNC https://t.co/PYDLOoGbHS

— Salon (@Salon) July 27, 2016
Even w/ HUGE decline in #YouthIncarceration since 1997, Black & Latino incarceration today is 2xs of Whites in 1997 pic.twitter.com/HgZeGiCwSO

— (((SPLC))) (@splcenter) July 26, 2016
Black Americans make up 38% of the prison population but only 12% of the U.S. population: https://t.co/ElhH0Y2p4D pic.twitter.com/TtAZqAD2Jq

— Brookings (@BrookingsInst) July 26, 2016
Beverly Hills auction official headed to prison for elephant ivory & rhino horn smuggling: https://t.co/ASgcT7zx6X pic.twitter.com/iF6Eq0TwCQ

— US Fish and Wildlife (@USFWS) July 26, 2016
The world's last VHS will be made this month https://t.co/DjCC2UuPtp pic.twitter.com/Bu7NuBnFqB

— Forbes (@Forbes) July 27, 2016


Fact-Checking the Knaves:



Palm Coast Construction and Development Progress Reports
The following is an update of ongoing permitting, construction and development projects in Palm Coast, through July 15 (the city administration's full week in review is here):
<![if !IE]><![endif]>


Road and Interstate Construction:


Bill Evans Live, '64, '75
Previous Codas: