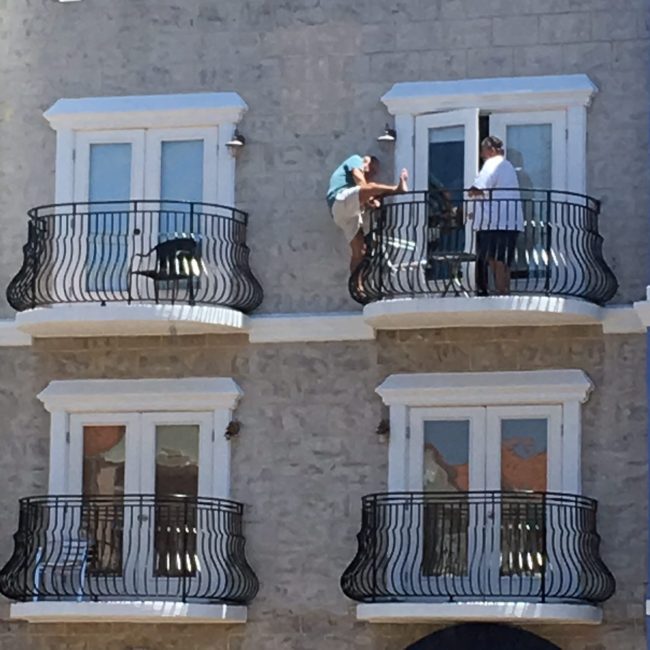 Ralph Wolff, a 68-year-old resident at European Village, is in critical condition at Halifax hospital in Daytona Beach following a fall from a fourth-floor balcony in the apartment complex today.
According to a Flagler County Sheriff's Office spokesman, Wolff had locked himself out of his apartment–414B–above Players' Lounge.
Anthony Manos, his neighbor in 414-A, told police that Wolff knocked on his door saying he'd locked himself out of his apartment, and if he could use the balcony to jump across to his own. Wolff later told a paramedic that his hands were sweaty when he was trying to jump the balconies. He lost his grip and fell.
A witness who spoke with police said she was inside her Realty office in Building when she looked outside and saw Wolff on a fourth-floor balcony, climbing over the railing at apartment 414-A. He then attempted to climb across to the balcony at 414-B. She went outside and began taking pictures of the man, then called 911 when she saw Wolff slip and fall. He struck several chairs, hit the ground and immediately began bleeding from the head.
A sheriff's report on the incident, released this morning, states that Wolff had "trauma to the back of his head, a broken right femur, a broken foot, and a broken right wrist. He was also profusely bleeding from his injuries."
Wolff was treated at the scene by paramedics with the Palm Coast Fire Department and Flagler County Fire Rescue, and transported by ground to Halifax, by Rescue 41. The sheriff's office investigated to the extent that it wanted to be sure no foul play had been part of the incident–that it wasn't, for example, an attempted break-in. It was not.
"Not the best decision that you can make, obviously," the sheriff's spokesman said. "It's a tragic mistake." Wolff fell to the foot of the building. A chair may have broken his fall. "He sustained quite a few internal and external injuries," the spokesman said. There was no indication of drinking, the spokesman added.
The sheriff's spokesman said residents caught in similar situations should be contacting management or a locksmith.


The following photographs were captured by witness Fatima Sena and turned into the sheriff's office as evidence: