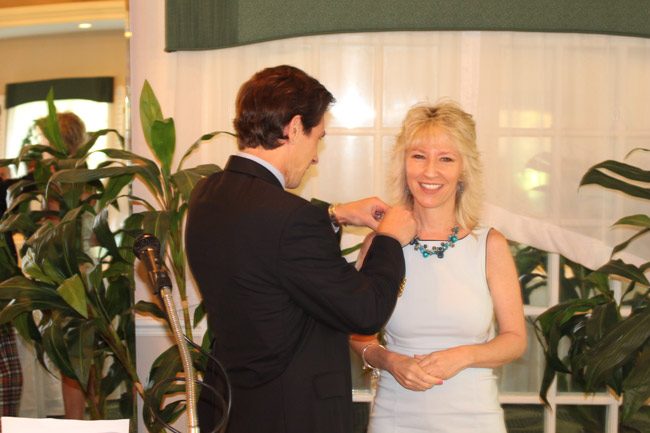 The Rotary Club of Flagler Beach named Cindy Dalecki its president for 2016-17, and selected Area Governor and Director Tim O'Donnell its Rotarian of the Year.
Dalecki owns Marketing 2 Go, the new-media company she started six years ago on her own and has since turned into an operation employing half a dozen. O'Donnell assists the Rotary club with grants–including the most recent Lowe's mailbox grant in Bunnell–organization of Rotary's fundraisers such as Cycle Flagler and Race on the Runway. He also helps on the district level with the three Flagler County Rotary clubs – walking the presidents through setting club goals online and so much more.
The club also installed its officers for the year: Amanda Bailey as secretary, Randy Ecker as assistant secretary, Sean Palmer as treasurer, Jennifer Feit as treasurer, Amanda Bailey as president-elect and Kathy Somers as past-president. Directors O'Donnell, Roseanne Stocker and Donna Tofal were also installed.
Gerri Marino, Debby Horst, and Paul Lever were named Citizens of the Year. They are three community volunteers who are an integral part of Rotary's Project Share and assist every month with collecting and distributing food for Project Share, as well as at the holidays, assist with sorting, buying, and distributing gifts to 1,000 families during the holidays.
The club held its annual Cycle Flagler event in May, raising over $15,000. The money goes toward helping feed families and provide scholarships to area students. There were 440 cyclists from eight states including Massachusetts, Pennsylvania, Virginia, North Carolina, South Carolina, Alabama, Georgia and Vermont. Don't tell the county's Tourist Development Council, but 75 percent of the cyclist were from outside of Flagler County. The council, with the county commission's approval, has been shifting its focus toward bigger-ticket items, somewhat at the expense of smaller homegrown events.
Over 50 volunteers assisted in Cycle Flagler. The weekend started with a free 40-mile scenic tour from the Flagler Beach Historical Museum through The Loop, over to western Flagler County at Cody's Corner, and back to Flagler Beach. The kick off-participant packet pick-up included a party in Veteran's Park in Flagler Beach with free carbohydrate dinners from Tony's and Oceanside Grille, desserts provided several Rotarians, entertainment by Twisted Vibes, and underwriting from some two dozen sponsors.
The club is once again hosting the Fabulous 4th Festival parade on Saturday, July 4th, in Flagler Beach at 10 a.m.
The Rotary Club of Flagler Beach was chartered in November 1991. It has 32 members. They'll be marking the club's 25th anniversary in November. For information about joining the Rotary Club of Flagler Beach, contact Cindy Dalecki at 386/566-3466 or visit the club's web page.