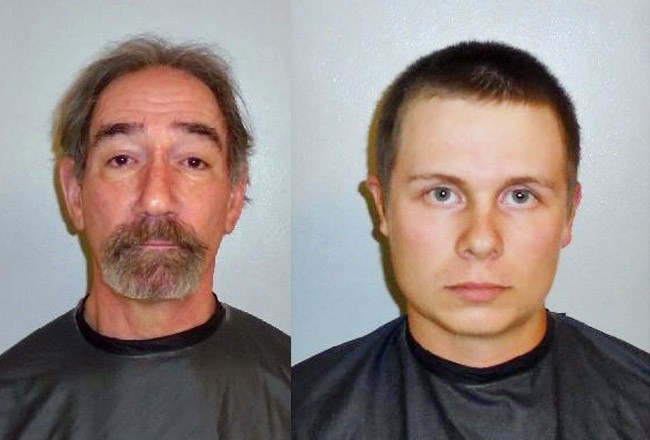 Flagler County Sheriff's deputies were busy this weekend responding to a series of separate incidents involving firearms, two of which landed two men in jail and a third led to the hospitalization of a man with one, possibly two gunshot wounds.
The first incident, in which a gun was fired through a front door at 64 Kathleen Trail in Palm Coast, took place just before midnight Saturday. It started over a traffic ticket. Jason Questell, 33, had gotten one, and his father, Stanley Questell, 61, was arguing with him. Stanley was smoking. According to an incident report, he got so close to his son's face that his cigarette "may have burnt Jason."
Jason told a deputy that his father had been drinking most of the night and "got in his face" with the cigarette in his mouth, so "he smacked the cigarette out of Stanley's mouth."
"Wait right here I'm gonna smoke your ass," was Stanley's answer, according to his son. Stanley then went into the house, his son said, and grabbed his gun, a .45 caliber, black semi-automatic pistol. Jason said his father then proceeded to hit him in the head with the gun, but did not cause any injuries. At that point Jason and his mother went into the house and locked the door, leaving Stanley outside. While the pair was standing behind the front door, "Stanley shot one round through the door in their direction," according to the incident report.
They then called 911. The communication specialist who received the 911 call heard a male in the background say, "I'll fucking smoke you guys right now," an incident report states. The incident necessitated calling out a SWAT team before Stanley's arrest.
After being read his rights, Stanley told police that his son had threatened to kick his butt, so he "grabbed his firearm from his bedroom to protect himself," according to the incident report, and when he was locked out, "he fired one round into the top right corner of the front door as a warning shot," then stored the gun in the glove box of his car to keep it away from Jason. The gun was confiscated for evidence, as was a recovered shell casing.
Stanley Questell was booked at the Flagler County jail on three counts of aggravated battery domestic violence and one count of using a firearm while under the influence of alcohol. Monday evening he remained at the jail on $100,000 bond.
The second incident took place west of Bunnell on County Road 200, where Travis Benjamin White was accused of threatening his ex-girlfriend with a gun after midnight Monday morning.
White told police he'd asked his live-in girlfriend of 12 months not to come to his house anymore. He'd spent Sunday evening with friends in Port Orange, where he'd had about four beers, according to the incident report, before driving home. Once there, his ex showed up and they had an argument. He said he did not touch her, though he later allowed that he "might" have touched her. She claims he pushed her against furniture in the living room, causing a cut on her upper thigh.
She told police that he then kept threatening her to "shoot you" in the head, and held a Smith & Wesson 9 mm gun in his hand while saying so.
White was booked at the Flagler jail on a count of aggravated assault with a deadly weapon and a count of domestic violence battery. He posted bail on $3,500 bond and was released.
The third incident led to no arrest, but puzzled deputies. It took place late Friday night (Feb. 26) when deputies were called to Florida Hospital Flagler, where a man was being treated for gunshot wounds.
The man, Kinjata K. Toussaint, is a resident of 5959 Fort Caroline Road in Jacksonville, but told police he'd been went to a small party at a house in the Seminole Woods area in Palm Coast to "meet up with a girl." Toussaint said another man there was interested in the same woman. There was a fight. He said he "won the fight," but the other man, who Toussaint said was black, got into an argument with two other black men. As that man was leaving the property in his car, Toussaint claims he shot at him twice through the rolled down window of the car.
"Mr. Toussaint was struck in the left shin and the bullet exited out of the left calf," the incident report states. "Toussaint then had two girls that were at the residence drive him to the hospital. Mr. Toussaint stated that their names were Alexis and Keisha however he didn't know their last names. Mr. Toussaint advised that they drove him to the hospital in a light blue sedan but he didn't know what kind of car it was."
The deputy continued: "While talking to Mr. Toussaint at the hospital I noticed what appeared to be another gunshot wound near the inside of his left thigh near the groin area. I asked Mr. Toussaint what happened to his leg in that area however he stated that it wasn't a gunshot wound that it must have happened in the fight." Toussaint could provide neither an address for where the incident took place nor names that could help guide deputies, only that the house was near U.S. 1, and that the street had a grass median.
As his clothes were taken intio evidence, a small amount of marijuana was found in a folded up $20 bill. He was not arrested. The investigation is ongoing.