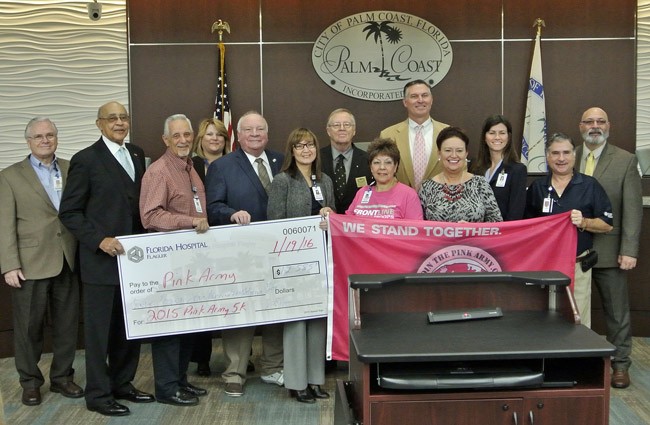 A pair of big, charitable checks changed hands within six days, with Florida Hospitals in Flagler and Volusiathe common denominator. In one case, the Pink Army's 5K run in Town Center last fall raised $12,585.35 for Florida Hospital Flagler's breast cancer fund. In another, the five Florida Hospitals in Volusia and Flagler counties donated $10,000 to the United Way of Volusia-Flagler Counties.
Nearly 1,000 people walked or ran in the 5K, a one-mile support walk or the Kids Fun Run. The race, part of the Palm Coast Running Series, started at the hospital and looped through Central Park in Town Center on Oct. 11, 2015. Florida Hospital Flagler Chief Operating Office JoAnne King thanked the City for its partnership, and also thanked Chairwoman Helga van Eckert and the United Way Women's Initiative.
"The Pink Army is making a difference," King told the City Council. "With these funds, you will see that women who perhaps would not have access to screening mammograms and such do get that access."
The Pink Army check presentation took place at the Palm Coast City Council last week. The money raised provides screening mammograms, diagnostic studies and education to qualified local people. "Since the last 5K in October of 2014, 64 women received 81 different procedures – screening mammograms, diagnostic mammograms, ultrasounds and biopsies," King said. "And out of those 64, I have no doubt you saved a life. So on behalf of Florida Hospital Flagler, thank you."
Palm Coast Events Supervisor Ginger Parnell also recognized the hospital and Florida Hospital Flagler Foundation for their ongoing support of other special events offered by the City to encourage residents and visitors to be active and healthy. Those include the Senior Games, the International Festival and the Birds of a Feather Fest. Mark your calendars now and join the Pink Army: the 2016 Pink Army 5K is scheduled for Oct. 16.
Days later, the five Florida hospitals made their contribution to United Way.
"The United Way supports many agencies in our community that provide assistance to those in need," Ken Mattison, Florida Hospital Flagler CEO and board member of the United Way of Volusia-Flagler Counties since 2014, said in a release. "They hold agencies accountable for good stewardship of the funds provided and operate an efficient administration services. We believe in what the United Way is doing and are pleased to be able to support the many community agencies that are focused on helping our friends and neighbors in need."