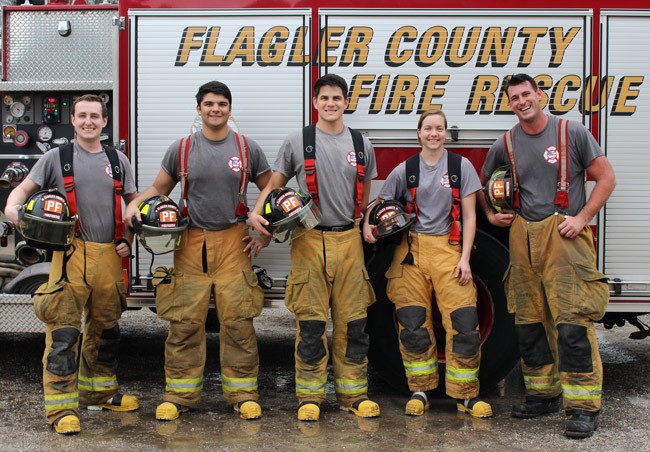 Four new hires for Flagler County Fire Rescue completed the week-long orientation process that included intensive training, and they are now on shift rotation, but aren't yet full-fledged paramedics as far as Flagler County's training requirements are concerned: A fifth firefighter-paramedic hired in September is now fully cleared to be a lead paramedic on medical calls as well.
"This week is so important, because they have to know our equipment and our policies and procedures," said Fire Training Chief Lenny Ensalaco. "They will be on shift, and they will be expected to do anything and everything."
New firefighters – Thomas Cope, Cory Sattar, Michael Beaulieu and Andy Thomas, all hired in December, along with Marianne Huston, who was hired in September – were put through their paces last week, the first full week of the new year. The men are still probationary hires.
Three of the new hires are an addition to the total staff of Flagler County Fire Rescue. The Flagler County Commission approved the expansion last year, starting with the current budget year, which began in October. The previous year the commission approved the addition of three firefighter-paramedics as well. The new positions bring the total operation to 63 firefighter-paramedics, 18 lieutenants (who have all the capabilities of firefighter paramedics), and three battalion chiefs, formerly known as captains.
The staff additions last year and this year have enabled the department to return its fire engines' staffing to three firefighters per engine on every shift, with rare exceptions.
Starting pay for the firefighters, a slight improvement over last year, is $42,344.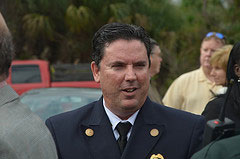 The department is still hiring, Fire Chief Don Petito said today, with four openings yet to be filled. On February 2, another group of potential hires will go through the process. "That's going to fill all our vacancies," Petito said. "We've had these openings for quite some time, what we did is we left the application open a bit longer to get more applicants so we had a bigger pool of people to choose from," he said.
The additions have little to do with firefighters leaving for other jobs: "We had some retirements, some people we'd hired but didn't make it through the process," Petito said. "We had one person who moved down to the Fort Myers area, that's the only person that's left for another job so far."
The orientation included: Flagler County-specific training on its self-contained breathing apparatus; maneuvering fire engines and rescue vehicles though an obstacle course; flashover fire lectures and training; hose loading and connection; emergency medical services training with Flagler County's FireFlight helicopter; rescues using the jaws of life, as well as other saws and power equipment; and, rescuing victims and putting out fires under every test condition possible at the county's fire tower.
Beaulieu, a 2013 Matanzas High School graduate, is thrilled to be working locally.
"I am so excited," he said Friday afternoon at the end of orientation. "I went straight from high school into EMT training, then fire and then paramedic. I got my state license on December 11, was interviewed on December 21. This is a great way to start the new year."
It's the first firefighter-paramedic job for Cope, who previously worked for the American Ambulance company.
"I am so glad to be here," Cope said. "I really love the amount of training" Flagler County Fire Rescue does, he said. "It's great."
Lt. Armando Castaneda has seen more than one recruit class come through the county's orientation.
"It's really great to watch them develop," he said. "People's lives are in their hands, and we take that very seriously."
Both Sattar and Thomas worked briefly for other agencies before making the move to Flagler County. Huston worked as an EMT in California before moving to Flagler County in 2012 and continuing her education.
Hired in September, she's a relative "veteran" to the department. It was the first full orientation offered since Huston was hired. Petito said "everybody is raving about what a great job she's done so far."
"Flagler County has a really nice group of people," Huston said. "Everyone here treats you like family."
Ensalaco said the community should feel safe in the hands of the newest hires.
"There isn't anything they couldn't do right now," he said. "They have proven they are ready for anything."
Flagler County Fire Rescue's full job listing appears below.


Job Classification: Firefighter/Paramedic
Flagler County is building an ongoing eligibility list for Firefighter/Paramedic.  This position requires FireTEAM and a valid CPAT through National Testing Network.  The department anticipates 6 hires immediately with more anticipated in 2016. All candidates must complete an online application at http://flaglercounty.org/jobs.aspx.
The department requires the candidate PHQ.  You can access the questionnaire through your candidate account.  The PHQ must be completed by the closing date or you may not be considered further in the process.
Salary Information: $42,667 starting Salary
Benefit Information:
Generous medical plan
Dependent benefits available at reasonable rates
$15,000 life insurance policy available at no cost to the employee
Additional life insurance benefits for the employee and/or dependents are available at the employee's cost
Dental and vision plans are offered on a voluntary basis at the employee's cost at group rates
Full-time regular employees accrue 240 personal leave hours per year (10 Shifts) up to the maximum allowable accruals
Department Overview: Flagler County Fire Rescue is comprised of 91 budgeted positions with a budget of 8 million dollars. We provide structural fire protection, wild land fire fighting, specialty rescue such as confined space rescue, trench rescue, elevated rope rescue, vehicle and machinery extrication, building collapse rescue and water rescue to the residents of Flagler County. We also provide advanced life support services for the entire county.
Job Requirements:
Age: 18 Years Old
US Citizen: Yes
High School Grad/GED: Yes
Valid FLORIDA State Driver's License: Yes
Ability to Read/Speak English: Yes
Valid Florida Firefighter Academy Certification: Yes
Valid Florida Licensed Paramedic
Necessary Certifications: Requires graduation from an accredited high school or possession of an acceptable equivalency diploma, under Section 633.34 (1), Fire Minimum Standards requirements under Section 633.34-35 and current State of Florida Paramedic certification and AHA/Advanced Cardiac Life Support certification. Must possess a valid State of Florida Class "D" driver's license with a driving record acceptable to the County. Must possess certification of completion of a State of Florida approved EVOC or defensive driving course
In addition to participating in the NTN testing, candidates will also have to complete a paramedic assessment.
To schedule FireTEAM testing, go to http://www.nationaltestingnetwork.com and click on FIREFIGHTER JOBS.  Select the department and read over all the information and if qualified, select a testing location and a time and date on the website calendar.  A CPAT can also be scheduled by clicking on the CPAT icon on the main page of the website and then following the instructions.  For questions concerning the testing process, please contact NTN Customer Support at 866-563-3882.  For updates and new job announcements, "Like" National Testing Network on Facebook.