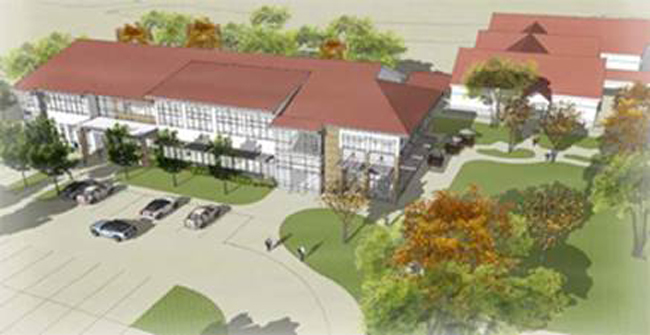 Daytona State College will celebrate the expansion of its Flagler-Palm Coast Campus on Thursday, Aug. 14, with a ribbon-cutting ceremony marking completion of a new $7.6 million high-tech classroom and student center that will nearly double the campus' capacity.
The program will run from 4 to 6 p.m. at the college's northernmost campus, at 3000 Palm Coast Pkwy. SE. The public is welcome. The event will feature tours of the 24,000 square-foot facility, highlighting state-of-the-art classrooms and a 70-seat lecture hall modeled after Daytona State's high-tech Classroom of the Future concepts. The building also houses a bookstore (yes, they still exist), student lounge, conference room and offices.
The campus addition has also added 300 parking spaces and a central energy plant.
The Flagler-Palm Coast Campus is among Daytona State's fastest growing regional campuses. Since 2004 the campus has served an average of nearly 2,400 students annually. Campus Dean Kent Ryan said the number is projected to increase with the Flagler area's population growth. The 2013 census figures show Flagler just shy of 100,000, which almost certainly means the county has crossed the 100,000 threshold this year. "We expect that the new facility will help us meet student needs through the next decade," Ryan said.
The building's 13 multimedia classrooms include interactive projectors with interactive white boards, adjustable high-definition televisions with multiple display units, mobile device charging areas, and a digital lecture capture system in a classroom featuring dynamic seating.
The Flagler-Palm Coast Campus offers college credit, college preparatory and the first year of the two-year Associate Degree Nursing program. All general education requirements for the Associate of Arts degree may be completed there as well. In addition to the new building's configuration, the campus includes a nursing laboratory, two science laboratories, an Academic Support Center, writing center, two computer laboratories, an amphitheater and additional classrooms.
Ryan noted that among the new programs to be offered with the opening of the new building is a two-year Associate of Science in Business Administration. As part of a 2+2 model, graduates of the AS program may enroll in Daytona State's Bachelor of Applied Science (BAS) in Supervision and Management degree, designed to provide a flexible schedule that meets the needs of non-traditional students in the community. It features a combination of online and half online/half face-to-face, and hybrid courses. The BAS has received acclaim for being among the nation's best online bachelor's programs two years running, ranked by U.S. News & World Report.
The facility was designed by SchenkelShultz Architecture and built by H.J. High Construction, both of Orlando. The new building has been constructed to Green Globe certification criteria, which will cut costs through energy efficiency. For more information about the ribbon cutting or to RSVP by Aug. 1, call (386) 506-3417.