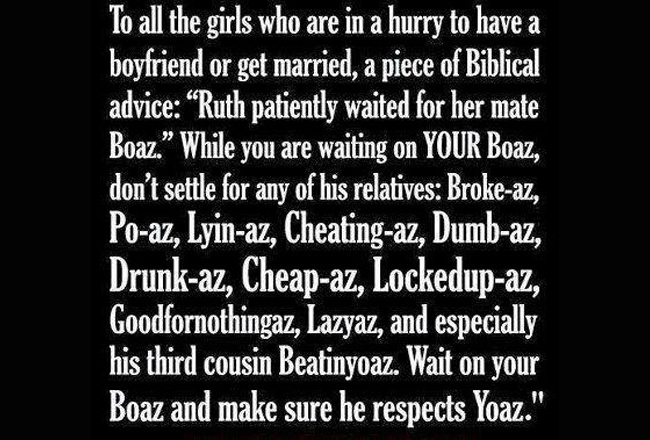 "I'm not just going to sit back if the only message from some of these folks is no on everything, and sit around and twiddle my thumbs for the next 1,200 days." "But there's not an action that I take that you don't have some folks in Congress who say that I'm usurping my authority. Some of those folks think I usurp my authority by having the gall to win the presidency."–President Obama in an interview with The Times.
Today's Live Wire: Quick Links

The End of Florida Oranges as We Know Them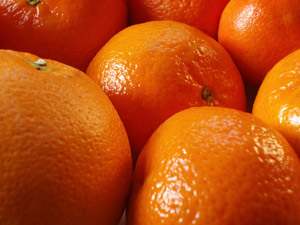 Citrus Greening is a disease ravaging orange groves in the world, and now in Florida. Once the disease strikes, fruit turn sour and become inedible. There is no cure. From The Times: "With a precipitous decline in Florida's harvest predicted within the decade, the only chance left to save it, [Ricke Kress, president of Southern Gardens Citrus, in charge of two and a half million orange trees and a factory that squeezes juice for Tropicana and Florida's Natural] believed, was one that his industry and others had long avoided for fear of consumer rejection. They would have to alter the orange's DNA — with a gene from a different species. Oranges are not the only crop that might benefit from genetically engineered resistance to diseases for which standard treatments have proven elusive. And advocates of the technology say it could also help provide food for a fast-growing population on a warming planet by endowing crops with more nutrients, or the ability to thrive in drought, or to resist pests. Leading scientific organizations have concluded that shuttling DNA between species carries no intrinsic risk to human health or the environment, and that such alterations can be reliably tested. But the idea of eating plants and animals whose DNA has been manipulated in a laboratory — called genetically modified organisms, or G.M.O.'s — still spooks many people. Critics worry that such crops carry risks not yet detected, and distrust the big agrochemical companies that have produced the few in wide use. And hostility toward the technology, long ingrained in Europe, has deepened recently among Americans as organic food advocates, environmentalists and others have made opposition to it a pillar of a growing movement for healthier and ethical food choices." See the full (and very long and disturbing) story.
See Also: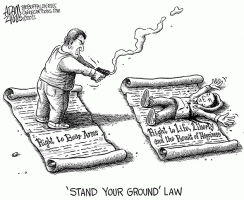 From a St. Pete Times editorial: "While Zimmerman did not seek a pretrial hearing and specifically invoke the law as a defense, the law played a role in his acquittal. The judge referred to the law in open court, the jury instructions included the law's expanded protections for using force without retreating, and the jurors discussed it. Respecting the jury's verdict and appreciating the difficulty of its deliberations should not translate into a stubborn defense of bad law. The argument for repeal was strong even without the Zimmerman case. The Tampa Bay Times reviewed 200 "stand your ground" cases last year, and in about one-third of those cases the defendant started the fight and went free. The law has freed killers and aggressive attackers, drug dealers and other criminals whose claims of self-defense were questionable. Since Florida enacted the law, some two dozen states have embraced similar laws, and one study has found an 8 percent increase in murders and non-negligent manslaughters in those states. […] Conventional wisdom says the Legislature should never go into special session without having a plan first. But repealing the "stand your ground" law does not require a plan. It requires courage to stand up for Florida, acknowledge the mistake and vote to repeal a bad law that cannot be fixed. The sooner the better." The full editorial.
In a related story, from the Times's excellent Michael van Sickler: "[W]hile the "Gunshine State" finds itself in the crosshairs of world public opinion, the lawmakers who approved "stand your ground" in 2005 have received little, if any, electoral blowback. […] Current state lawmakers who voted for "stand your ground" outnumber those who opposed it by a 4-1 margin. Republicans who approved it are unapologetic. Not one would repeal it now. […] Democrats are far less unified. When SB 436 was signed by then-Gov. Jeb Bush on April 26, 2005, it enjoyed solid bipartisan support. It passed the Senate 39-0, a tally that included 14 Democrats, such as 2014 gubernatorial hopeful Nan Rich. […] Of the 133 lawmakers who voted for the legislation, 48 hold elected office today. A state representative from Miami became U.S. Sen. Marco Rubio. Eight others went on to Congress, where five still serve. State Sen. Jeff Atwater is Florida's chief financial officer. State Reps. Jeff Kottkamp and Jennifer Carroll ascended to lieutenant governor. Of the 94 representatives who approved it in the Florida House, 16 graduated to the state Senate. […] Another reason for the unanimous Senate support was Sen. Al Lawson, D-Tallahassee, one of seven African-American senators to vote for it. Then the minority leader for the Democrats in the Senate, Lawson said Peaden's message of self-defense resonated with him because of a 1996 home invasion in which his wife, Delores Lawson, was bound, gagged and assaulted. "For me, it was a self-defense issue," he said. Lawson said he doesn't favor repealing the law. Like most Republicans, the Democrat said it didn't apply in the Zimmerman case. But he said he's convinced the law should be reviewed following a Tampa Bay Times investigation last year that showed in 200 cases where "stand your ground" was used, nearly 70 percent of those who invoked "stand your ground" to avoid prosecution were successful and defendants were more likely to prevail if the victim is black."
See Also:

Rep. Steve King's Bigoted Cantaloupe Brain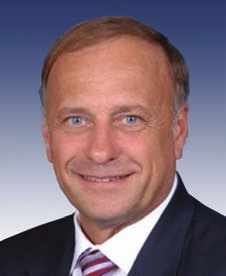 Sometimes only the Rude Pundit–a more national version of our own Norton Smitty–can put it the way it is, as he did with Iowa Rep. Steve King's racist description of undocumented immigrants as drug mules whose 75-pound bags of marijuana give them cantaloupe calves. Let the pundit take it away in style: "Republican Steve King looks like every white person's beleaguered uncle who comes home from his job selling washing machines at the local Sears, pissed off at everyone who couldn't get their credit approved for the purchase he spent time arranging, turns on Fox "news," drinks some cheap whiskey, and yells at the TV about how these spics and niggers are ruining the nation, even as he tries to cajole those very people into buying shit they don't need so he can get the commission. Truly, he is like some 1970s stereotype, the Silent Majority or whatever, the Last White Prick Standing. Instead, of course, he's the congressman from northwest Iowa, a state that, like many others in the heartland, is dependent upon the cruel exploitation of tens of thousands of undocumented immigrant workers to keep the fields planted and harvested and to keep the meatpacking plants grinding up animal carcasses. King's district is new (he used to represent the 5th – now it's the 4th), since Iowa lost a seat in the House of Representatives in the last census. But King's district is also 96% white, and, hey, a motherfuckin' representative's got to represent. So it was that, in an interview with nutzoid right-wing "news" webtoilet Newsmax, King argued against the DREAM Act and other legislation that would create a path to citizenship for undocumented immigrants by citing the leg size of some of them. […] Seriously, if you can figure out what the fuck he's talking about, you must have a PhD in the language of fucktard. It seems like he's trying to thread some needle between admitting that the economy of his state would collapse without that "illegal labor" and standing firm against any bill that helps them because law and order or some such shit." The full Rude.
See Also:

Arizona's Solar Power Industry, Clouding Over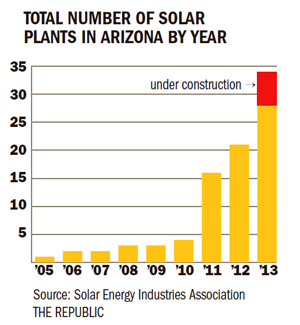 The Arizona Republic Sunday started a three-part series on a promise yet unfulfilled: "It's expected that solar energy would thrive in a state where the sun shines. A lot. Those potent rays, abundant open spaces yearning for new jobs, and an emphasis on sustainability have been powerful catalysts for the industry here. Why wouldn't Arizona be the solar capital of the world? Gov. Jan Brewer has suggested as much many times. Massive new generating plants have been proposed and built in sun-parched swaths of the state. Plans were laid for major factories to assemble solar components. Elected officials praised the potential of the burgeoning industry. Plants are online and humming, and solar is topping more roofs every day. But the state today remains far from the solar job market many had expected it to become. Some of the solar-panel manufacturers that leaders were counting on to produce jobs stumbled as the industry was rocked by international competition, subsidy cuts, a global recession and the typical growing pains of a startup industry. […] Some solar businesses have taken root in the state and are growing. About 300 solar-related businesses have been established in Arizona. And several large solar plants, which generate power for utilities, have been built in the Arizona desert, although the bulk of the jobs generated by those plants have been short-term construction positions. Once the plants are up and running, they require few employees. […] After almost a decade of growth, reality has set in. Today, the industry is at a crossroads. […] Feelings about solar, and subsidies to grow the industry, aren't uniformly sunny. Utilities, looking into a future with more homes shifting to solar from traditional power, are trying to reduce the credits that have made rooftop solar attractive to customers. Growth in the number of solar plants likely will slow as well. Solana, a massive plant near Gila Bend, will open within weeks and provide enough power that the state's largest utility, Arizona Public Service Co., won't need to add much more solar to meet its state requirements. Incentives at the federal level also face an expiration date that could begin to slow new-project development this year. And the talk about being the world's solar capital? Although it uses much more solar power than most other places, metro Phoenix still gets only about 2 percent of its power from the sun. Most experts predict that more solar opportunities will take hold in the state, but decisions made in the next year could determine the future of the industry, including whether it ever becomes a major job creator and driver of the Arizona economy." The full story.
See Also:

Florida's School-Security Freak-Out Continues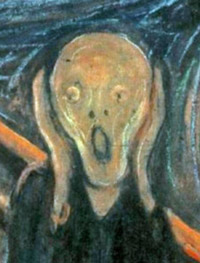 The security-industrial complex is panicking that the fear of school massacres is again dissipating, and schools aren't wasting enough taxpayer dollars on turning school campuses into garrisons. From the Orlando Sentinel: "Dozens of Central Florida schools — some nearly as old as Fern Creek, some decades younger — feature the same essential design: numerous campus buildings and classrooms that open to the outside, not to an interior hallway. That runs counter to advice issued by federal and state authorities and numerous experts, who recommend schools be built with a "single point of entry" to help keep outsiders away from classrooms — and the children and staff inside. Florida's school design from decades ago "does not address and does not help the security concerns of the year 2013," said Ken Trump, president of National School Safety and Security Services. […] In Orange County and other parts of Florida, the shootings sent some elected officials scrambling to place more police officers on campuses. Some lawmakers called for arming teachers or replacing all school windows with bullet-proof glass. But many school officials, including Bill Sublette, chairman of the Orange County School Board, pointed to open campuses as their biggest security worry, a message repeated during a Tallahassee legislative hearing a month after the Newtown massacre. […] Orange has been replacing some of its older, "open access" campuses, Sublette noted, with new, more-secure structures, work paid for in part by a school sales tax voters approved in 2002. The School Board plans to ask voters to extend the county's current school sales tax, which ends in 2014. The newer-designed schools often are a single building or buildings that fit together to create a courtyard, offering a "secure campus with one public entrance," the district website notes. But even if Orange voters agree to extend the tax, work on many schools would still be years away. And other Central Florida districts have no money to replace schools, with limited construction money either earmarked for making critical repairs or for building new schools to meet growing enrollments. So in the wake of the Newtown shootings, districts have looked to quicker-to-implement measures to beef up campus security, such as new fencing and new locks and new policies on locking classroom doors and visitor check-in requirements." The full story.
See Also:

Florida's Babel Tower: Dumping Sand on Beaches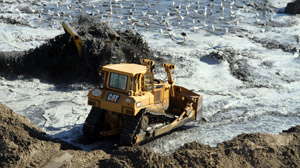 They call it "beach renourishment," the absurd method, naturally favored by the U.S. Army Corps of Engineers–one of nature's most predatory forces–of dumping millions of tons of sand on beaches to keep them from eroding. Flagler County is pushing toward just such a plan. South Florida, where demolishing nature is second nature, is already there. From the South Florida Sun-Sentinel: "Beaches in northern Broward County may be widened by at least 40 feet beginning late this year, allowing sunbathers to again spread blankets along wide stretches of shore and providing buffers against storm-driven waves that now smash against seawalls. Thinned by years of erosion and torn up by Hurricane Sandy, about five miles of beach from northern Fort Lauderdale to southern Pompano Beach will be widened by at least 40 feet, in some cases doubling their size. In a separate project, Pompano Beach and Lauderdale-by-the-Sea will receive deliveries of sand to build up their height by about one foot, shoring up areas eroded by Sandy. The sand will arrive from mines in Florida's interior, where the remains of ancient beaches have been dug up for years to fatten the state's eroding coasts. Both projects are expected to start in November or December, assuming all permits come through as expected, leading to an unprecedented parade of dump trucks that will arrive just as the beaches become crowded with visitors. […] The restoration projects represent the latest attempt at beach renourishment, the periodic dumping of sand along the shore to protect coastal real estate and bolster the region's major tourist asset. Beaches in Broward account for about $548 million in spending and 17,700 full-time jobs, according to the county's Department of Environmental Protection and Growth Management. The larger project, stretching more than five miles in two segments, will bring about 750,000 cubic yards of sand, an amount that will require about 50,000 dump truck trips. The sand will widen beaches by at least 40 feet, enough in some cases to double their size, said Eric Myers, Broward County's beach erosion administrator. […] The $44 million project will likely begin when state and federal permits come through, and after that it will probably take about two years, with a break for sea turtle nesting season. But Myers said it could be delayed by a legal challenge from environmentalists concerned that sand piled onto beaches will wash into the ocean and bury coral reefs." The full story.
See Also:

Charter Schools as the New Segregation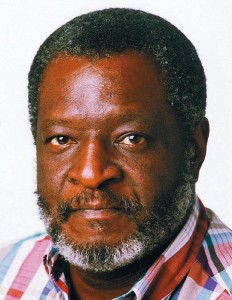 Bill Maxwell in the St. Pete Times: "Some advocates used to believe that school choice through charters would help diversify public education despite racially segregated housing patterns. But that has not been happening. […] In most parts of the nation, especially where whites find mandatory busing objectionable, predominantly white charters are being established in suburbia and other communities with high white populations. No matter how we frame the debate, we are talking about contemporary segregation academies — those private schools that proliferated during the 1950s, 1960s and 1970s as a way for whites to circumvent the desegregation order of the Brown vs. Board of Education decision. After these academies took hold, many public schools, especially in the South, were left with mostly black students. Operating with public money, charters are more subtle in determining who attends them. In addition to location and word-of-mouth marketing, many self-select by establishing curricula that appeal to specific groups. Touting their core mission, they do not mention diversity in their recruitment. […] Few critics of charters are willing to state that self-selection is an indication of racism. […] Evidence shows that most recent immigrants prefer schools in which their languages are spoken and that black families are more likely to place their children in racially segregated charter schools than are white families. As long as parents seek the best for their children and as long as income, racial and ethic homogeneity are seen as a sign of quality, diversity will be viewed as an indication of inferiority. Charter schools, therefore, will flourish." The full column.
See Also: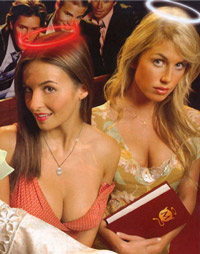 What red-blooded Updike reader hasn't gone to church to ogle the opposite sex–or in this day of marriage equality, whatever sex floats his and her bloats? But the "modest is Hottest" fad in churches and elsewhere is something else, and it's triggering a debate. From the Washington Post: "Summer in our sweltering region forces a theological question: How does God feel about exposed shoulders in a house of worship? Or toes? Or some glimpse of thigh? With temperatures in the 80s by 7:30 a.m. services, this is the season for church bulletin items like the one in Our Lady's: "Dignity & Decorum: Please try not to wear beach shorts, tank tops, and flip-flops to the Holy Sacrifice of the Mass. Thank you." In general, casual has pummeled formal everywhere in America, from airplanes to offices. But places of worship — where debates on modesty are not confined to the summer months — may be the final frontier for questions about what constitutes overly risque. And those questions have recently sprung to new life. A popular campaign aimed at young evangelical women called "Modest is Hottest" has triggered backlash by devout younger women who see the slogan as sexist. When the Bible calls for "modesty," they argue, it refers to displays of things like wealth and is describing the depth of one's spirit, not their neckline.Teaching women that their value rises if they have more clothes on is objectifying, a torrent of essays have argued. "A woman's breasts and buttocks and thighs all proclaim the glory of the Lord," said Sharon Hodde Miller, a doctoral student at Trinity Evangelical Divinity School whose critique of "modest is hottest" in the online evangelical magazine Christianity Today was one of the best-read of recent years. "Modesty is an orientation of the heart, first and foremost. It begins with putting God first. To look at an outfit and say if it's modest or immodest, I'm not sure you can do that." […] Some even argue that informal clothing signals not a new lack of respect for institutional religion but a new genuineness and familiarity. […] Conversations (and condemnations) on the issue of modest clothing and summer worship seem to focus on women. Monsignor Ed Filardi said he put the notice in the bulletin at Our Lady of Lourdes at the request of women reacting to the clothing of other women." The full monty.
See Also:

Here's Jagger after his 1967 drug bust:
See Also: