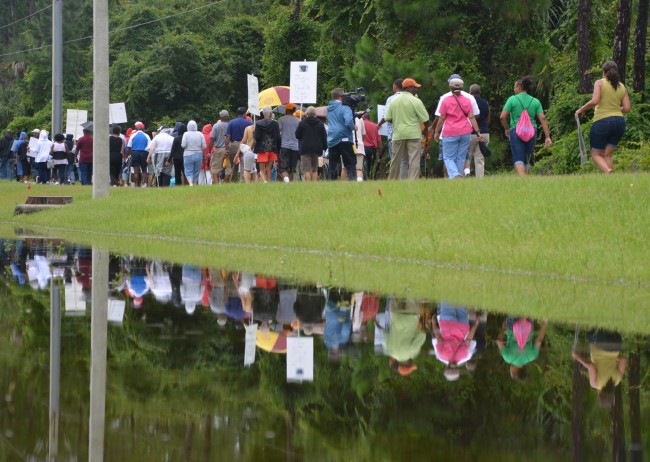 Note: more images and audio clips will post later.
When Naquisha Nelson and Tracey Hodges organized a "We Are Trayvon" march in Palm Coast 16 months ago, most of the 100-odd people who joined them were relatively young like them—young parents, older teens, young adults, a lot of children.
Many, if not most, of the 100-odd marchers who gathered in Kohl's parking lot in Palm Coast at 8:30 this morning were of different generations. Many were old enough to remember the lynching of Emmett Till. Most were old enough to remember the assassinations of Medgar Evers, Malcolm X and Martin Luther King, and some not only remember the March on Washington that featured King's Dream speech in 1963—and which marks its 50th anniversary next month with another massive march in the works—but some took part in that march in 1963.
Now they were marching in solidarity with marches elsewhere in the state and the country—swelling and insistent marches that have not so much accepted George Zimmerman's not-guilty verdict as declared that the story won't end there. The shooting of the unarmed 17-year-old Trayvon Martin on his way home from a convenience store, many marchers in Palm Coast said Saturday, is a reminder that what progress has taken place since the 1950s and 60s isn't progress enough to keep a black boy from getting shot and killed for no reason other than another man's profiling.
To Valerie Ottley, the Palm Coast retiree who organized the march entirely by word of mouth, Facebook and church chatter, it's dispiriting to be marching 50 years later "for the same things that our parents fought about and marched for the very first march on Washington, March with King, non-violence," she said. "And here we go again. Once again."
"We've lived through the civil rights movement, we had parents who taught us that it's constantly a struggle, and we thought we would be far more advanced than we are now, with a lot of issues that are creeping up," Ottley continued. "And a lot of the laws that were put in there in Washington in the 60s are being chopped away slowly, for no reason, for fear. Fear of what? That certain people won't be in charge anymore? Well, that's what evolution is, it moves on."
---
Marchers Sing Let It Shine[media id=336 width=250 height=200]

Singing "We Shall Overcome," "We've Come This Far By Faith" and other anthems of the 1950s, the Palm Coast marchers this morning were of the generation that invented marching and made the country's civil rights revolution possible. They were most of them retired from lives as professionals and parents, now living lives as grandparents and some as great-grandparents, like Barbara Frazier, 72, and June Bethel, 76, both in Palm Coast 20 years or more.

"I remember 1963, the march on Washington," Frazier said. "I lived in New York at the time, but I did come down for that weekend. I was there on the mall, I heard Dr. King make his passionate speech, talked about all of God's children, black, white, yellow, red, need to come together, and this is what we're talking about now in this situation, every one of us that are here are here because of a mother and father, we mostly have children, grandchildren, maybe great grandchildren, and this affects their life. Maybe not necessarily mine, because I am in my seventh decade. However, this law, the way that it's been interpreted, does not provide security for our children and our grandchildren, our nieces and our nephews, and any child. It has nothing to do with race."

Frazier was referring to Florida's stand your ground law.

The gunshot that killed Trayvon was to the heart, she said. "That was not to maim, that was not to stop, that was to kill, intentional murder. So it just tears my heart apart that in this day and age, in the 21st century, that we still live under these type of conditions. And every mother's child is going to be faced with this at some point in time. We can go out and we can fight in the wars but yet still when we come home we don't even have safety because someone has a gun and shoot us because we have on a hood, and whatever the situation is. I get very emotional when I think about it, because I have grandchildren, I have grandsons, and I want better for them. I want better for every mother and father's child."

"Absolutely, absolutely," Bethel said. "And the world is watching. It's not just here in Florida. The world has got their eyes on Florida, and we're not doing a very good job of representing it. Our laws need to be carefully considered so that they benefit us as our Constitution has said." She recounted the steps that led to Martin's killing, and continued. "You can't go home without getting killed? You can't come from your house if you don't fit into this neighborhood? I have to say, thank God, for 24 years I've been here I have been welcomed. I have. But I don't feel welcome anymore. I really don't. The way the rules and the [gun laws], we're a laughing stock."

The march began a little after 8:30 Saturday morning, after participants met, hugged, took pictures, shook hands with Larry Jones, one of the Flagler County Sheriff's deputies who'd be providing traffic control the rest of the day with Mark Carman, who somehow managed to be at every intersection the marchers would cross in time, halting traffic. Marchers would thank him repeatedly throughout the nearly two-hour march, which wended its way from the Kohl parking lot to Palm Coast parkway west, almost all the way to U.S. 1, then back along the same route—a distance of 1.7 miles, one way.

Last year's younger marchers had walked a shorter distance, for less time. Saturday's marchers, the spring of the 60s still in their step, showed them how it's done. They could sing loud and long, too.

Pastor Sims Jones of Bunnell was near the front of the line, alongside Arthur Jones, the former Bunnell police chief, leading the chants literally to the point that his voice was getting hoarse, but he wouldn't stop. "I don't know if I'm going to be able to preach tomorrow," he said, taking a breath.

"You're preaching right now," a woman replied.

It drizzled once in a while, but the overcast skies helped keep temperatures down for a march that generated a more palpable warmth from its participants, the way memorials can when participants have as many memories as they have life yet to live for. Car after car passing by would honk, show the thumbs up, stop to take pictures from a smartphone, or shoot video. If there were an occasional insult or jeer, they were either not seen or heard, or their perpetrators were too embarrassed to make it too obvious.

But aside from one woman who marched briefly with the sort of iced tea Trayvon had bought at the store before his death, and aside from reporters, no whites walked in the march, even though word of it had not been limited to traditionally black circles. The absence was stark, and telling: solidarity, in this case, is going only so far.

Agnes Lighhtfoot remarked on a related divide as she walked.
---
Agnes Lightfoot Speaks[media id=334 width=250 height=200]

"What I feel, truly, is that our system is broken," Lightfoot said. "It always seems that African-Americans come up on the short end of the stick. When I heard the juror speak, I thought: did she make up her mind before she took her seat in that jury box? That's what it sounds like. It sounds like she made up her mind. It sounds like maybe her and her husband, who's an attorney, had a plan—let's publish a book, you know? And who knows who they know. Maybe they knew the defense, because the world of legal is so small in a town like that. So many things just didn't seem right. And I thought since this was on the world stage, that maybe, just maybe, this would come out right. But no, it didn't. So we have to march. We have to do like we did 50 years ago, whatever, when I was a young girl—I'm just young now—but anyway when I was a young girl I used to march then, and that helped to make some differences, and that's why I'm here today."

Renee and Daniel Robinson, originally from Pennsylvania, moved to Florida eight years ago. "Justice is not all the same," Daniel Robinson, who's almost 70, said, speaking from experience. "I was the first black to join the YMCA in Chester, Pennsylvania. It was different. And I got a chance to feel that I really wasn't wanted there, but the people got adjusted to me and other blacks came into the YMCA. Things change."

But not as much as they should, or as much as people imagine. He too reflected on the notion of progress since the civil rights era contrasted with Trayvon's fate. "It means that we took a couple of steps back," Robinson said. "I always thought that because we got a black president things were getting so much better, people were getting closer together." He chuckles. "But it just seems it seems like it just brought out more of the devil in a lot of people that we took a step back." He adds: "I have two boys, and it could have happened to my sons. And I know I was profiled when I was younger."

"My main thing was," his wife Renee Robinson says, "Trayvon Martin went to the store to get some candy and to get ice tea, and he tried to get home and couldn't make it home, and he wasn't even that far from his house. What does that tell you? If it was the other way around, what would have happened?"
---
Alicia Santana-Wilson Speaks[media id=335 width=250 height=200]

Alicia Santana-Wilson, originally from Baltimore and 65 years old, has known her share of history, and taken part in it. "I've marched for every issue that I believe in, and that has been many, from Baltimore down to Virginia Beach-Tidewater area, down here to Florida," she said, "and I will continue to do so until people either get together, have conversations about what racism truly is, and sit down and share information. Then, if you can't do that, change your attitude. Can't change the law, change your attitude. It's all about attitude. And if we all live by the Ten Commandments, would all of this be going on? Would we not love thy neighbor? Would we commit murder? Would we love thy mother and father? It's very simple. Very simple. And I don't get why people don't get it. I really don't."

But there will always be marches, she said. She expects her four grandchildren to be marching for one thing or another when their time comes. She guesses it may involve technology and undue spying.

Palm Coast's march was one of more than 100 held across the country. And for a city the size of Palm Coast, its march turned out to be one of the largest, proportionately: 500 people marched in Orlando, Miami and Los Angeles, 2,000 in Atlanta and 6,000 in Chicago. In Sanford, site of the killing, between 75 and 100 people marched on a route that ended at the Sanford Police Department. Many were spurred to march after Friday's expansive remarks by President Obama on the Trayvon case, in which he said that Trayvon Martin "could have been me 35 years ago."

Toward the end of the march in Palm Coast, Ottley, who was closing the long line at the end of the walk, said she was proud of the day's accomplishment. "I should say, yes, we are, because this is not only my doing, this is also the community's doing," Ottley said. "And a lot of people that were invited for whatever reason couldn't come out, but we hope they're in solidarity with us."

The day's message? "Unity. And we're a force. We're a voting force, we're a community force, and we care. It's a heart thing. With the frustration we had of the verdict, people who come out peacefully do a march from their heart in support of Treyvon's family, and the stand your ground issues. That has to be addressed."

The march ended with a prayer led by Sims Jones, and a reminder from the NAACP's Melinda Morais that the greater march is yet to come: the local NAACP chapter is chartering at least one bus, more if necessary, to take people to Washington, D.C., for the 50th year commemoration of the 1963 March on Washington, on Aug. 28. Then participants disbanded.

Mamie Godfrey sought out a reporter at the end to say one last thing. "Melissa Harris Perry from MSNBC," Godfrey said, "she always signs off with this, that her father always sent her a card and he always signed it: 'The struggle continues.' So, the struggle continues."