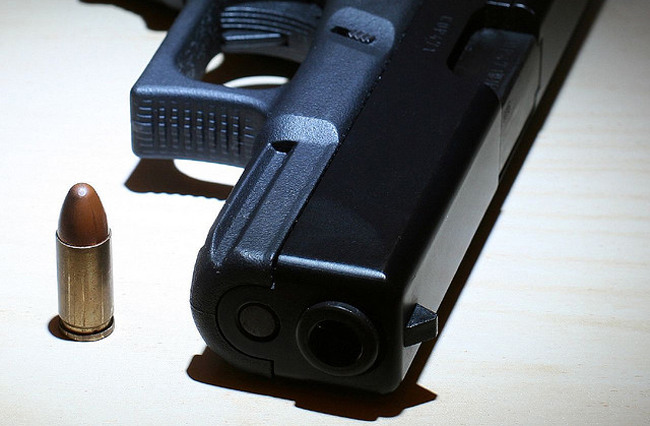 People can't be blamed for having raw, emotional responses to insanities such as the Newtown school massacre on Dec. 14. But some responses stagger from the emotional to the ridiculous and back to the insane.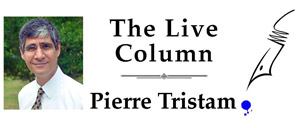 You know the story well by know. Immediately after the Christmas break, the parent of a sixth grade girl at Old Kings Elementary in Palm Coast shelled $11,800 out of her pocket to buy herself a full-time armed guard and ordered it posted at her child's school. That's the cost for just the first two months. She's pledged to keep writing checks until the end of the year. Guard duty is fulfilled by local sheriff's deputies who volunteer for overtime detail at the school. (Good for them: road deputies are underpaid, but this is the wrong assignment for them.)
The parent's "gift" isn't the most astounding part of this story. This is: the Flagler County school district swallowed the offer, no questions asked. The money was actually drawn out of the woman's company's account, an obscure firm she and her husband own. A company spokesman weirdly and repeatedly refused to clearly explain what this company, on the hook for protecting one of our schools, is about. The company allegedly makes bright tail-lights and sundry equipment for policing uses, under the bizarre imprint of–forgive the inelegance, but it's what's sponsoring a thousand children's personal centurion–BrightAssLights.com.
The school district never checked out the company, which also goes by a more generic name (Police Services Inc.). The school superintendent told me that she didn't even know the check had been drawn from a company account until I told her. The check could have been written off of a Hamas charity for all that anyone cared: not only was it accepted. The guard was posted at the school one Monday, without school board approval, without the school board attorney's clearance, and without several board members even knowing about it. The parent wanted to keep it quiet, I kept being told, as if money could now buy silence, too.
The whole thing had been worked out on one sheet of paper posing as a contract, signed by Laura Lauria (the parent) and Winnie Oden, the principal at the district's alternative school who, in her liaison role with school cops, likes to think of herself as the school board's Secretary of Defense. Naturally, she too would not speak to me about the arrangement, "transparency" with Oden being a lip-service thing that goes no further than her appearances before the board. It was only after FlaglerLive reported the story, which quickly went global, that the school board was formally filled in to take action on the matter.
Then another remarkable thing happened. Board members tripped over each other to sing Lauria's praises (without once mentioning her name or that of her company) and approve the Buy-a-Cop program. They actually said that they could not turn down a donation of that size. Only Sue Dickinson, ironically the board member whose district includes Old Kings Elementary, had the courage to say it straight: grateful though she was for the money, she didn't like the precedent this was setting, she didn't like having one public school privately favored over another, and she didn't appreciate the board being circumvented. But Dickinson could also sense where the mob was on this one, so she voted to approve the donation anyway.
As it is, the board on Tuesday is to discuss a broader security plan that entails bringing back school cops to elementary schools, from where they'd been withdrawn several years ago over budget constraints. The plan may replace Buy-a-Cop with Cop-by-Tax.
With Sheriff Redux Jim Manfre's blessing. This is the same Manfre who a week before the Newtown massacre was reasonably telling a reporter of his "misgivings" about having Tasers in schools (it's never a good idea to have instruments of torture on any cop's school beat). And the same Manfre who was justly ridiculing former Sheriff Don Fleming's penchant for turning a local police agency into a high-caliber armory. Now Manfre not only wants to keep Tasers juiced in school, but he wants cops in every elementary school, too.
It doesn't diminish the insanity of the response. It merely amplifies it at taxpayers' expense while doing nothing more than stroking–if not stoking–populist fears. Costs would be colossal (each cop goes for about $80,000 a year, when insurance and benefits are included). Schools' cop fetish would be appeased. But it's very doubtful that security would improve. Armed guards at Columbine and Virginia Tech did nothing to stop those massacres.
Armed guards won't stop the next mass shooting, either, though In Flagler we have at least two recent, documented events where armed guards had nothing to do with diffusing potentially lethal situations in the two local high schools. Smart and dogged policing by the sheriff's office beyond the schools and administrators and faculty whose eyes and ears were well attuned to trouble students' social media and other wavelengths in school is what worked, and what worked terrifically well. To put it another way, guns don't stop people with guns. Intelligence and sound judgment do.
And let's be honest. There's been five mass shootings in 14 years in the nation's 130,000 public and private schools (besides Columbine, one at an Amish schoolhouse in Pennsylvania, one on a Minnesota Indian reservation, the Feb. 2012 shooting at Chadron High School in Ohio, and Newtown). It isn't a crisis. It's a tragedy. It's an indictment of the nation's barbaric adoration of guns. But it's an aberration in the strictest sense of the term. It doesn't change the fact that our schools are among the safest places on earth—safer by far than many homes from where our children come from.
You'll tell me that no cost can be placed on a child's safety, so more armed cops in schools makes sense. I'll tell you that your drunk driving or texting while driving is exponentially more likely to harm my child than the next school shooter. I don't see schools jeopardizing their budgets over those daily killings.
Worse: we have children going home hungry or dropping out illiterate. We have children starved for parenting or a shred of love. We have children enduring sexual and physical abuse anywhere but at school, as any teacher well knows in virtually every school. Yet this arms race is what we choose to manufacture into a crisis and pretend to resolve by dumping more dollars, cops and guns where they're least needed.
Our schools might as well be replicating the decrepit years of the Soviet Union: armed to the teeth while crumbling from within. That we so readily applauded the privatization of the scheme, as with Palm Coast's Buy-a-Cop program, shows to what extent our priorities have taken a bullet to the head. Mass shootings are nowhere near as lethal to our future as mass stupor.


Pierre Tristam is FlaglerLive's editor. Reach him by email here. This column is also syndicated through Florida Voices.