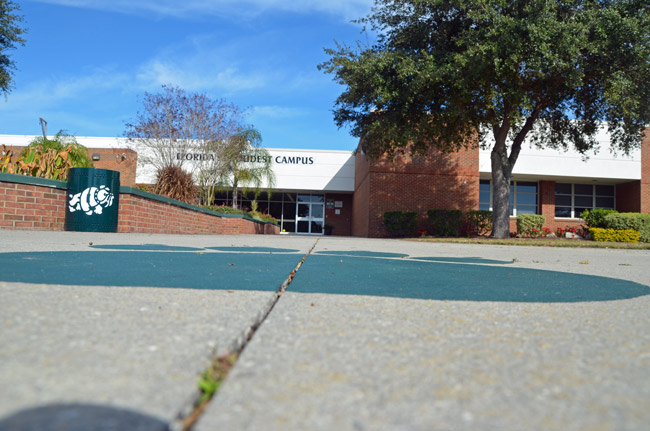 Last Updated: 2:17 p.m.
School Superintendent Janet Valentine has ordered the addition of three Flagler County Sheriff's deputies to the campus of Flagler Palm Coast High School this week, and will have additional administrators on campus Friday, herself among them, in the wake of viral rumors on Facebook and other social media that people involved in the Ralph Carter Park shooting spree Sunday might face off in the school's courtyard on Friday.
The school intends to conduct "business as usual" on Friday, ending a week heavy with exams for some students.
"We've heard some rumors, we've shared our concerns with local authorities and it'll be business as usual," FPC Principal Jacob Oliva said Wednesday evening. He had circulated an email to school, staff earlier in the day outlining the issue and advising measures. Valentine sent her own email to school board members later that evening.
Thursday morning, Valentine initially said that there would not be a broader effort to disseminate information about the rumors. "We didn't want to put anything in a mass email or in a phone call because we don't want to scare people when we don't have anything specific to talk about," Valentine said.
But within an hour of that statement, she had made her second trip to FPC, around lunchtime, where she'd been early this morning, and had another conversation with Oliva. The superintendent and the principal then decided to go ahead with an automated phone call to the FPC community, likely by 1 p.m. today.
"We are going to do a call to let folks know because I think it will put people's minds at ease, that we've narrowed it down to a couple of students who started the rumor," Valentine said. She was concerned that students might opt to stay out of school instead.
The call went out before 2 p.m. "We're calling to touch base regarding some rumors going around among students at FPCHS and on Facebook in regard to a conflict that occurred in the community this past weekend," Katrina Townsend, the district's student services director, says in the call. "We appreciate all the students and parents who contacted us to share information. We've investigated, and at this time, we have found no validity to these rumors. We understand the concerns of families, and are working with local authorities to maintain our normal daily routine, and our focus on learning. If you have any questions, feel free to give us a call."
The rumor began earlier this week in the wake of the shooting at Ralph carter Park, where 18-year-old Johnnie Thomas Jr. is accused of firing a .32-caliber gun six times as a brawl culminated in the shooting. None of the bullets struck anyone, but police said there were about 100 people at the park.
There has already been some spill-over effect from that brawl at the park: on Monday, a fight broke out at FPC between two boys, both of whom were suspended.
"Rumors started flying at FPC that there is going to be a shooting on Friday in the courtyard on campus," Valentine wrote school board members. "Students reported people were talking about it being posted on face book. This story was not confirmed. However, we are going to take this threat very seriously."
On Wednesday afternoon at 4:20 p.m., Oliva had sent out a brief email to staff: "We have had several students do the right thing and share with adults on campus the rumors they heard," he wrote, after summarizing the situation. "We have pursued this thoroughly and have not discovered any confirmation of these rumors. However, safety is our top priority and we are going to ask that everyone make sure that they are on their assigned duties on-time, keep hall passes to a minimum, and maintain a focus on academics like we do every day. We are working with local authorities to maintain our normal operations and will continue to monitor the situation."
School officials have determined that the brawl at Ralph Carter Park was part of a long-standing rivalry between a small Palm Coast gang called the Grove Street Boys, so called because its half-dozen members or so live in the Pine Grove section of Palm Coast, and a looser, less defined gang of teens from Bunnell. Thomas is part of the Bunnell group, and he started shooting, according to one person closely familiar with the events–and the dynamics at the park–when his group felt out-numbered by the Grove Street Boys.
School staff and cops will be on the look-out for the Grove Street Boys' trademark colors: camouflage pants, red shirts and black bandannas. But Valentine stressed that there has been no hard evidence of an actual confrontation, only rumors online. Nevertheless, those rumors were spreading fast and broadly enough to warrant action on the school's and the sheriff's office's part.