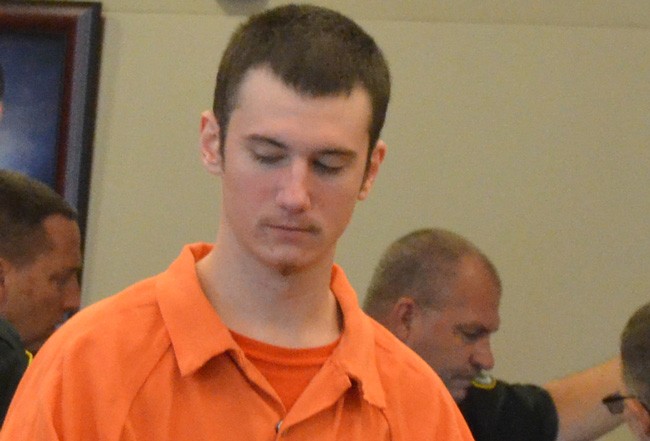 Karl Westgate, the 19-year-old Palm Coast resident sentenced last summer to 25 years in prison for molesting an 11-year-old girl, died in prison 48 days after his incarceration, and five weeks after writing a Flagler County judge to say that his plea had been coerced, and that he wanted his case re-opened.
Nothing was done by the court system or the public defender's office—which had defended Westgate—after receiving his letter: Reginal Nunnally, his public defender, was shocked to learn of his death—from a reporter—and had to take a moment to collect herself before addressing matters related to the case when asked about it earlier this week.
Westgate was sentenced by Circuit Judge J. David Walsh last May 14. Until then, he had spent 221 days at the Flagler County jail, time that was credited to his sentence. He was then sent through the Florida prison system ending up in the East Unit of Apalachee Correctional Institution, a 1,322-bed prison for minimum and medium-security inmates off of I-10 just to the west of Tallahassee. The Department of Corrections records his death as taking place on July 16, or three days before his 20th birthday. Probation officials informed the Flagler court on Aug. 14 that he had died.
"They call it prison justice," Daniel Westgate wrote FlaglerLive. "He was a dead man the minute they sentenced him."
Prison officials would not detail anything surrounding his death. "The Florida Department of Corrections (FDC) Office of Inspector General (OIG) is proactively working with FDLE to provide investigatory assistance," the Department of Corrections' communications office wrote FlaglerLive in an email. "The Department will employ all available resources to ensure that a thorough investigation is completed. As this is an open and active criminal investigation, this is all of the information available at this time."
But a week after the initial publication of this article, a prison official said that although the medical examiner's report has not yet been released, "it's not entirely accurate to say that he was killed," but rather, that "he died while incarcerated." The implication is that Westgate took his own life.
Daniel Westgate–his father– and Westgate's sister, however, say that Daniel had received letters from his son saying that his life was being repeatedly threatened, that in his last letter he said he'd asked to be placed in protective custody. The request was rebuffed.
Westgate was convicted on a series of sex crimes resulting from his relationship with an 11-year-old girl that entailed his sending her lewd pictures of himself, coercing her into sending naked pictures of herself, and subsequently visiting her at her home and raping her in her bedroom. He continued the rape even as the victim tried to push him off and complained of pain.
Inmates serving sentences for sex crimes against children, particularly very young children, are at a notoriously high risk to be themselves the victims of violence or murder by other inmates, who rank child-sex offenders at the lowest rung of the prison hierarchy, along with snitches. Last November, William Dillow, a 27-year-old man serving 45 years for raping two prepubescent girls–his girlfriend's daughters–was murdered at Jefferson Correctional Institution, an 1,179-inmate prison in Monticello, just east of Tallahassee. The girlfriend, Rhonda Wilkerson, is serving 50 years.
On Wednesday, Waldemar Rivera, a 38-year-old Palm Coast man, was found guilty in Flagler County Circuit Court of raping his 13-year-old step-daughter two years earlier. He is to be sentenced on April 26 at a hearing when individuals on both sides of the issue may address the court to ask either for a harsher or more lenient sentence. For sex offenders, however, the length of the sentence may not affect their tenuous fate as they enter the prison system.
According to the Department of Corrections, 40 inmates have been victims of homicides between 2010 and 2015 in Florida prisons, not including some 300 pending cases. The homicides are not explained.
Westgate had had a troubled life before his final incarceration. He'd been charged with burglary, theft, and fraud in the two years before his arrest on the sex charges.
He was sentenced wholesale to five years for burglary, five years for grand theft, 15 years for dealing in stolen property, 25 years for lewd and lascivious molestation of a girl younger than 12, five years for transmitting lewd materials to a minor, 15 years for use of a child in a sexual performance, and 25 years for lewd and lascivious molestation of a person younger than 12 (all to be served concurrently), followed by life on sex-offender probation and the designation as a sexual predator.
On June 6, Westgate wrote Judge Walsh. He claimed that since his incarceration at Apalachee, "I have not been able to contact my public defender or family to get any legal materials, or do any case work or start an appeal in my case. I would like to withdraw my plea and go fully through trial. I have reason of insufficient counsel, I have a wrong sentence, and was coerced into my plea."
An inmate who tendered a plea may, under various circumstances, do what Westgate was requesting even after being sentenced.
He could have been out after serving 80 percent of his sentence, in early 2035, when he would have been 40: still young enough to have a life.