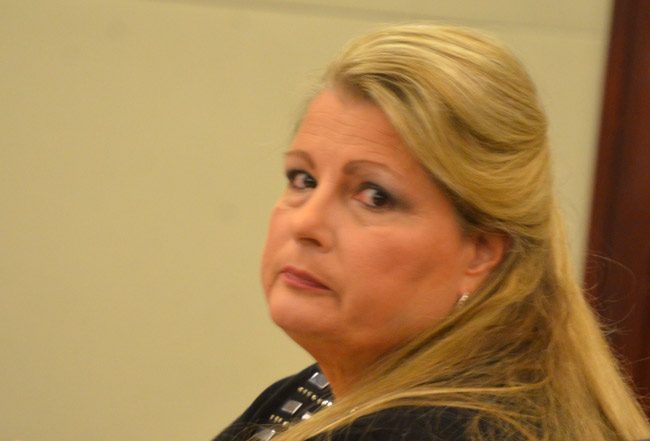 For almost eight years we've been subjected to the Kimberle Weeks follies. For six of those years she was the supervisor of elections, the most combative, distasteful, deceptive and ethically suspect elected official in the county. That's saying a lot in a county that hasn't lacked for politicians with the integrity of a plunger.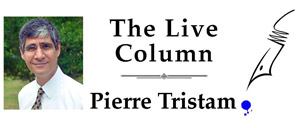 Since she resigned we've been spectators to a different sort of follies: the state's 12-felony case against her for supposedly illegally recording or transmitting conversations. That case is now down to nine counts.
I'm not so sure there should be more than one, at most two. Because as unpleasant a human being as Weeks may have been, that's no cause for a largely bogus case. I say this as one of the people who was recorded: I was in an extensive off-the-record conversation with Judge Melissa Moore-Stens after a canvassing board meeting, which she chaired. Neither the judge nor I knew that Weeks was recording us.
I don't remember what the judge and I were talking about. It was nothing juicy. I usually hit judges up—when they're available–for a bit of intelligent conversation as an antidote to the mind-numbing stupor of public meetings. After any meeting featuring Weeks, a bit of conversation with the judge was like intellectual smelling salts to prevent a concussion. What's relevant about Weeks recording us is that she did so in the general context of a public meeting, in a public building. That the meeting had actually adjourned is irrelevant. We were still in the common areas of a public building, where we have no expectation of privacy. If, for example, a cop's body camera was recording the scene in passing, anyone would have had the right to that footage under the state's public record law, which always errs in favor of openness, not secrecy (at least it should). Weeks was wrong to record us. But she did not break the law.
The whole case against Weeks started over the recording she made of County Attorney Al Hadeed and County Commissioner Charlie Ericksen. Both claimed they were in a private conversation while the canvassing board meeting they were attending had adjourned to an adjoining part of the supervisor's office. That they were in a private conversation is not in question. But that Weeks had no right to record them begs disbelief. The canvassing board meeting was still in session. While it would have been ethically unacceptable (but not illegal), anyone could have left a recording device in the board room instead of taking it to the adjoining room. If Weeks is to be punished for that recording, then the open-meetings law, where anything may be recorded, would be upended over subjective, hair-splitting boundaries no court should allow, because no public official should be authorized to arbitrate those boundaries.
That's without considering the sign at the entrance to the supervisor's office, warning that anything inside may be recorded, meeting or no meeting, though in a public building even that sign is superfluous. (Of course, signs meant nothing to Weeks: a prominent sign at the Government Services Building where Weeks worked also forbade weapons. That didn't stop Weeks from packing her .38-caliber inside.)
The state attorney went so far as to slap three felony charges on Weeks for sending the Hadeed-Ericksen recording she'd played at a public meeting to two media outlets and a third party. The state attorney claimed that not only was the playing of that recording at a public meeting illegal, but so was sending it subsequently. Of course a judge was right to throw out those charges. The prosecution was seeking to implode the  state's open-meetings law by carving out an exception to documents introduced at meetings. It failed, as much of the rest of its case should fail, with perhaps two exceptions: Weeks's recording of the secretary of state, after he explicitly told her not to do it, and her phone recording of Palm Coast's city clerk, who had no idea. That's straight-out illegal and should be prosecuted. (There's also a couple of charges over sordid recordings Weeks made in her private life, one of them involving the funeral director handling a family matter, but even those seem like a stretch in the age of epidemic social media surveillance.)
The state probably knew this all along. And threw a vat of spaghetti counts at Weeks in hopes of one or two sticking, probably in a plea, with ultimately a bit of probation rather than prison time. That will probably be the final outcome. Meanwhile, they're all wasting us a lot of money, time and patience.
There may have been a larger case against Weeks. A person of her wiles and shades should have never been in charge of an office that depends on transparency and trust. The elections she ran are suspect. But that's not the case the state went after. Weeks is gone and is not coming back. The open-meetings and open-government laws are not going anywhere. Let's not risk damaging those to get back at an undearly departed folly.

Pierre Tristam is FlaglerLive's editor. Reach him by email here or follow him @PierreTristam. A version of this piece aired on WNZF.