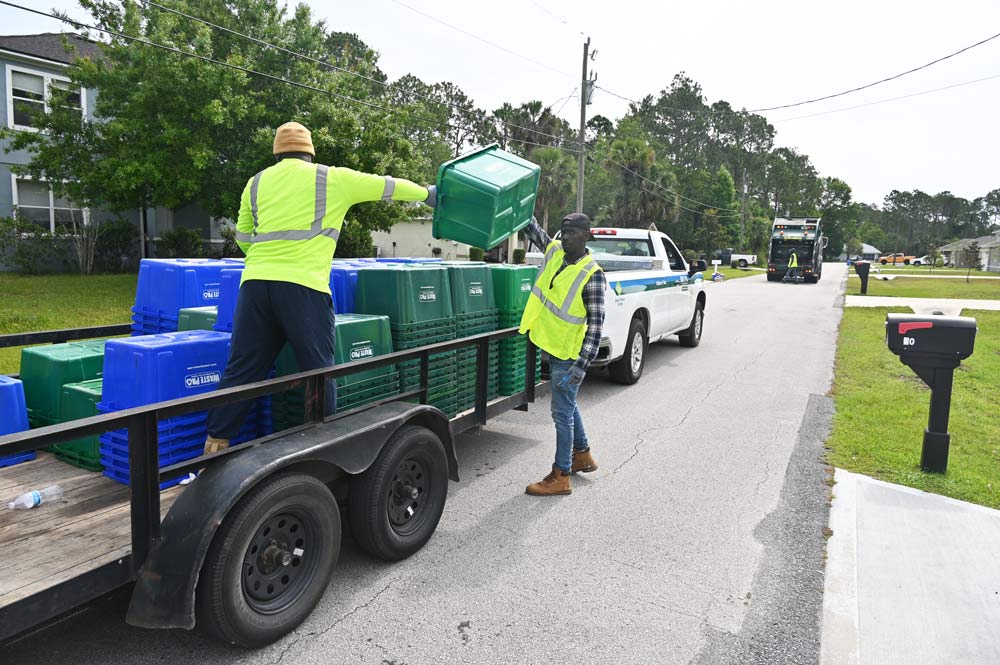 Last Updated: June 2, 9:29 a.m.
FCC Environmental began hauling trash early this morning in Palm Coast, replacing Waste Pro after 17 years. It is not yet clear how much debris is being picked up from the latest clash between Palm Coast government and Waste Pro in the waning days of a marriage that frayed years ago and that nearly ended in 2021. The current dispute may end in litigation.
It is centered on the green or blue plastic recycling bins Waste Pro spent the past week picking up from residents' driveways and hauling away in flatbed trucks.




Palm Coast government isn't calling it theft. At least not in so many words. But the city considers the bins to be residents' property, at least by contractual inference. Waste pro disagrees. The bins are its own, it says, and nothing in contractual documents explicitly says otherwise, it claims.
Many residents learned of the clash through press reports only when Waste Pro started taking away bins last week. Neither Waste Pro nor the city had warned residents. So it was too late for many residents to keep their bins in garages, though as news spread, many others subsequently did just that. The company stopped short of seeking to reclaim the bins through more forceful means.
But anything left on the street that had Waste Pro's markings was fair game to the company's workers–to the city's distress and to some residents' anger or puzzlement, though some residents also sided with Waste Pro. The company, which portrayed itself as a victim of misinformation through its marketing arm, does not lack for supporters in Palm Coast. (See: "Palm Coast Fines Waste Pro $125 For Every Recycling Bins It's Taking Back and Threatens Litigation.")
That's left many residents without recycling bins. FCC, which also appeared unprepared, may not have replacements for weeks.




Meanwhile, for all of Waste Pro's continuing pandering to residents as "valued" customers "and friends," the city registered 31 complaints about Waste pro service in its last week of service, including 29 missed routes.
An examination of the written communications between Waste Pro and the city obtained by FlaglerLive–mostly between Waste Pro attorney Amy Shay and City Attorney Neysa Borkert–illustrates the scope and depth of the dispute. For three weeks, the two sides battled it out behind the scenes, each threatening litigation, each taking a harder line as the days progressed, to the point that Waste Pro last week accused the city of blocking streets with city trucks to prevent Waste Pro trucks from driving through, and that Waste Pro staff was being disrespected, though Waste Pro's attorney wasn't past disrespecting Borkert subtly but unmistakably.
Waste Pro continues to be the hauler in unincorporated Flagler County and claims, on its web site, that "It's Not Goodbye." That's difficult to imagine, as the last few weeks have tarnished both sides–and likely sent many a local government poring over garbage contracts to figure out whether they're vulnerable to a similar dispute. The FCC contract does not appear to be any clearer on the matter.
Battle lines were drawn early over Waste pro's decision to reclaim the bins, and only deepened over time.
On May 12 Borkert cited different parts of the latest contract with Waste pro (signed in 2017) to assert unequivocally that "City residents are the owners of the recycling bins. The contract defined the bins as "distributed by or on behalf of City residents" by Waste Pro, and further states, in bold type, that "bin pricing shall be included in the base price." In other words, it's the city's contention, supported by the contract's wording, that residents "paid for the bins through the solid waste fee they were charged," clearly making them the bin's owners. "In addition, the bins distributed to City residents include the City of Palm Coast logo printed on them which supports ownership of the bins by City residents and not WastePro."




In a statement posted on its website headlined "THE TRUE FACTS," Waste Pro wrote that "Numerous discussions and transition meetings were held with city staff and Waste Pro management" about the bins.
City spokesperson Brittany Kershaw disputes that. "They said that there have been several transition meetings with the city on how they were going to collect the bins and that's just not true," she said on Tuesday. "They told us that there was the potential for them to pick up the bins, but that they had no plan to do that, didn't know how they would actually make that happen."
Waste Pro's "TRUE FACTS" statement went on: "It is incredible to think equipment purchased by Waste Pro such as bins, carts, and trucks would be considered or thought to be the property of the city." The statement is misleading, in that the city never made a claim about Waste pro trucks, only bins–and never claimed that the bins were its own, but had been purchased through the residents' payments.
To "ensure that you, our valued customers, were not left without a bin, Waste Pro extended offers to sell the recycling bins at a discounted price," Waste pro's statement continues, without specifying. The company in fact offered to sell FCC 80,000 bins at $6 apiece, even though, according to its own website (screen-shot here, on June 1), it only charges residents $5.32 for a bin–and only when the bin is in addition to the free bins distributed by contractual agreement. Palm Coast residents get two "free" bins.
The word "free" should be qualified: in the 12 months, a household paid $340 for garbage service. In the 16 previous years that Waste Pro serviced Palm Coast, a single household would have paid $3,648 in garbage service, the equivalent of 608 bins at the price Waste Pro quoted FCC. That may explain Borkert's assertion that residents have essentially paid for their bins.




Shay dismissed the claim, prompting a caustic reply from Borkert: "Are you telling me that Waste Pro didn't use the money paid to it by the City residents not to purchase the bins it was freely giving to City residents? What money did it use? To say that Waste Pro paid for the containers with money from some other source is laughable. However, if you have the accounting history to show differently, the City would request to review it." There was one more twist of the knife (they are lawyers, after all, reveling in the sort of exchanges they could not indulge in a courtroom): "It's unfortunate that Waste Pro loses so many contracts that it routinely has to pick up bins."
Shay had a different interpretation of the contractual phrase linking Waste Pro's bin distribution "on behalf of the residents."
"Contrary to the City's contention, that phrase simply means that, if a resident did not wish to use a recycle container that the resident owned," Shay wrote, "that resident did not have to arrange to stop by Waste Pro's facility to pick up the recycle bin that would be used while Waste Pro performed its services under the Contract."
In fact, the city routinely requested, and Waste pro routinely delivered, bins to residents upon request, as was the case as late as last month, when Zachary Cooper, the solid waste inspector for Palm Coast, referred to pending bin requests in a May 18 email to Waste pro Bunnell division manager Heather Badger-Felmet. Cooper got no reply. When he inquired again on May 24, Badger-Felmet told him that the requests would all be delivered on May 29–in the middle of the period when Waste Pro was taking back the bins across the city. Cooper told her to disregard the requests.
Shay was on firmer ground when she pointed out to Borkert that during the 2016 bidding process, someone asked a question ion the city's public bidding portal about the recycling bins, promoting an unnamed city employee to provide this answer: "The bins currently provided to residents are the property of the current hauler."
"I do not know why the Addendum provided a response to the contrary, however," Borkert replied, though bidders rely on the city's explanations and answers to such questions when crafting their bids, "it is not the City's position on the current Contract, which was not in effect at the time of the Addendum."
Shay was just as assertive as Borkert had been: "Waste Pro owns the bins that it provided for use by the residents while it performed recycling services for the City under the Contract. Said bins will be collected by Waste Pro unless the City or the new hauler purchase the bins from Waste Pro."
But the contract language both sides signed in July 2022 seems to leave no room for interpretation: "Contractor shall be responsible for providing new Recycling Bins to New Customers and replacing damaged Recycling Bins. Title to all such Recycling Bins shall be transferred automatically to the City, without further action by either party, upon the termination or expiration of this Service Contract."
The bins, in other words, do not belong to Waste Pro the moment they are delivered to a customer.
That was about two weeks before the company was set to start hauling away the bins. The back and forth between the two attorneys continued, getting sharper. Borker had noted the salient fact that had Waste Pro ownership of the bins been established, the contract would have laid out the process for collecting them once the contract expired. No such process was in the contract, nor had the company intimated it to customers. The city wasn't going to do so, since it stood by its contention that residents owned the bins.
Borkert had also put Waste pro on notice that for every bin removed, the city would levy a $125 fine.

By May 24, tempers were flaring. Shay complained at the way a city employee spoke with Badger-Felmet, and demanded that any further communications by city staff "interface with Regional Vice President Brian Wintjen going forward on this issue."
She then countered: "As to your new threat of liquidated damages for Waste Pro to retrieve its bins, it is as unpersuasive as your code violation threat. As you know, liquidated damages cannot be punitive in nature," Shay wrote. "A penalty of $125 a bin, when the city knows the value of said bins are a small fraction of that number, would be met with a lawsuit. Given that Waste Pro owns the bins it plans to retrieve, the City will be on very tenuous legal ground."
Bin pick-ups began. When Borkert asked Shay to ensure that Waste pro kept track of addresses were bins were being taken, Shay told her Waste pro wasn't going so. On May 26, Shay complained about code enforcement and public works employees blocking Waste Pro trucks' way. She sent a picture illustrating what she was interpreting as a blockage, though the city contends it was not.
"I have been informed of some verbal altercations that have occurred this morning between Waste Pro employees and City staff," Borkert wrote her. "I have advised the City to contact Brian Wintjen, per your email below, in the hopes that we can work together to prevent escalation."
She also explained why Waste Pro trucks were being followed: "The City needs to track the information concerning the bins, and following the trucks is really the only way to do that if Waste Pro is not tracking the address[es]."
Shay responded by referring to Borkert, whose first name is Neysa, as "Nicole." It is not a name Borkert goes by. It may have been mere inadvertance. But misspelling or mis-naming an individual is a form of trolling. Certain political leaders with a gift for disrespect do it routinely, and Shay had also referred to Borkert as "Neysha." It is uncharacteristic carelessness for a lawyer. Or it may have been
yet one more way to send a message in a divorce that may yet find Waste Pro and Palm Coast facing off in court.