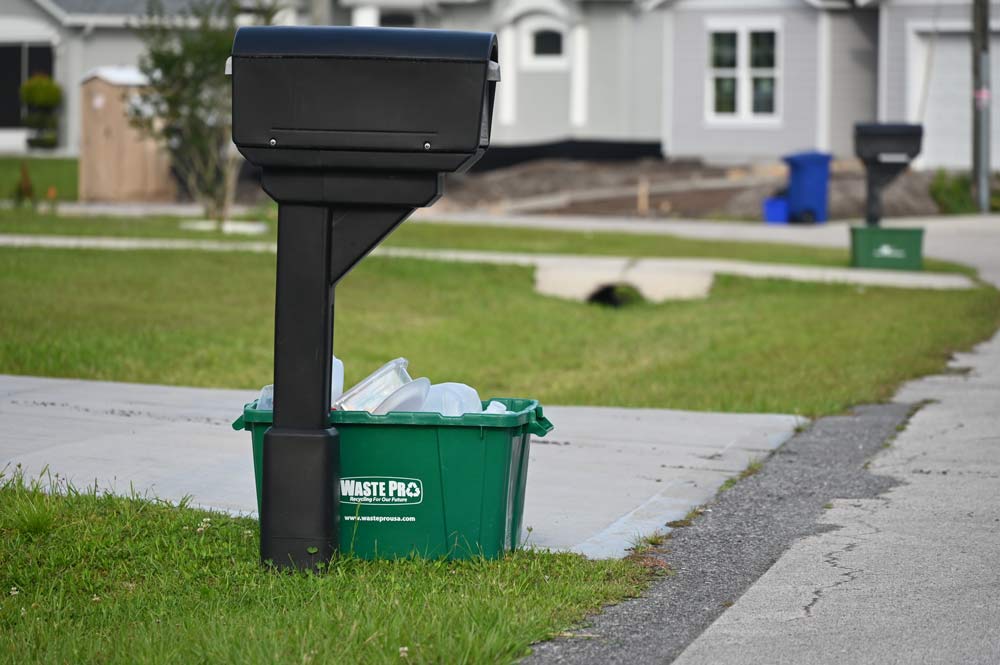 If you need new recycling bins, click here and enter your address.
The Palm Coast City Council on Tuesday seemed to have briefly jackknifed its own administration's and legal team's negotiations in the ongoing dispute with Waste Pro, the garbage hauler.
The contract with Waste Pro ended on May 31. FCC Environmental is now the city's garbage hauler and recycler. In the last week of Waste Pro's contract, Waste Pro collected residents' Waste Pro-imprinted recycling bins, telling the city that it owned the bins, not the city. The city disagrees. A dispute arose. It's not resolved. The city is charging Waste Pro fines for every disappeared bin, and threatening a law suit. Waste Pro is also threatening a law suit.




Meanwhile, the city is tabulating whose bins have been disappeared, and replacing them on request.
On Tuesday, Council member Ed Danko brought up the issue, saying he'd heard his share of complaints over the recycling bins, but then taking a position that was openly contradicting the city administration's and legal department's approach on an operational matter that does not, so far, involve the council–but may soon need that direction.
Danko instead directly undermined the legal department's strategy by revealing that he was not interested in litigation against Waste Pro, and seeking council consensus on that. The attorney likely had not expected the broadside, and was not thrilled about it.
"The one thing I don't want to see us getting into is a legal battle over these recycling bins," Danko, who's had friendly relations with Waste Pro, said, before turning to Bill Reischmann, the city attorney, with an inelegant aside. "I mean, sorry, Bill, but you're the guy who's going to make out. Not us. Lawyers win when in these types of things, not our citizens. I think we're moving forward with our new vendor. I wish them the best. But I think that we need to not get into some sort of legal battle that could possibly have us pitted against a large garbage company and just end up in court and spend a lot of money over these recycling bins. And I'd like to get a consensus on that, that that's not the direction we want to go. Maybe you guys want to go in that direction. But I don't."
Danko isn't exactly alone on the matter. Waste Pro had its following in Palm Coast, and the city has been taking some criticism over the dispute. But so has Waste Pro.




Mayor David Alfin suggested that these conversations take place individually, with the city manager. Of course, that would be inappropriate, as Reischmann noted, "because she could be acting as a conduit by counting votes." He said the council may not hold these conversations out of sunshine.
Reischmann, in a prodigal role Tuesday–Neysa Borkert has been the lead attorney for the city and in negotiations with Waste Pro–separated the two issues in play: who owns the bins FCC is distributing, and whether it has the contractual obligation to replace the bins Waste Pro took.
He said the city's first priority is to replace the missing bins. Those efforts are ongoing. The second priority requires direction from the council, since the first priority may cost money. "There's going to be some expenses that the city has already incurred and may incur in the future," Reischmann said. Those expenses will be incurred "whether or not we intend to bring a claim against Waste Pro."
He cautioned Danko, or the council in general, against taking that negotiating tool away from his office and the administration. "If you want us to do the best possible job to try to make the city whole for its expenses then we need as many tools as we can," Reischmann said. He described the issue as a "moving target," with numerous possibilities ahead. The city could withhold payments from Waste pro. It could face a lawsuit. It could settle.




The council may legally hold a so-called "shade" meeting, out of public view, in rare circumstances. Those include when it needs to discuss strategy in an ongoing lawsuit. There is no lawsuit yet. Until then, all discussions as a council must be held in the open.
"It's problematic to discuss the possibilities from here because companies listen to these discussions," Council member Theresa Pontieri said, "similar to other contracts that have gone bad that I know you're familiar with. And so when we discuss these things from here, it almost gives the private enterprises an edge. So I would just say that generally speaking, I think we're all of the opinion that we want to stay out of court. We want to protect tax dollars for our residents. So I think that's the best general kind of place, to leave it without showing our cards."
Whether in a subsequent closed one-on-one meeting or at council, Pontieri also asked for Matthew Mancill, the public works director, "or somebody else to have an opportunity to maybe discuss that clause of contract."
"No. I have a problem with that," Mayor David Alfin said. "I'm not willing to ask staff to come up and start giving legal opinions on a contract."
"I don't think it's legal opinion. It's what it says about the bins," Pontieri said.




There was no resolution on that matter. Council members stressed the focus on ensuring normal service for residents. He said the city has more than 1,000 bins available to residents.
City Manager Denise Bevan said residents can go through the website for a streamline way of acquiring bins. It's quite simple: click here, then enter your address and follow the steps. That's for new customers or existing customers.
When or how council members will discuss net steps in the city's dispute with the hauler is unclear.