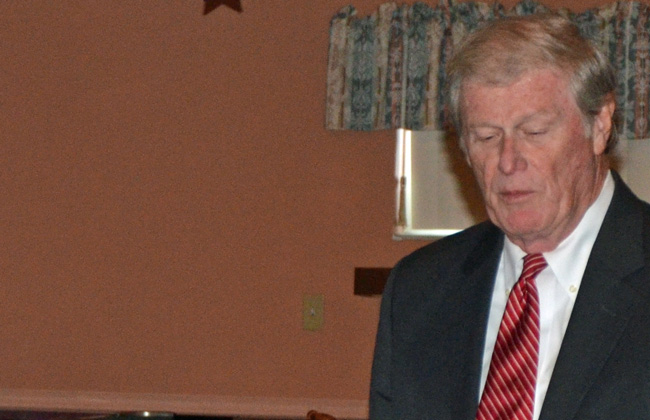 The search for Florida State University's next president won't be sidetracked again for a powerful state politician — or any other individual — who wants the job, the new consultant said. Tuesday.
Alberto Pimentel, a managing partner from the California office of Storbeck/Pimentel & Associates, said during informal afternoon sessions with students and faculty that he won't repeat the recommendation of the prior consultant to have the search committee interview just St. Augustine Republican Sen. John Thrasher, a former chairman of the Republican Party of Florida.
"There will be one process and one process only," Pimentel said. "We're not going to create a special process for some candidates and not for others. I think that you get in trouble when you do that."
Pimentel added that the attention the search has garnered shouldn't reduce the chances of landing qualified candidates, no matter their academic or professional background.
Last Thursday, Florida Board of Governors member Dean Colson said the search has "damaged the national reputation of FSU."
Pimentel, whose firm has conducted about 2,000 university job searches nationwide, said all high-level recruitments have a "favorite son" and that no search comes without "hiccups."
"In realty what happened nationally is people are looking at this and saying, 'We get the message, they're looking now for an academic,'" Pimentel said. "That doesn't preclude others from applying. But it sends a message to those in academics that they're welcome to apply."
FSU students and faculty continue to push for an individual with a strong academic resume rather than a politician. Pimentel is using the informal sessions to put together a new job posting as the school seeks an individual who can direct fundraising and also guide the university toward a national top-25 ranking for academics and research.
Pimentel was brought in to replace Bill Funk, who resigned June 9 after receiving a vote of no confidence from the Faculty Senate.
Funk had recommended the search be paused so that the committee could interview Thrasher, a former House speaker who is currently chairman of Gov. Rick Scott's re-election campaign. Funk blamed Thrasher's interest in the job and the state's Sunshine Law on keeping other potential applicants from putting their names forward for the position.After Thrasher filed an application, Rep. Michelle Rehwinkel Vasilinda, D-Tallahassee, and Florida Supreme Court Chief Justice Ricky Polston also asked to be considered for the job. The interview with Thrasher was postponed, and the process was reopened.
In addition to an academic background, students on Tuesday stressed a need to seek out minority candidates and individuals more in touch with activities on campus.
Graduate student Martin Bremer said he was encouraged the search is being extended into the fall academic year when more students and faculty will be on campus.
"It wasn't necessary Thrasher, but rather we wanted to have more voices heard and people interviewed," said Bremer said.
Pimentel is to hold a similar session with faculty on Wednesday.
The committee agreed last Friday to a timeline that will require potential applicants to apply for the job by Sept. 2. The committee would whittle down the pool of candidates three days later, and interviews with select applicants would be held the next week.
Finalists are slated to be invited for additional interviews the week of Sept. 15, and the committee is scheduled to issue its recommendation on Sept. 22.
No timelines had been set before Pimentel was brought on board.
Pimentel, whose contract has yet to be finalized, said he hopes to have two to four candidates visit the campus before the final recommendation is made. The FSU Board of Trustees would then have to recommend the selection to the Florida Board of Governors.
The school has been without a permanent president since April, when Eric Barron left for Penn State University.
–Jim Turner, News Service of Florida