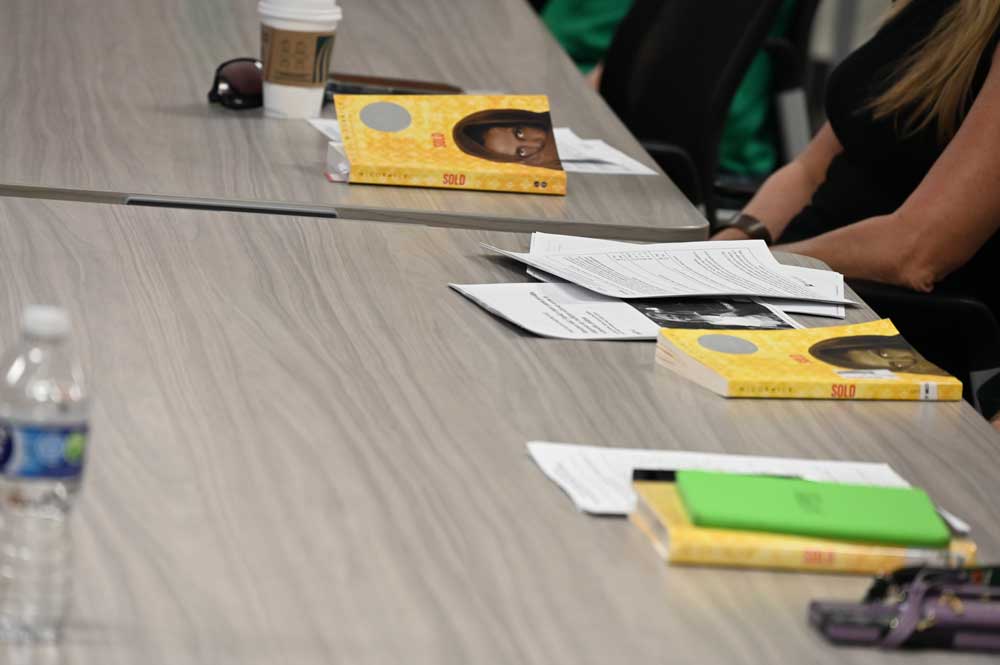 Citing "principle above personal opinion and reason above prejudice," Flagler School Superintendent Cathy Mittlestadt upheld the recommendation of a district appeals committee to keep Patricia McCormick's Sold on library shelves at high and middle schools.
The novel in verse traces the life of a 13-year-old poor Nepalese girl from perilous life in a Himalayan village to the life of a slave after she's been trafficked by her own step-father into servitude in a house of prostitution in an Indian city.
"The committee determined that Sold is appropriate for use and should be retained as a resource made available to teachers and students in our high school media centers," Mittlestadt wrote Shannon Rambow, one of the individuals responsible for the challenge to Sold, and one of three responsible for all 44 challenges to some two dozen books in the districts since summer. (See: "District Appeals Committee Votes Unanimously to Keep Sold on High School and Middle School Shelves.")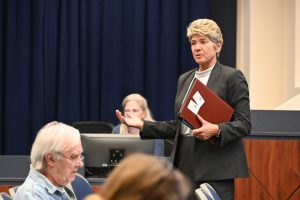 The letter goes on to assert the district's library-holdings policy in the kind of strong language media specialists around the county have been clamoring to hear, and that Mittlestadt had not used to date: "Our teachers and librarians provide books and other materials that aim to meet a wide range of ages and interests," the superintendent wrote.
"The District also strives to provide intellectual and physical access to resources that provide for a wide range of abilities and differing points of view. It is a goal of the District to provide a comprehensive collection appropriate for students which places principle above personal opinion and reason above prejudice in the selection of materials of the highest quality."




It's not over. The book superintendent's decision may yet be appealed to the school board. If it is, it would be the first time in the district's history that a book has been challenged at the school board level. Asked in person this afternoon whether she intended to appeal the book, Rambow ran her finger across her throat, telling a reporter she would not address him. She had, in fact, just filed the appeal to the school board, which will hear it on March 28.
Sold is written in the voice of the 13-year-old protagonist, in language rich in imagery, symbolism and emotions, but devoid of any explicit passages or so much as a cuss word. The violence and depravity of the girl's circumstances are told through allusions and the uncomprehending voice of a child experiencing an unending trauma.
Absent yet another appeal, students may borrow the book in high schools, no questions asked, but they are required to have a parent's permission to borrow it from a middle school library. The book had previously been available only in high school libraries. The challenge had the unintended–but for the book, triumphal–effect of now expanding its availability to middle schools.
Sold is one of some two dozen titles the same three people have challenged since summer as inappropriate for Flagler County school libraries. Two school-based committees, from Flagler Palm Coast High School and Matanzas High School, met jointly to review it after Rambow, a parent with a child at Matanzas High School, filed the challenge. Both committees voted unanimously to keep the book.




Rambow appealed to a district-level committee. That committee met on March 6, and also recommended keeping the book in a unanimous decision. It was the appeals committee's recommendation to expand the book's availability to middle school libraries. At neither high school nor middle school level is the book part of the curriculum. It is what media specialists (or librarians) call a "self-selected" book, meaning that a student may voluntarily choose to read it–or not.
It is not being forced on anyone, though the Florida legislature in 2021 passed a law that Gov. Ron DeSantis signed, requiring that the curriculum must "include instruction on the prevention of child sexual abuse, exploitation, and human trafficking."
The superintendent's decision was the first with regards to a district committee since she opted to ban All Boys Aren't Blue by George Johnson after a committee had recommended that it be kept on high school library shelves. The book, an autobiography by a black, queer man growing up in New Jersey, includes a pair of explicit scenes that describe his first sexual encounters, including an instance of oral sex, though in a non-prurient way: the passage is more forensic, its descriptive style more similar to the directions of an Ikea piece of furniture than anything remotely close to something erotic.




But the superintendent's decision was in the context of a heated, often angry debate in the county that included a former school board member–Jill Woolbright–filing a criminal complaint about Mittlestadt over the book. The Sheriff's Office investigated the complaint and found it groundless.
Woolbright had also complained about three other titles. The superintendent ordered those titles back to library shelves.
Committees at both school and district levels continue to meet on a near-weekly basis to handle the book challenges still in the pipeline. Every challenge filed was, in fact, plagiarized from a national website that caters to the book-banning campaign by a group called "moms for liberty," which has a chapter with a handful of members in Flagler County. But the district has responded by putting in place an enormous, and enormously time-consuming structure to address each of the challenges, with volunteers, including school teachers, media specialists and administrators, putting in untold number of hours to read the books and serve on the committees. The school staffers are not being paid for that service.
One such district committee meeting is scheduled for Monday evening at 6 p.m., to review Amy Reed's The Nowhere Girls, a book about high school rape culture. (See: "Challenged in Flagler Schools: Amy Reed's The Nowhere Girls, a Review and Recommendation.")

Reader Interactions