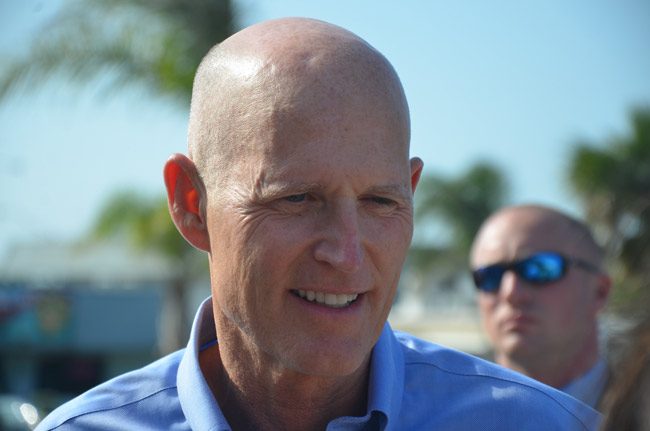 Gov. Rick Scott took his fight for business incentives directly to critics Tuesday, using his "State of the State" address to defend requests for tens of millions of dollars to lure companies to Florida and to market the state's tourism industry.
The speech to open the 2017 legislative session came just two days before the House is expected to take up legislation that would abolish the economic-development agency Enterprise Florida and restrict tourism-marketer Visit Florida. Scott has waged an all-out media blitz in an effort to save the agencies amid criticism from House leaders.
The governor's remarks Tuesday were laced with implicit criticism of House Speaker Richard Corcoran, a strident critic who sat a few feet away as Scott dismissed Corcoran's attacks on the agencies as little more than bumper-sticker slogans. Corcoran, for example, has criticized business incentives as "corporate welfare."
"For our state to simply say, 'We are not going to compete with other states, we are not going to make it easier to incentivize job creators to grow in Florida' — that's just a big mistake for our state and for our families," Scott said. "Incentivizing businesses to grow and create more and better jobs is not welfare."
Scott also drew on his own experience growing up in a financially struggling family as the inspiration for his push to preserve Enterprise Florida and Visit Florida. And he suggested that lawmakers who didn't support the drive were sheltered from the harsh realities facing some families, including home foreclosures and repossessed cars.
"If you have never lived through these experiences, it may be harder to understand the urgency," Scott said. "But I will just leave it like this: I am fighting for our state's jobs programs because I am fighting for families like mine growing up."
The combative speech from Scott opened what could be one of the more volatile legislative sessions in years. In addition to the fight over business incentives, differences between Scott, the House and the Senate have emerged across wide areas of the state budget.
For his part, Corcoran largely steered clear of the economic development clash during a session-opening speech, devoting just a few brief phrases to the issue. Scott's proposed budget for the upcoming year seeks $85 million for Enterprise Florida and $76 million for Visit Florida.
Democrats were content to stoke the conflict. In a prepared response to Scott's address, House Minority Leader Janet Cruz, D-Tampa, said she sided with Corcoran in the fight over incentives.
But she also said both men were positioning themselves for higher office. Scott is considering running for the U.S. Senate, while Corcoran is believed to be eying a run to replace Scott in 2018.
"For the governor and the speaker, this is all nothing more than a rhetorical battle over which failed policies will play best to their base in the primary election," Cruz said.
House Republicans seemed to bristle at parts of Scott's speech, particularly when the governor suggested opponents were out of touch with low-income Floridians.
"There are 120 members in the Florida House. I'm sure that some of them have felt and experienced what it's like to be poor," said House Appropriations Chairman Carlos Trujillo, R-Miami. "I'm sure that some of them have felt and experienced what it's like to have their houses foreclosed upon or their cars repossessed. It's very unfortunate circumstances, but it's not unique to only the governor."
House Rules & Policy Chairman Jose Oliva, a Miami Lakes Republican set to become speaker after the 2018 elections, used his biography to hit back at Scott. Oliva said he moved his cigar company to Florida without receiving any incentives.
He tweaked Scott by using as an example the governor's first business.
"Imagine if the governor, while he had that famed doughnut shop that he started, imagine if his tax dollars from that doughnut shop would have gone to Dunkin Donuts so that they could come across the street and compete against him," Oliva said. "How difficult would that have been for that company?"
Meanwhile, Senate Minority Leader Oscar Braynon, D-Miami Gardens, said the dispute was a distraction from other, more-pressing issues.
"Let's be real. There is nobody in my district whose name is Northrop or Grumman," Braynon said, alluding to major aerospace companies. "So, I still challenge (Scott) to talk about the real problems that are facing Floridians every day."
–News Service of Florida