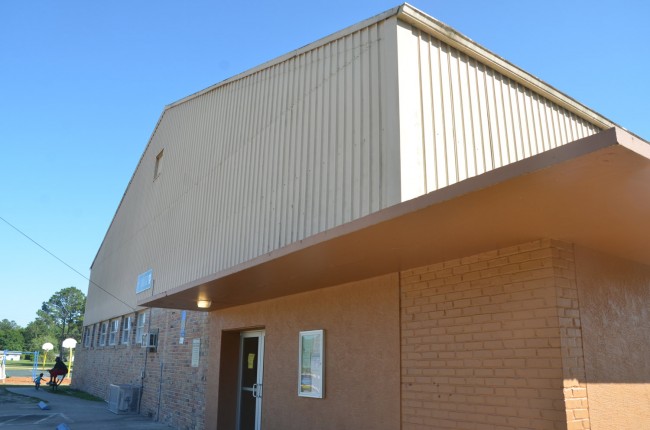 Diane Patterson, a Palm Coast resident whose mother lives on Hymon Circle in Bunnell, secured a permit from Flagler County to use the pavilion outside the Carver Gym in Bunnell for a big Mother's Day block party. She put down a $100 deposit, paid the $50 alcohol permit fee, and paid a $30 rental fee. And she circulated fliers advertising the May 12 event.
On May 6, she got word that the county had revoked the permit—a very unusual move.
Patterson thinks the wording on the flier may have been the cause. "Just because of a flier, or because you feel threatened because we use our words differently than someone else might use theirs, they took too much into the content of the flier and cancelled the event," she told the Bunnell City Commission Monday evening. "That was so unfair. I called and I said, is there anything I need to do. I could pay for an officer to be there or whatever. And I was still turned down."
Patterson didn't tell commissioners the whole story (nor did City Manager Armando Martinez later in the meeting). In her permit application, she'd answered "No" when asked if the event was charging a fee. The flier notes a $10 fee "to park and play." She'd also marked an anticipated attendance of 60. Attendance was to be several times that. (She was refunded the full amount.)
Who owns what around Carver Gym can get confusing: the county owns the gym and small parcels of land around it, including the pavilion Patterson was applying for, a basketball court and a small playground. The school district manages the programs inside the gym. The Flagler County Housing Authority owns the rest of the vast land in front of the gym, but it leases that land to Bunnell for its recreation programs. So four local governing authorities have some form of jurisdiction on some parts of the gym area.
If a block party was being organized for 60 people on the county's portion of the land, it likely would not have been an issue. But the matter is more complicated.
The block party flier in an image provided by Flagler County. Click on the image for larger view.
This much is uncontested: People organizing the event were black, and were organizing it mostly for the black community of South Bunnell, which is predominantly black. This, too, is uncontested: People showed up for the Mother's Day block party anyway, in large numbers.
So did police.
It was Bunnell police, according to a county spokesman, who had taken the flier circulating about the party to the county administration, prompting the administration to cancel the event.
The event was not scheduled to begin before 2 p.m., as the flier noted. But Patterson said Bunnell police were at the scene beginning in the morning. That, too, may be explicable by the start time Patterson herself had put down in her application, which does not make a distinction between preparation time and actual party time: 7 a.m.
The cops were later joined by Flagler County Sheriff's deputies. There were no incidents, no issues, no arrests. But the cops' presence rankled people attending the event, and not just because it was happening at that event, but because they felt watched and "bullied," as two people who addressed the city commission put it.
On Monday evening, several people who had been at the event, including Patterson, addressed the Bunnell City Commission in sobering and uncertain terms, raising questions about the motives of the Bunnell City Police Department's method of watching people—black people—who gather in South Bunnell.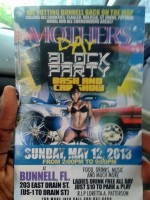 The discrepancies between the permit application and the advertised event were never mentioned, though one person did specify that once the issue of the fee was raised, the $10 charge was eliminated. Police harassment, people speaking to the commission said, was not just at that Mother's Day event, but wherever and whenever blacks gather in Bunnell. Even, in one case, when they hold a family barbecue in the yard.
Three years ago—ironically, to save Carver Gym from closure—the same community had targeted the county for discriminating against South Bunnell, saying the county wouldn't act likewise against recreation facilities in whiter areas of the county. People addressing the commission Monday once again underscored what has been the longest-running racial divide in the county, and what they perceive to be an issue with the city's cops, but in words and descriptions more reminiscent of the 1950s than the second decade of the 21st century.
"I'm glad that you guys had a good time with potato fest," Emma Sanders, a resident of Bunnell's Chapel Street, began, noting ironically the Potato Festival that had taken place the same weekend, with a distinctly lighter police presence (and distinctly lighter skins all around). She spoke of the several events that have been held in or around Carver Gym over the months, including the Mother's Day event.
"But every single time we've been trying to have an event there's been harassment of police in the area," Sanders said. "Yesterday it was overwhelming. It was inundated with police officers, and I feel like there wasn't any at the potato festival like that. So the question was asked, do you guys need so much law enforcement here at this event? And they told us, there's over 200 people, they said likely there's a warrant in the area. And I feel like, just because it was a black event, this community with black people trying to get together, just to have a good time, that they were—I don't want to say racial, I don't want to say racist, but it was kind of like it was influenced because there was black people in the community, and I'm pretty sure, just like black people, white people also get warrants. But I just felt like it was unnecessary, and it was very offensive towards us."
There were several police officers in the commission meeting room as well: somehow they'd been told that the matter might be discussed.
Brian Williams of Bunnell was more blunt. "The police," he said, "I think they're not there to serve us. They're there to bully us. If we are so-called so wild and rowdy, why is it that we don't have any incidents about us being wild over there on the south side?" He referred to the "ditch line" that separates South from North Bunnell, the old mark of segregation in the city. "I don't think it's right for us to be bullied and herded around. Sunday, police was everywhere flashing lights for no reason. What was the reason for that? To me it was just not right. It makes us feel like we're not free. If my mom and dad want to have a barbecue outside and we're not allowed, the cops ain't got a right to tell us to go home, to go inside and not have a barbecue. It's a family affair, right? So if it's wrong for us to have it, why is it not wrong for the north side to have one? That's all I want to know. If it's fair, let's be fair to everybody, not to have a different standard for a certain group of people."
Armando Martinez, the city manager, described that Sunday's particular issue as a misunderstanding: the city was not involved. That, of course, was not the case: it was at the city police department's instigation that the event was cancelled.
While Bunnell police was there, so were sheriff's deputies, he said. "My understanding is that the county government cancelled that event and that it just happened anyway," Martinez said, "and then it caught people by surprise, and officers had to be called in on overtime to be there after the fact, and that also the county sheriff's department had to send deputies there too."
That prompted David Williams, a Cherry Street resident, to wonder to commissioners why, then, weren't organizers of the event more clearly informed of the lines of authority when they were merely trying to do the right thing. "You can't blame a person for not speaking German if he never spoke German," Williams said.
(Cheryl Massaro, the director of the Flagler County Youth Center and Carver Gym, confirmed in a phone interview that she never got an application for an event inside the gym, and would not normally have charged money for one anyway, since, she said, the place is to be used as a community center—unless the organizers were intending to charge admission.)
Tasha Fullwood, a Palm Coast resident with family in Bunnell, said that once the issue of a lacking permit was revealed, the organizers agreed to not charge for the event but continue with it as a private party. "They still harassed us," Fullwood said of the police, even though there were no issues. "Nobody called the police. We checked around." She did not agree with the claim that the police turned up only after large numbers of people had. "They were out there from the beginning. They were out there from when we started setting up," she said.
Sanders agreed. And she stressed that it was not just a problem with the Mother's Day event, but a chronic issue.
"That's basically what we're trying to do, is to get people together, is to just enjoy one another without the problems," Sanders said. "And it seems like every single time there's cops posted up, sitting there or walking through or just like, oh yeah, like looking for a problem when there is none. Even if we're in the city itself, it's just harassment for no reason. It's bigger than this. But this is where we're going to start at. It's way bigger than just this event, just this one time. It's happening every single day. And just like the word used by another one of my friends back there, bullying is what it is, harassment and bullying, and we're just trying to find a way to come to a medium to stop it, because everybody in Bunnell are not criminals."
Commissioners had few remarks. Jenny Crain-Brady, who serves on two boards that have jurisdiction over Carver Gym, on two occasions explained the process enabling community members to use the facility, and the distinctions between who owns what there. When Commissioner John Rogers toward the end of the discussion asked whether the issue involved Bunnell cops or sheriff's deputies, several voices in the audience began answering, but Mayor Catherine Robinson silenced them.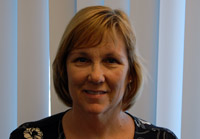 "Excuse me," she said. "We need to sit down, get together, have a meeting, I don't think anybody is opposed to having a meeting. This was a Flagler County event in the Carver Gym. I don't know about the police department. See, again, we don't know what your event was Sunday because we were not a part of your event, we didn't have anything to do with your event, so—" again voices erupted to specify what had been said earlier during the comments.
"Excuse me," Robinson said again. "A point of order, you've had your say, now it's our turn. So there's obviously confusion, no doubt about it, and there's obviously a problem, so we need to figure out what the problem is. Your questions were good, and work toward solving that problem. This was a Flagler County event to approve or not approve if it was in the Carver Gym." (Actually, it is a school district decision if it's in the gym, a county decision if it's on the county land around the gym.)
"But," Robinson acknowledged, "I hear the overtones that it's also the city of Bunnell police department, so with that I think we need to have a meeting and come together, have the police department there, if you want the county there that's fine too, and sit down and everybody get around the table and be as civil there as you are today."
Paul Spearmon, a resident of Hymon Circle, had suggested the idea of a meeting moments earlier.
Sid Nowell, the city attorney, said there'd been some discussions about a meeting since, but no date set.

Diane Patterson's permit application