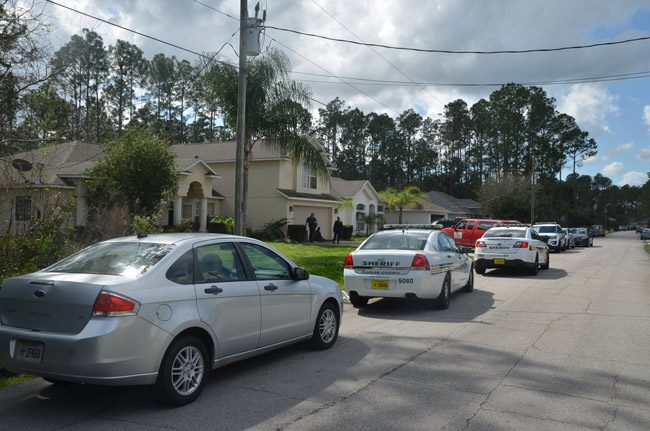 An autopsy conducted today in the death of 39-year-old April Descartes Saturday at her home found no foul play, according to the Flagler County Sheriff's Office, but a cause of death has yet to be determined and a toxicology report is not due for another two to three months.
"They didn't see anything during the autopsy that would lead them to believe that someone else had harmed her," the sheriff's Brittany Kershaw said today of the autopsy conducted by the Medical Examiner's office in St. Augustine, in the presence of a sheriff's detective. "They didn't see anything suspicious."
Carl Mancuso, Descartes' 66-year-old father, who lived with Descartes at the two-level house she bought at 37 Robinson Drive in Palm Coast five years ago, found his daughter dead in her bed Saturday morning. Descartes and her husband Paul, who have five children together (the children were not at the house) had been together for most of the prior day, and neighbors saw April Friday evening in a quite active state: she and her husband were engaged in an argument with the neighbors over an issue going back some weeks.
The Flagler County Sheriff's Office sent detectives, deputies and the Crime Scene Investigation unit to the house after Mancuso called 911 to report the death. The sheriff's office on Saturday termed the death "suspicious," but only because of April Descartes' age, as it is unusual for people to die that young when they've not had a history of medical issues. The Descartes were going through a divorce, and Paul Descartes said that his wife had been having a difficult time–and had not been herself–since the death of her mother a few years ago, but did not otherwise have medical issues.
A sheriff's report released today sheds additional light on the 24 hours surrounding April Descartes' death.
Mancuso told a deputy that Paul Descartes had been at the house throughout the day Friday, Mancuso last saw Paul around dinner time, and last spoke to April around 8 p.m., when he asked her what she wanted to eat for dinner. He prepared dinner, and around 9 p.m. went to April's bedroom, where she appeared to be asleep. So he left the food in her bedroom on her nightstand. Mancuso then went to sleep around 10:15 p.m. on the couch in the living room. He woke up Saturday morning at 4 a.m. There was a voice mail from Paul, who said to wake up April at 4 a.m. Paul did not explain why. Mancuso looked outside and noticed that Paul was no longer there.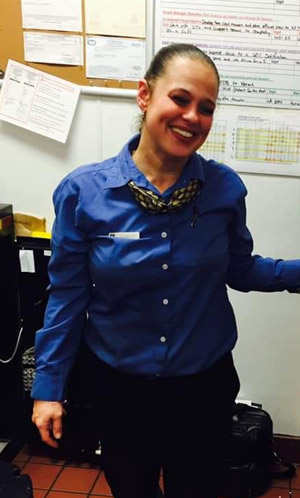 Mancuso then went into April's room "and tried waking her up by shaking her," the report states, "however, she didn't wake up." Mancuso, the report continues, "thought April was passed out from drinking alcohol and he didn't think anything of it because sometimes April would drink a lot and pass out." He went back to sleep and woke up around 7 a.m. Some time later, he went to April's room to check on her again, "and he observed that her skin was purple and she wasn't breathing," the report states.
Mancuso called Paul, who didn't pick up, then called 911 at around 9:25 a.m. Asked if April had "any kind of serious health conditions," her father told the deputy that she did not. "I asked Carl if April was recently complaining of anything bothering her in regards to her health and he said no," the deputy, Braxton Wall, reported.
Soon after a detective arrived at the house and began investigating, Paul arrived, asking what was going on. In an interview with FlaglerLive Sunday, Paul said he'd seen the CSI van parked near his house and immediately thought something had gone wrong. Deputies told him his wife had died. "Paul became emotional," the report states, and had to be restrained from going into the house and placed in a patrol car "while he gathered his emotions." Deputies explained to him why they couldn't let him in the house, he apologized, was freed, and later spoke at length with deputies and detectives as he sat in front of his garage.
"It should be noted that while I was standing by with Paul at one point he made the following spontaneous utterance," Wall reported. "Paul stated that he heard Carl say that April was purple and that the only way she would be purple was if she was suffocated." (There are various reasons why skin may turn purple or blue after death.) The deputy's report noted that when April was found, "the skin around her neck and face was extremely purple."
After this story published, Paul Descartes called FlaglerLive, disputing that anything was ever said about suffocation. "She did not suffocate at all," he said. "She was lying dead for a while." He said he'd spoken with a detective, who–Descartes claimed–told him that April "had the heart of a 65-year-old woman" and was going to die anyway.
A Flagler County paramedic pronounced April Descartes dead at 9:34 a.m. Saturday. Numerous tributes have been contributed to her Facebook page since from friends, colleagues–she had worked at Hammock Beach Resort and managed McDonald's restaurants–and family. "You were such a beautiful person," one colleague wrote. "You made everyone smile even during some rough times. You were my role model for management. So kind and respected and fun! I wanted to be just like you. You taught me so much. Outside of work you were a brilliant friend. You listened when we needed you; cared when we needed it. We had some great times and I wish it didn't have to end. I'll never forget you: that's a promise. The world lost a spark of life and joy. I'd take a thousand more bruises to the arm, for you to be here again."
"We had just talked not a week ago and we agreed to get together soon," her aunt wrote. "You were just soo happy, and wanted to start a new chapter in your life, and I was soo very happy for you… And in a moment it is all gone..it is not fair, not to you, to your children, not to your father, or your sisters or anyone who knew and loved you.. I shall miss you forever, you were and will always be a niece to me and I have always loved you and always will.."