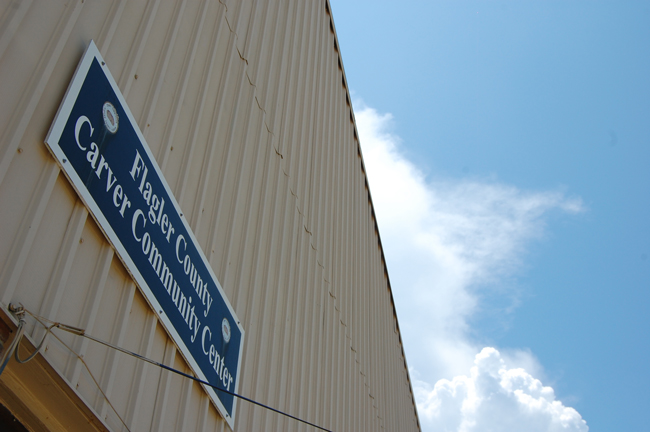 Updated at 2:37 p.m.
Just last June Carver Gym, South Bunnell's only recreation center, looked slated for extinction. On Monday, the Flagler County Commission, which owns the building, endorsed a plan that would ensure the center's survival under new management: that of the Flagler County School Board, which will run the place the way it does the Youth Center on the campus of Flagler Palm Coast High School, under the leadership of Youth Center Director Cheryl Massaro. The school board endorsed the plan Tuesday evening.
"It will be a vital part of that community, so I'm happy we can be a part of it," Superintendent Janet Valentine said. "I'm also happy we don't own the building." The school board sold the gym to the county five years ago, after the county had been leasing it since 1980.
The county contributes $110,000 a year to run the Youth Center through school district staffing. It will contribute $55,000 a year to the same end for Carver Gym. Massaro's salary will be increased by $10,000, to $47,000. Her assistant's salary will increase by $5,000, to $30,000. The plan will result in the lay-off of one of the two county staffers who run the gym now, though with Massaro and her assistant in the picture, along with numerous other anticipated programs to be run out of the gym, supervisory presence there is likely to increase.
Massaro said she'll have an office in each center, though she noted that it was not merely running two youth centers, exactly. "I have a youth center and I have a youth center and community center," Massaro said, underscoring the dual role that Carver Gym will play in South Bunnell.
"Many, many communities have something they identify as their community project. It might be clean-up the St. Johns River in Jacksonville," County Commissioner Barbara Revels said. "In Flagler County it would be wonderful if we can get the Carver center to become the community project for a period of time where every organization, everybody knows about it and everybody works towards an event or a fund-raising or donations or something coming from all service organizations or whatever towards the community project. I see that that has huge potential to do that if we can get everyone on board."
The county had budgeted $117,000 to run Carver Gym with two of its own staffers until this year, when it cut funding to $90,000 and warned it would reduce funding further absent a plan to make the gym more self-sustainable. After fits and starts, the commission delegated Commissioner Barbara Revels to lead a reorganization effort. Revels did so, chairing a committee that efficiently and systematically  tackled financial and managerial issues and resolved them one by one. Valentine's and the school board's collaboration was key, both through a straight, annual $10,000 cash contribution and through its willingness to take over management and institute the sort of structured controls—including identification cards and programming—evident at the Youth Center.
South Bunnell's Carver supporters, led by Chris Borgmann, had opposed any plan that entailed either reducing county staffing or giving up county management. The gym's constituency has had a troubled history of getting along with other entities: the Boys and Girls Club, an occupant at the gym for 11 years, quit last July. Borgmann conceded that, other than the lay-off of one staffer, which he still opposes, the new plan is a solution. "It's saved, it's open, there's going to be some positive things going on," Borgmann said.
The nine-page Revels plan sets up a nine-member governing board—including representatives from every agency contributing money or services—a Carver foundation for fund-raising, and a $95,000 budget. The County would contribute $50,000 (that is, majority funding). Bunnell contributes $10,000, the school board, $10,000, the sheriff and a crime prevention grant would—presumably: that's not yet approved—contribute $20,000, and the Carver foundation's fund-raising would add $5,000. The Kiwanis Club is already prepared to write a $5,000 check as the first major contributor.
Annual expenses would run about $85,000, not including up-front capital expenses to get the place in better shape than it's been. A complete renovation of the gym would cost $138,000. That would include new flooring and a $50,000 charge to insulate the building. The county commission isn't ready to do that. But it is willing to provide $21,000 for video surveillance, seven televisions, six gaming consoles, 24 movies and video games, furniture, and an ID barcode and scanning system. Massaro said the Youth Center's signature events, such as the annual talent show, will now naturally incorporate the children and youths from the Carver community.
The televisions and video games rankled commissioners Milissa Holland and Alan Peterson. "We couldn't get any of those items donated? I think it's absolutely inappropriate for us to be buying TVs in this economic time for a center rather than looking for other ways" to provide them, Holland said. "I can support the partnerships, the collaboration, everything else. I'm just having a really difficult time supporting the purchasing of video games and televisions." But the commission had a majority to go ahead with those purchases anyway.
"Part of the discussion with the school system," County Administrator Craig Coffey said, "is that if we're going to run it like the youth center over there, is to really run it like a youth center and give the kids a real reason to want to come there. Right now what they've always had there has been hand-me-down computers, broken TVs, broken systems, and there really hasn't been a traditional youth center."
Carver Gym itself would change name to the George Washington Carver Community Center. Beyond Carver's walls, Bunnell's city government is working with the Flagler County Housing Authority to develop the acreage around Carver, which belongs to the authority, into a sports complex. Those plans are in their infancy, but the housing authority, which just last month was willing to grant $25,000 to Bunnell to install live surveillance cameras all over South Bunnell, evidently has money to fund community-oriented projects such as the revival of the neighborhood around Carver Gym.