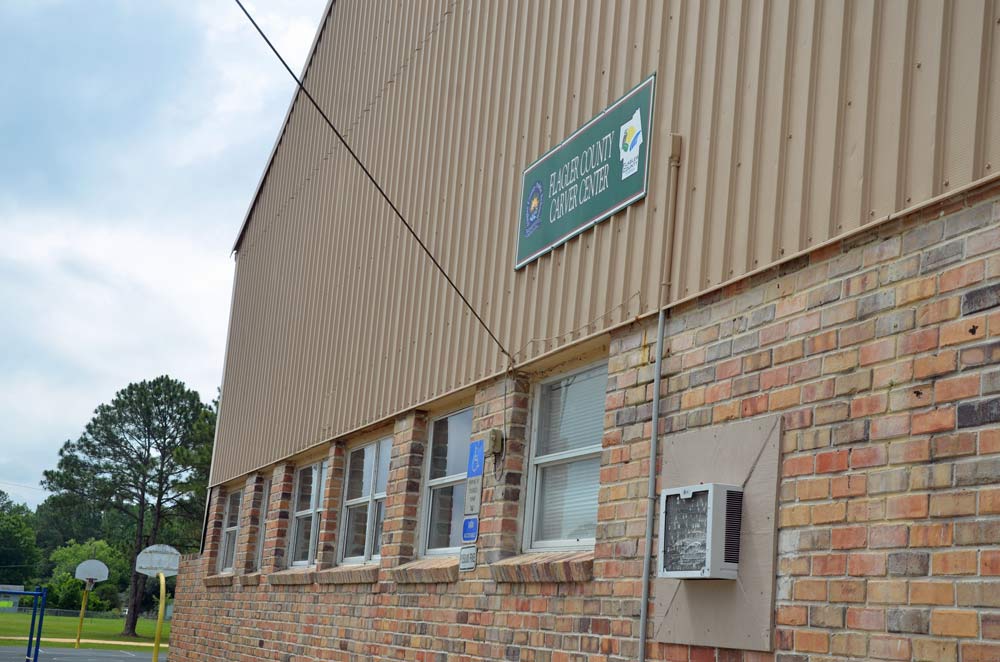 Contrary to rumors and fears, the Flagler Sheriff Police Athletic League is not taking over the Carver Center in South Bunnell, nor is the Carver Center losing its name, its governing structure its staffing by the school district, the chairman of the Flagler County School Board and the county administrator say. But PAL is seeking to have a significant presence there, which its money may dictate.




The Carver Center on Bunnell's East Drain Street is a community center largely funded by county government and run by the Flagler County school district, as it has been for nearly a decade and a half–since the last attempt at closing what was then known as Carver Gym.
That happened in 2010, when the County Commission planned to end funding and close the building, until a community uproar forced a retreat: the county would reduce funding, draft the School Board, Bunnell, the Sheriff's Office and a newly formed Carver Center Foundation as partners, and keep the facility open. The district has staffed the facility.
There's been some minor bumps along the way. But it's worked more or less along those lines since, providing a crucial lifeline to community events while providing numerous programs and a sense of identity to South Bunnell. It's also kept alive the legacy of what had once been the only all-Black high school in the county, some of its graduates still living near it or volunteering in it.
A few weeks ago rumors spread that PAL was somehow taking over the center and changing its name. It's not clear how the rumor started, though with memories of 2010 not that distant, it's also not surprising that community sensitivity over the center's future is easily alarmed. But it could not be true–at least not so readily: the Carver Center is governed by a joint agreement between its different partners. Any changes to that agreement, called an "interlocal agreement," or ILA for short, would have to be considered and approved by the School Board, the County Commission and the Bunnell City Commission, giving Carver Center advocates plenty of chances to voice their opinions at each stage.




The different entities met late last month to begin re-writing the ILA, which needs updating: that's true. There will be more such meetings. But the intention was not to turn over the center to PAL.
"Hearsay. It's just people speculating, that has never been part of the conversation," Cheryl Massaro, who chairs the school board, took part in the ILA meeting and previously led the Carver Center and the county's Youth Center for many years, said last week. "What the conversation has been is simply to bring another funding partner into the ILA, and that would be PAL."
PAL could bring $150,000 into the center, according to County Administrator Heidi Petito. "It was never intended for the sheriff to take over," Petito said. "It was really to expand programs and provide mentorship to the youth in that community. It was never intended to be competition for the school board. The school board will continue to provide the oversight of the facility." Hours of operation will not change, though PAL could enable opening the center on Saturdays and Sundays.
This is also true: with a new addition to the Carver Center, PAL sought–and was offered–space to have an office there. That caused some opposition in the community, roused among others by Daisy Henry, the former Bunnell City Commissioner and a champion of the center. "They were not happy at all when we offered office space to PAL because they don't want a police presence," Massaro said, "but unfortunately the chief of police of Bunnell knows that's an area where they have significant issues and a police presence could be beneficial. But they're not taking over the facility as far as I know."
This morning, a dozen advocates of the Carver Center, starting with Henry, addressed the Flagler County Commission, pleading with commissioners to keep the center staffed by the school district, funded by the county and governed as it has been, along with the Carver Foundation.




"we need to know the truth about the Carver Center," Henry said. The site manager, she said, referring to Bonita Robinson (also a former city commissioner in Bunnell) had reported to the community that PAL "would be running the gym. Of course this would upset the local community." Henry said she was told PAL "would have priority over the center" and "being treated more important than others.
"The Carver Center is a community centrer, not a PAL centrer," Henry said. "If the county school board and some funders allow PAL to take complete control of this building, they leave our children on the outside looking in. The parents cannot afford PAL prices. Where would that leave our organization and programs that have been established for years? The Carver Center is the only building left of the all-Black school." She said PAL could buy its own building at its own expense.
Ralph Lightfoot, a member of the Carver Foundation Board, said "it is the board's position that if it ain't broke, don't fix it. It appears to be working. The school board is doing an outstanding job in supporting the Carver Gym with the staffing, and they have programs to support the community." He said there'd been discussion with PAL for PAL to have an office in the recently built addition to the Carver Center. "Now it appears that they want to take over and run the whole thing."
Johnny Hampton, a basketball coach for 10 years at the Carver Center, referred to the Amateur Athletic Union (AAU) program he runs there, enabling children from South Bunnell to have activities they otherwise could not get to, in addition to other programs, family gatherings, funerals. "We want it to remain in the school board's hands," he said. " We want the access to our young men and women of Bunnell to remain, and we want it to be treated with the reverence that it deserves. It's the only historical building left from the old high school, which was there before this county was integrated. It should be a historical landmark. I don't know what we have to do to do that, but there should be no discussion about PAL taking over such a historical building. There just shouldn't." (Hampton wore a Carolina blue t-shirt showing Snoopy on his back, with the letters, 'NOPE NOT TODAY' framing him.)
It isn't just a community center, of course. Unlike the Palm Coast Community center or the Hammock Community center, the Carver Center still has the gravitational pull of a school with which the surrounding community identifies. It is a point of pride and ownership. Marion Irving, who retired as a Teen Court administrator a few years ago, had gone to the high school, and is now a member of the Carver Foundation board. "When I left Flagler County I never wanted to come back here for the simple reason of what went on when I was a student," Irving said. "I went through forced integration here in this county. And let me tell you, it was not a very pretty picture. And that's why we're trying to hold on to as much as we can of our heritage. We need this place for our young people. We need it to be a place that they can go in and know that they're safe. We need it to be a place where they can go in and know that there is history here for them to look at and somehow become proud of."
Irving stressed that PAL is welcome at the Carver Center, but not to take over, and not to change the name. "Reason being," she said, "the Carver name means a lot to us. And that's the reason I volunteer my time and the different places that I do, because of what I was taught there, because of the dignity that I was given when I was a part of that. And I'm trying to hold on to that dignity, trying to help do things to help young people in Flagler." She dismissed the claim that the Carver center is only for young people in Bunnell.




A half dozen local residents spoke along the same lines, one of them noting: "It just goes to show you how important that building is to the citizens of the South Side."
So when county commissioners asked Heidi Petito, the county administrator, what was up with residents' fears, she was prepared. She'd met with Massaro, with Interim Superintendent LaShakia Moore, with Irving and the Sheriff's Chief Dave Williams. She reminded the commission that a sheriff's role had always been part of the original plan (though funding issues arose, Massaro had explained). Financial obligations have climbed over the years, but some of the partners' contributions have not.
"The Sheriff's Office through their PAL unit had reached out to the Carver group and had asked about utilizing some space down there, especially with the new renovation that's taken place," Petito said–a building that still awaits Florida Power and Light work to be occupied. PAL would add equipment and programming there, and would underwrite some of the programs.
"When we met with PAL and we talked about the community's impression of how the kids in that community could not afford their programs," Petito said, "they immediately said that they will not leave any child behind and that through their program, they have sponsorships where they're able to pay for those fees. Naturally they do charge money, but in the cases that children could not participate because of funding, they were providing free scholarships to those to those children."
Petito was also critical of the current oversight at the facility. Referring to the ILA meeting and Bunnell Police Chief Dave Brannon, she said: "Chief Brannon was in attendance and we talked about the need for having some organization down there because currently that's not happening. I hate to say it but it's more like a free for all where you've got youth coming and going. They're leaving the facility to go outside, they're selling drugs. They're doing donuts in the parking lot. They've had issues there in the past where people have been jumped, beaten, stabbed, shot, pistol whipped, and there really isn't any formalized control."




Petito also noted that the new facility was built by the commission, not with foundation contributions, even though the foundation had said it would contribute some money. "They have not paid for the construction of the actual facility," she said. "Other than the $6,000 they gave for the [security] cameras, that was all I was aware of recently that they contributed. So I don't see this as a takeover. I see it as a partnership, working with the sheriff's office, working with the school board to expand services, mentorship activities that are not currently going on."
As for charging to use the gym on weekends, Petito sounded adamant, sharply rebuffing a lot of the commenters who'd addressed the commission before her: "There is probably not much that you heard earlier today that was true," she said. "It was based on what they believed to be true, but that's not the truth. We do not currently charge to use the facility. The school board may rent it out for special events and those activities would have a cost, but we do not currently charge. We have no intent to charge. It is a community facility. If it is a special league or something that requires folks to pay, if it's run through PAL, that's where PAL would provide the scholarship. But there is no payment required to use the facility."
Nevertheless, it will be up to PAL and the school board to set whatever fees may be charged.
While another ILA meeting will take place, a district spokesman said today that the meeting has not yet been scheduled. The district is waiting on the county to issue a schedule.