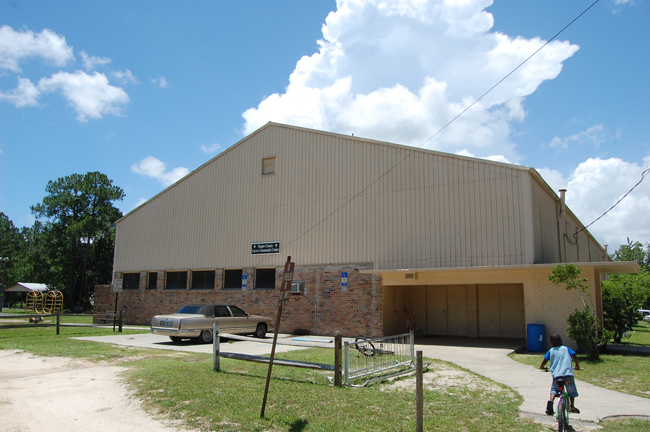 Carver Gym on East Drain Street is the most imposing structure in South Bunnell, the poorest and most neglected area of town and a black ghetto in all but name. The gym is all that remains of George Washington Carver High School. That, and a big banner under the scoreboard inside the gym that reads, in capital letters: "CARVER HIGH SCHOOL GRADUATES AND STUDENTS OF 1949-1969," in the school's blue and yellow colors.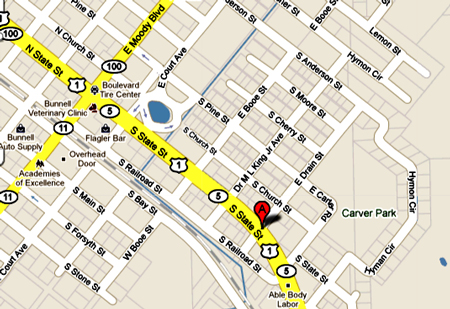 The neighborhood is visibly short on the usual suburban comforts and assumptions. It's the sort of place where people air out their laundry because they can't afford driers, where tenants are too busy surviving to worry about beautifying lots or repairing broken windows, where unemployed men while away afternoons under a tree and where white people are looked at suspiciously, if they venture there to start with. Carver Gym is all there is by way of activities within walking distance for the neighborhood's children, 30 of whom filled the gym floor or the play room Wednesday afternoon, playing basketball, playing video games, playing on the sole computer available for the children's uses.
Now the Flagler County Commission wants to close the gym to save $117,000 a year.
Monday evening, Daisy Henry, the Bunnell County Commission's only black commissioner (in a city that's one-third black) appeared before the County Commission and said this: "The county commissioners took it upon themselves to delete the only recreational building that is on the all-black portion of the county. It appears to me that it's a racial issue. History is forever. We as black people have tried to forget the past and focus on now and the future of our children, but are seeing that the county commissioners are trying to reinforce segregation in 2010."
Commissioner Milissa Holland said she was "offended" by the suggestion that race is playing a role in the commission's decision.
---
Listen to the Full Carver Gym Discussion and Public Comments at the June 21 Meeting[media id=70 width=250 height=100]
"That just clearly is not the case," Holland said. "I can speak for myself. Underneath my foundation"—the James F. Holland Foundation—"I've held several basketball tournaments out at Carver Gym, supplying the children out there with basketballs, t-shirts, dj's, and have spent several hours out there. This, to me, came about, and why we're discussing it, is because Carver Gym is within another jurisdiction. It is not in the unincorporated area of Flagler County. It is within the city of Bunnell. The county recently adopted a strategic plan laying out how we're going to prioritize our goals and objectives. We did this actually to become more efficient as a government, to become somewhat more goal-oriented and strategic about how we do spend our resources. We felt it necessary to plan for our future as we move forward, due to the fact that obviously a shortage in revenues three years in a row made us make some difficult decisions and choices. Not always easy decisions or choices."
A Divide of Perceptions
Holland's words were sincere, and her record proves it. The same words, however, underscore the divide of perception cleaving the County Commission from Bunnell's black residents, showing why Henry, too, was sincere, and why the two sides have a problem on their hands that cold numbers and strategic goals have nothing to do with.
Holland's talk of "strategic plan" and prioritizing "goals and objectives" and becoming "more goal-oriented and strategic" only amplified the sense that a bureaucratic decision alone mattered, and that human and historical realities don't. Much of that reality is historically unflattering to the county's white power structure, especially in Bunnell, where blacks have bitter memories of being treated like second-class citizens.
Several people spoke to that reality Monday evening without needing to allude to race. "It's very important that we keep Carver Gym open for the kids in the community as well as giving them something to do," said Weldon Ryan, a retired police detective from New York City, down here five years. "There's nothing else that's available for the kids in Bunnell," he continued. "There's no reason at all, even for $100,000, to close it down, because we can find other moneys elsewhere to fill whatever budget gaps we might have."
County Commission Chairman George Hanns then opened discussion between commissioners by making one of the most disingenuous comments of the evening: "From what I understand, nothing has been determined on this subject." He said the board had merely sent a letter to the Bunnell city commission and the Flagler County School Board "to see if they were interested in helping financially." He added again: "It has not been a determination of this board to close the Carver Gym." Disingenuous on all counts.
Bob Abbott: "Let's Get Rid of It"
---
Listen to the Commission's Full June 14 Discussion on Closing Carver Gym[media id=69 width=250 height=100]
Just one week earlier at a commission workshop, commissioners couldn't be more explicit. They wanted the thing closed.
Holland: "I don't think we need to further take on this responsibility. That's $100,000 a year savings, and in these times, that's significant. And I also think that the residents of Flagler Beach, Palm Coast, Beverly Beach, Marineland, do not need to be paying for the services, recreational services, of Bunnell."
"I agree," Commissioner Barbara Revels said, specifying later that she was interested at most in maintaining a $15,000 commitment to mow the lawn and keep the building minimally acclimatized and in good repair, and even then, only temporarily. She did want the building used by other services, but not underwritten with county money. "I also do not want to end up with another building that we are keeping mold from growing in by spending $15,000. We do not need another empty building."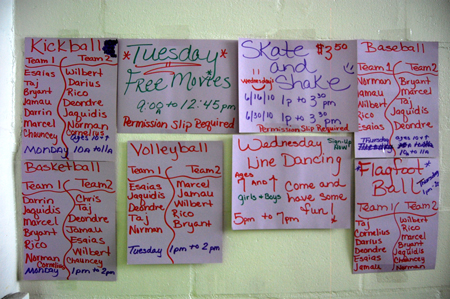 Hanns himself: "It's not like we didn't talk about it," he said, referring to discussions he'd had with Armando Martinez, going back to last year, as well as at a joint Bunnell-county workshop, to get Bunnell to take over the property. But Bunnell has no money.
Commissioner Alan Peterson: "I'd like to see us tell the city of Bunnell that we want some kind of sharing. If they say, well, I'm sorry, we're poor, we can't, then we just close it."
Commissioner Bob Abbot remained silent throughout. "So Bob, what do you want, you want to cold-turkey this?" Peterson asked toward the end of the discussion, to be certain about the board's direction. "I mean, I haven't seen a majority that says they want to just close it."
"I think last year I said the same thing that you're saying now," Abbott replied. "Let's get rid of it."
"Okay," Peterson said. "So clearly the majority wants to drop it."
(On Wednesday, Hanns clarified that should the issue come to a vote, he'll vote against closing Carver Gym, as he has in previous attempts to close it over the years. "Without a doubt. Nothing will change my mind," Hanns said. "I don't want to hear about early intervention," he said, referring to county officials' frequent discussions of providing alternative programs to children to keep them from ending up in the juvenile justice stream, "and then you close the gym?")
The letter the commission sent to Bunnell and the school board was just as explicit: "At the conclusion of the discussions," Hanns wrote both agencies in reference to the June 14 meeting, "the majority of the commissioners favored the potential closing of Carver Gym." The letter invites Bunnell and the school board to take over the programs at the gym. But Bunnell has already made clear that it doesn't have the money, and Bill Delbrugge, the outgoing school superintendent, said on Tuesday that the school board already owns the property.  "The partnership that we have is, we gave the building and the property to the county," Delbrugge said. "That's over $1 million in property and the building there." (Read the full letter.)
Public Comments. Public Outcry.
Funny how being faced in person with the compelling voices of several members of the community—the black community—changed the commissioners' tunes, slightly, last night.
"We always look at everything, and unfortunately, when you're discussing things at a public meeting, you know, they come out, and it sometimes could appear that a decision already has been made, and that is not the case," Hanns said. "But I can assure you, it will be well advertised, and if it does come on the agenda, you'll have every opportunity to speak to it."
Hanns and Holland said something else that raises questions: that the county is getting out of the business of paying for recreational services that aren't in their jurisdiction. Hanns referred to the Youth Center on the campus of Flagler Palm Coast High School: "We funded and built the youth center. We built the roller rink. It's financed through Flagler County. Every year, thousands of children have benefited by that program. I will say this though: the school board mans it. Now that we have it in, commissioners are I guess welcome but they don't really recognize us, the ones that were involved in putting it all together."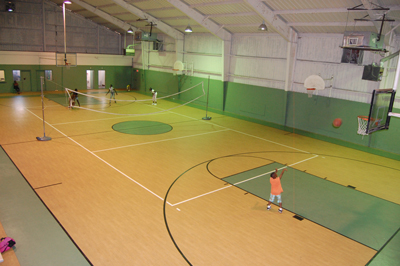 Hanns didn't specify what he should have: the county pays $110,000 a year, almost the same amount that it does for Carver Gym, to pay for the staffing at the Youth Center, even though the staffers' paychecks there are signed by the school board. No one is talking about getting the county out of Youth Center funding.
That $110,000 line item was just that: one line in the county's 104-page budgeting documents at the June 14 meeting. (See the line on the page in the budgeting document.)
A Budgeting Tale of Two Centers
Those budget documents are a curious thing. The county administration presented them to the County Commission as part of the commission's budgeting process. Carver Gym expenses were broken out and outlined over five pages. The Youth Center's expenses, because they're wrapped under the school board's administration, were not. It's one way to keep the glare away from those programs the county doesn't want to touch, as opposed to the ones it deems ready for the chopping block. But anyone associated with Carver Gym might wonder at some of the figures that went into the gym's budget.
The $117,000 cost of running Carver Gym, listed on the county's budgeting documents, is inflated. It assumes that the building's air conditioning, which wasn't working on Wednesday, would cost $5,900 a year, that a single "outside light" would cost $324 a year, which would make it the single most expensive "outside light" in the county, and that the gym's one Brighthouse Internet connection costs $135 a month, or more than $100 a month more than what Brighthouse advertises as its basic rate for high-speed Internet (the gym has no cable-TV hook-up). That Internet cost doesn't include the gym's phone costs. Budget figures assume a total "communications" cost of $2,000 for the gym, a figure that would make someone familiar with the "communications" system there laugh. The gym employs two people. Their salaries are $26,700 and $27,700, plus benefits.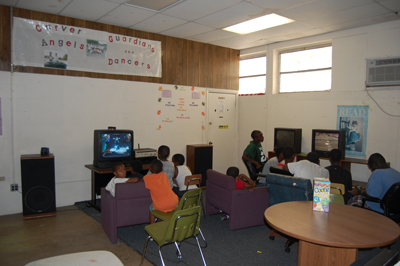 One other thing that stands out, as indisputable as it is unspoken: Virtually all the children who go to Carver Gym are black. The majority of children who go to the Youth Center or use its rink are white. It's not necessarily by design, at least not current design. But it's reality. And Bunnell's blacks would know better than anyone when they'd be treated like second-class citizens—just as Carver Gym, which also serves as a community center, doesn't appear on the list of community centers on the county's website. If the county thinks people don't notice these things, their ears have more tin than wax to worry about.
"It's the beginning to our future."
James E. Crocket Sr., whose coaching protégés include the soccer star Eddie Johnson and who's been involved in Flagler athletics for 15 years, put it this way to commissioners: "I'm originally from New York City. Down here, I worked with the Department of Juvenile Justice for eight years. I worked in New York with the criminally insane on Ward's Island and Harlem. I know what it is to see individuals with nothing to do positive. There is nothing left but negativity if there's nothing positive to do in your community, in your neighborhood. Carver Gym is the only thing that those youths have to do in that community."
Maybe the county doesn't need two youth centers. And certainly, the county is strapped for money, as much by the economy as by its own decision (and voters' demands) not to raise taxes to provide needed services. But there are greater consequences to the closing of Carver Gym than a mere attempt to close a budget gap suggests. Or than commissioners are willing to accept. If commissioners weren't aware of the sensitivity of the issue, and the wounds they'd reopen by closing the gym, they were made aware of that sensitivity Monday evening.
To their credit, commissioners did show hints of moderating their position, compared with their cold-turkey take on closing the place a week earlier. Still, they can persist with closing and face hardly any political backlash: Bunnell's south side is not a voting block anyone outside town worries about. The neighborhood shows it. The decision to carry out the closing of Carver Gym, should it get to that, would prove it yet again for the old ghetto, where, to quote Faulkner, "the past is never dead. It's not even past."