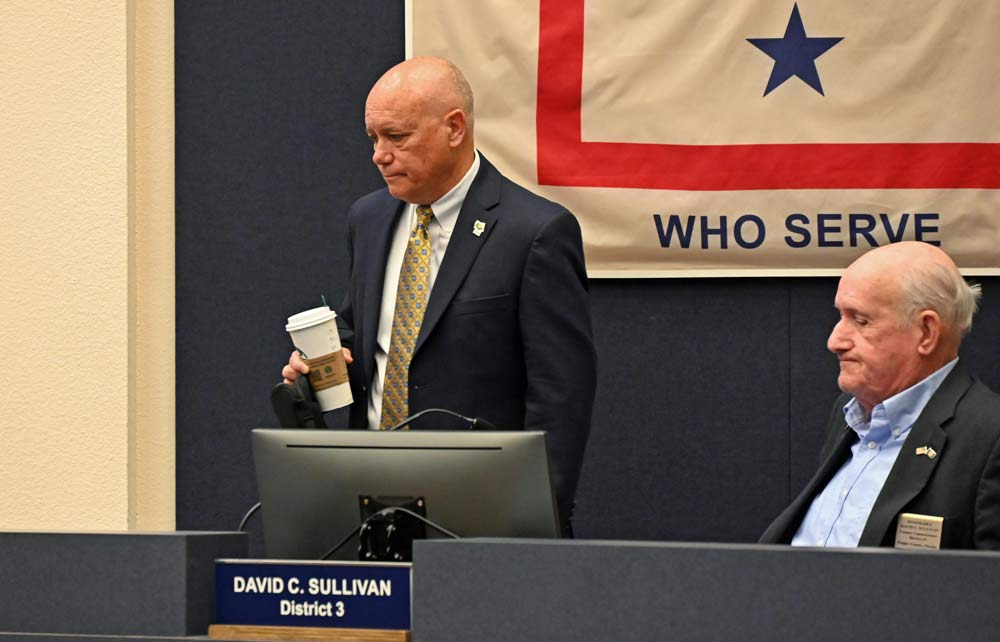 The Flagler County Commission will seek letters of support from Palm Coast, Flagler Beach and Bunnell to raise the county's sales surtax to 7.5 percent and generate an additional $10 million that would be shared between the four governments and used at their discretion.
Palm Coast's answer may well be: Read the room.




The County Commission agreed to solicit the letters at a workshop on Monday, after getting a briefing on a projected deficit of $5 million or more in the county's road-and-bridge program over the next five years. (See: "Flagler County Faces a $5.6 Million Deficit in Road Costs Over Next 5 Years; Gas Tax Is Tapped Out.")
The deficit is due in part to the fact that revenue from the half-penny sales tax the county is already levying is entirely spoken for as it finances the county jail and other projects, while $2.5 million in revenue from the local gas tax is also used up by ongoing maintenance.
The commission was not yet aware of how the Palm Coast City Council today turned into an embarrassment of incivility, on and off the dais, as council members parried public fury at a historic cut in the city's tax rate that residents feared would be made up by a new utility tax. It was not. But the message was loud and shrill: residents do not want a new tax, however clear and present the needs for infrastructure revenue. (See: "Palm Coast in Ugly Meeting Votes to Lower Tax Rate Substantially and Add New, Modest Fee for Now.")
But the county didn't need today's experience at the council to know that it was treading dangerous territory. In June 2021, then-County Administrator Jerry Cameron tried to get support to raise the county's sales tax by half a percent. He wanted the cities' support, but sought it with no public preparation or much transparency. Palm Coast shut that avenue down. The proposal died. (See: "Quietly, and Without Voter Say, Flagler County Readies to Raise Sales Tax on Everyone. Palm Coast Says No.")




County Administrator Heidi Petito on Monday told the commission that there may be more appetite for the new tax now, though she may have been soliciting the wrong crowd. "I've talked to their staff now and I think that there is willingness," Petito said, "and they wanted to know if they needed to write a letter of support. They're looking at ways to stop the gap. They've got the deficit. It's not necessarily our issue, but this is one community and many of us live in Palm Coast." (Read background on Palm Coast's $52 million needs in street dollars.)
"It wasn't so much the staff was a problem at the Palm Coast," County Commissioner Dave Sullivan corrected. "It was the elected members of the Palm Coast City Council."
"They don't want to drink antifreeze. At least one of them," Commissioner Donald O'Brien said, referring to Palm Coast Council member Ed Danko, who led the opposition to the sales surtax addition two years ago. Danko likes to say that he'd rather drink antifreeze than raise taxes. Danko was again the circus master today as the council devolved into acrimony over the utility franchise fee it adopted, albeit at a negligible rate.
Sullivan set out the way the surtax could be approved: only with the cities' support. "I'd rather see pretty upfront if we're going down this road, letters of support from each of the other cities," he said. "It would have to be from their elected officials. Right? Because if we don't have that, you don't have it. You don't have a decision. But I don't mean that–I'm just saying that's what you need to push anything like this through, because the publicity on this is not going to be easy to to handle."
O'Brien said the cities have no political risk. "We have the risk," he said. (O'Brien is running for the House of Representatives in 2024.)




The County Commission would have to have a supermajority to approve the measure–a 4-1 vote. The alternative is to put the measure on the ballot. It would not do that, anymore than it did in 2012, knowing that voters would reject it. On the other hand, if it were a ballot measure and it passed, then the county (and the cities) could use the revenue to issue bonds, leveraging the money more effectively for bed. They cannot do that simply by a commission vote enacting the surtax. On the other hand, if the surtax is secured by referendum, the revenue cannot be used for operational needs, though bonded revenue can certainly be used for road projects.
Commissioner Andy Dance prefers the referendum approach, giving each of the municipalities a more direct stake. He is also interested in exploring other avenues. An additional local option gas tax, however, would generate roughly $2 million, Petito said, only $400,000 of which would be the county's share. So she's not proposing it.
"Certainly we can explore other things but it's important that we come up with a plan and what does that plan look like," Petito said.
Petito proposed two ways to pay for the county's road deficit: dedicating a portion of the county's property tax, the equivalent of 0.4 mils, or 40 cents per $1,000 in taxable value on a property. The other option is to increase the sales surtax by half a cent. That would increase revenue countywide by nearly $10 million. It would have to be proportionately distributed to the cities and the county. The county's share would be $4.4 million. Palm Coast would get $4.8 million–curiously, within range of what the city would have netted had it imposed a 5 percent utility franchise fee.
"This would certainly go a long way with helping those challenges," Petito said. She was referring to the county's deficit. But she may as well have been referring to Palm Coast's as well. The current sales tax in Flagler County is 7 percent.




"To me, I think it's a more palatable thing than putting it on the property owners and increasing the millage rate," Petito said. She claimed that Flagler County is "the only county in the state of Florida that does not" levy the full-cent surtax. In fact, several small counties do not levy the small-county surtax at all, among them Wakulla, Putnam, Monroe and Highlands, though each of those has a local government infrastructure surtax of 1 penny.
Of all the small counties that do levy the small-government surtax, Flagler is the only one that levies half a penny, rather than the full penny. But overall, Flagler is one of dozens of counties that under-utilize their sales tax capacity. (See the Department of Revenue's full breakdown of sales taxes by type and by county here.)
Petito also repeated the claim that advocates of sales taxes always repeat, however illogical and irrelevant its math: that a large proportion of those who will pay the sales tax are visitors. Petito claims it's 40 percent, though the figure, undocumented, is almost certainly a large exaggeration. Even if 80 percent of those paying the tax were visitors, however, it doesn't change the fact that the tax burden will be the same on every Flagler County resident. In other words, while claiming that visitors pay a large portion of sales taxes is a great marketing trick, it is also an illusion, as far as residents' pocketbooks are concerned, since it will not offset the taxes local residents will pay.
But there are no illusions on the commission in one regard: "This is a new tax," Commission Chairman Greg Hansen said.