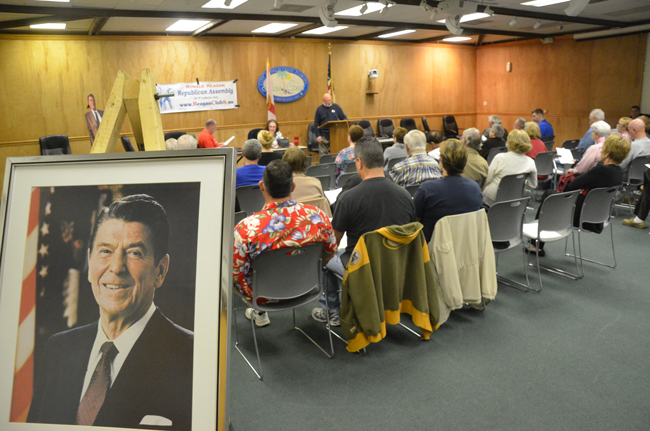 The Ronald Reagan Republican Assembly of Flagler County made a statement Monday evening: the group will contest every local political race this year, whatever its chances of winning.
Six candidates introduced themselves Monday evening, including two for school board, two for the Palm Coast City Council, and two for the Flagler County Commission. A seventh candidate, for a school board seat, was a no-show. Not one of the candidates has won a political race before. And six of the seven are running against incumbent Republicans, suggesting that the Triple-R's are looking to be the insurgent candidates of this election cycle—against their own party.
They have Republican incumbents nervous, because primary elections, especially on the right, are being increasingly decided by the more active, more extreme wings of the party, as recent contested, high-profile Republican primaries attest: Ron DeSantis, a tea party choice, in 2012 defeated a large field of more experienced but more moderate Republicans to win the open congressional seat that includes Flagler County. He has yet to draw Republican opposition for 2014. And Charlie Ericksen, backed by the Ronald Reagan Republicans, narrowly defeated Alan Peterson, the more moderate Republican, to take a county commission seat that year.
Monday evening the candidates were long on criticism of currently serving politicians but very short on specifics, and often factually wrong, though candidates starting out, whatever their party affiliation, often don't have their facts as straight as they will be as the campaign wears on. Virtually every candidate who spoke Monday used familiar talking points: seeking lower taxes, controlled spending, accountability, transparency, standing up to "big government," whether in the nation's or the state capital.
"This is not an endorsement," Hamby had cautioned before the introductions. The Reagan Republicans will hold an endorsement playoff in June and declare their choices at an event at the Black Cloud Saloon then. But the candidates who introduced themselves Monday at the Palm Coast Community Center were squarely in the mold of Ronald Reagan Republicans, if not themselves members of the group.
This year three Republican-held seats on the Flagler County School Board are up for election: those of Andy Dance, the current chairman of the board, John Fischer and Trevor Tucker. School board elections are ostensibly non-partisan, but that's mostly for appearances. In reality, while no party designation appears next to candidates' names, parties take their candidates seriously, funding them and supporting them as in any other race.
Michael McElroy, a retired cop and transplanted New Yorker with a 40-year career in law enforcement, is running against Tucker, the affable board member whose name and local family history alone account for most of his campaign strategy. Janet McDonald, a learning therapist and as active a member of the Ronald Reagan group as her more high-profile husband, Dennis McDonald, is running against Fischer, the most populist and least cerebral of the board members. Rob Worthington, the one no-show at Monday's event, is a teacher at the St. Augustine School for the Blind. He's running against Dance, an extreme moderate and the board's most studied member.
"I'm running because I do care about excellence in public education," McElroy said, speaking a line that would be used with multiple variations depending on the candidate and the race in question. McElroy said he would work hard "to prevent tax increases and particularly tax rate increases." The overwhelming share of the local school district's tax rate, however, is not set by the school board, but by Tallahassee lawmakers. And that rate has been on a downward trend in the past few years.
---
None of the candidates has ever won a race, but incumbents are nervous all the same.
---
McElroy was critical of the board's attempt in June to pass a small property tax supplement to make up for lost state revenue, calling it ill-planned. And he was very critical of the Common Core standards, saying he would oppose their implementation locally, though again, the local board would have very limited authority to do so. On the other hand, the State Board of Education has already moved away from an outright implementation of Common Core, and on Tuesday was drawing up a more Florida-centered set of standards.
But it was clear from the tenor of Monday's introductions that whatever modifications the state has and will do to accommodate some Floridians' unease with Common Core, the Ronald Reagan group's school board candidates were signaling that they would make Common Core a central plank of their campaigns: it's a powerful wedge issue, and it's no small matter that, while critics of Common Core rely again and again on more misinformation than fact, their message still resonates powerfully with many constituents.
Janet McDonald, who's running against Fischer, described Common Core as "this black cloud that came out of nowhere" (also a mischaracterization that substitutes blind-siding for inattention, since the National Governors Association launched the Common Core initiative five years ago), but then moved on to a more precise outline of her issues as they relate to local matters. McDonald, for example, was calmly critical of the district's much-vaunted "one-to-one initiative." That's the district's plan to have a laptop or a tablet in every single one of its 13,000 students' hands by 2017. McDonald was critical of "the real rigor in figuring out what any of these programs are going to do for our students."
Dance has drawn at least one opponent so far outside the Roanld Reagan sphere, Maria Barbosa, who describes herself on her website as a clinical Christian counseling specialist. Fischer has drawn another opponent as well—attorney Lynette Callender, who was short-listed to be appointed to the Palm Coast City Council last year, to replace Frank Meeker (who'd been elected to the County Commission). Callender fell just short of the appointment out of a field of 17 applicants. David Ferguson was appointed to that seat.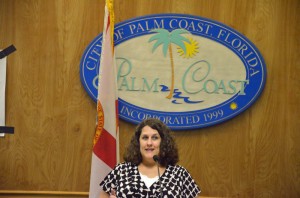 In the Palm Coast City Council races, Ferguson will be facing a semi-familiar name: Anne-Marie Shaffer. Shaffer hasn't run a race until now, but she was prominently in the news in 2012 as the campaign manager for Ray Stevens in the three-way Republican primary race for sheriff. Shaffer was then the plaintiff against John Pollinger, one of the Republican candidates, in a lawsuit that challenged Pollinger's Republican status. A judge denied the challenge, but it was all a moot point as Don Fleming beat both Republican challengers and Jim Manfre, a Democrat, eventually beat Fleming.
Shaffer, a home-schooling parent, announced her candidacy with a big No to red-light cameras (which, she says, "produce profits" rather than increase safety), and a no to a new city hall, particularly since the city has not looked at existing buildings as alternative options. "I believe in a better Palm Coast, but not under current management," Shaffer said. The council, however, has already given the go-ahead for a new city hall in Town Center—and did, in fact, explore existing options, including its current location and Roma Court, but chose against them because of unwieldy construction.
City Council incumbent Bill Lewis, the only Democrat in this year's local races and the only minority on otherwise all-white local government boards, is facing Steve Nobile, a 31-year resident of Palm Coast and a local businessman—he owns HSDS Guns on Old Kings Road (which sports such armored exclamations as "Kick Brass"). Nobile's introduction was talk-show boilerplate that had little to do with city issues ("Did you ever argue with a liberal? Doesn't work. You just don't do it. I mean, a wall would be better company") other than expressing an intense dislike of city attitudes as he perceives them: "The city government for some reason thinks it's an entity of its own, and it's not. It's us." He was also critical of a city that would regulate plant heights and property colors, while also attacking the validity of red-light cameras.
"I'm not a quiet person," Nobile warned, in words virtually cribbed from the campaign of another recent city council candidate and Ronald Reagan favorite: Bill McGuire, who won his race but has been far more measured as a council member than he was as a campaigner.
In races for the two county commission seats, first-term incumbent Nate McLaughlin is, for now, facing the most opposition, with one Republican—Mark Richter—and one Independent—Denise Calderwood—in the race. Calderwood is usually a Republican, but has chosen to go the no-party route for this race. She was in the audience Monday, but was not on the list of speakers.
Richter, an imposing figure who made fun of his own broad shoulders, among other things, was. "If you have a problem hearing my voice, turn up your hearing aid," he said as he announced himself. The senior field engineer who's spent years as a development manager with United Airlines and worked in a Lockheed-Martin's surveillance and detection program in Iraq and Afghanistan has been in Palm Coast "about a year," he says. His reason for running: "We have to put a stop to runaway spending and runaway taxes." He said the county's tax rate has doubled in five years, which is true, but not reflective of the tax bills that residents and businesses have been paying. Those bills have actually declined for the most part, because overall county government revenue from property taxes has declined.
"So your millage rates have doubled," Richter said, "and for those of you whose appraised values have come down because of the recession, what's going to happen when they go back up? They'll double."
Richter was repeating a common but inaccurate stories of tax liabilities in Florida—inaccurate on two counts: first, local governments are limited by law in raising appraisals to 3 percent annually. Second, local governments have, for the past six years, calibrated their tax rates roughly in line with the so-called rolled-back rate, meaning that they've kept their overall intake of revenue either level or below previous years' revenue. School district revenue has declined especially. Palm Coast's revenue has declined some. The county's revenue has increased, but not by much. A doubling of tax bills, in other words, in nowhere in sight for residents.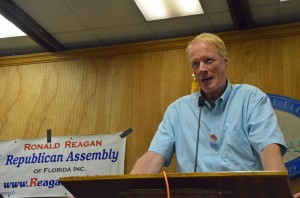 The Ronald Reagan candidate for the seat held by incumbent Republican Frank Meeker is the most visible non-elected political figure of the past two years: Dennis McDonald, a fixture at county and city meetings who narrowly lost a race against Meeker in 2012 (47 to 53 percent) and announced Monday that, even though he hadn't yet filed, he'd try again this year.
"I spend a lot of time at this podium, but usually facing the other way around" McDonald said, a reference to his appearances before the Palm Coast City Council, which also meets at the Community Center every other week. So McDonald's appearance before his own Reagan crowd was less introduction than update about his latest insurrections—the latest one having occurred just moments earlier, when he appeared before the County Commission to ask, with some outrage, why the actual acreage of the old hospital acquisition last year turns out to be about three quarters of an acre less than initially advertised, and to point out that cost overruns in the rehabilitation of that building into a sheriff's headquarters are already creeping into the books, when set against last summer's projections.
The presentations filled about an hour before Bob Hamby, the Reagan group's leader, brought proceedings to a close. "It takes some courage and even some willpower to go through what they're going through," Hamby said, urging the membership to help candidates gather the required petitions to qualify for office.