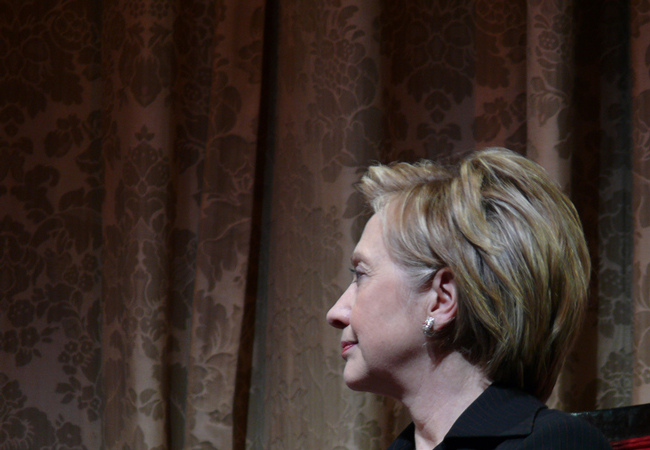 If a presidential election were held today–1,012 days from Nov. 8, 2016–Hillary Clinton would be the clear winner in Florida, beating any Republican contender by a comfortable margin, including Floridians Jeb Bush and Marco Rubio, according to a Quinnipiac University poll released today.
But if Clinton hopes to amplify her chances by relying on the Obama brand, she'll be disappointed. President Obama's approval rating in Florida is at 42 percent, his disapproval at 53 percent. It's better than in November, when it was a 40-57 split, but it is still far from the sort of numbers that could add momentum to a Democratic ticket in 2016.
Among Republicans, Bush leads a fractious field and would win a primary with 25 percent of the vote, followed by Rubio with 16 percent, Kentucky Sen. Rand Paul with 11 percent, Oklahoma Sen. Tod Cruz with 9 percent, New Jersey Gov. Chris Christie with 9 percent, and U.SD. Rep. Paul Ryan, who was Mitt Romney's running mate in 2012, with 5 percent. Among Republicans, Bush is still the favorite, if by small margins, among evangelicals and tea party voters, an unexpected weakness for Rubio, who had been a tea party favorite.
The Republican field reflects national polls in which no clear favorite has emerged for the 2016 race, in contrast with Democrats, among whom Clinton is by far the front-runner. In the Florida poll, Clinton gets 64 percent of the vote in a theoretical Democratic primary, well ahead of potential candidates such as Joe Biden (9 percent), the only name that garnered more than 5 percent. Biden is not liked in Florida: only 29 percent of respondents think he would make a good president. Other names include Elizabeth Warren, the freshman Massachusetts senator, and Andrew Cuomo, the New York governor.
The election is 34 months away, and the race itself two years away, so polls at this point have little connection to the likely outcomes of the next presidential contest, for which no candidate has yet announced. But such polls are strong indicators of trends that significantly influence pot6ential candidates' decisions to run—or to sit out the election. They also measure each party's cohesion, strengths and weaknesses, and provide at least a sense of potential candidates' strengths and vulnerabilities within states or constituencies.
For example, in a Clinton-Bush match-up, which Clinton would win 49-43 percent, each candidate would win 90 percent of his or her respective party voters, and Bush would win the vote among men 48-43, but Clinton wins the Independent vote which almost always decides elections in Florida (46-41), she wins the women's vote by a much larger margin than Bush wins the men's vote (53-40), a doubly significant number not only for its wider margin but because more women than men vote. While Bush wins the white vote, 54-38, Clinton overwhelmingly wins the black vote (89-9) and the Hispanic vote (61-28).
Clinton's numbers are especially strong against Republicans in light of her previous reputation—before she became Barack Obama's secretary of state—as a polarizing figure. Among Democrats, Florida has always been kind to Clinton, who beat Barack Obama in the 2008 presidential primary, 50 to 33 percent. At the time Clinton was the clear front-runner and Florida's was only the 6th primary contest. In other words Clinton has been in the front-runner position before, only to be overtaken in latter stages of a race. That may yet happen with a Democrat—or a Republican, should she run. But historically, no Democrat or Republican in at least a generation has had as commanding a lead so early in the process.
The Florida numbers are also skewed against Republicans, making them look weaker than they really are, because two native sons—Bush and Rubio—are in the field, and both are popular in the state. They end up splitting a vote that, in an actual race, would likely be more unified. Still, the Quinnipiac poll shows Clinton defeating each one individually, whoever would end up challenging her.
The Quinnipiac poll also points to the damage Christie, the New Jersey governor, has suffered since revelations of the scandal involving members of his administration ordering the shut-down of approach lanes to the George Washington Bridge in New York, as retaliation against the mayor of a local town who was not in lock-step with Christie's administration. The poll found that 78 percent of Floridians had heard about the bridge scandal. In November, Christie was getting 14 percent of the vote in a Florida Republican primary. He's down to 9 percent, and has also weakened in a match-up against Clinton.
"New Jersey Gov. Christopher Christie isn't finding any sun in the Sunshine State" said Peter Brown, assistant director of the Quinnipiac University Polling Institute. "'Bridgegate' is having a negative effect on his presidential fortunes in Florida. Since Florida is the nation's largest swing state, and one of the early primary states, the numbers are not good news for the New Jersey governor as he tries to weather the storm from the controversy."
As far as who would make a good president, only Clinton (58 percent) and Bush (50 percent) get positive marks in Florida. All other potential candidates get negative marks.
The actual breakdown of Clinton's theoretical contests against Republican contenders looks like this: she would beat Bush 49-43 percent, Rubio 51-41, Paul 53-38, Christie 51-35, Ryan 52-39, and Cruz 54-34.
Quinnipiac University surveyed 1,565 registered voters from Jan. 22-27, with a margin of error of plus or minus 2.5 percent. The survey included 586 Republicans with a margin of error of +/- 4.1 percentage points and 529 Democrats with a margin of error of +/- 4.3 percentage points.