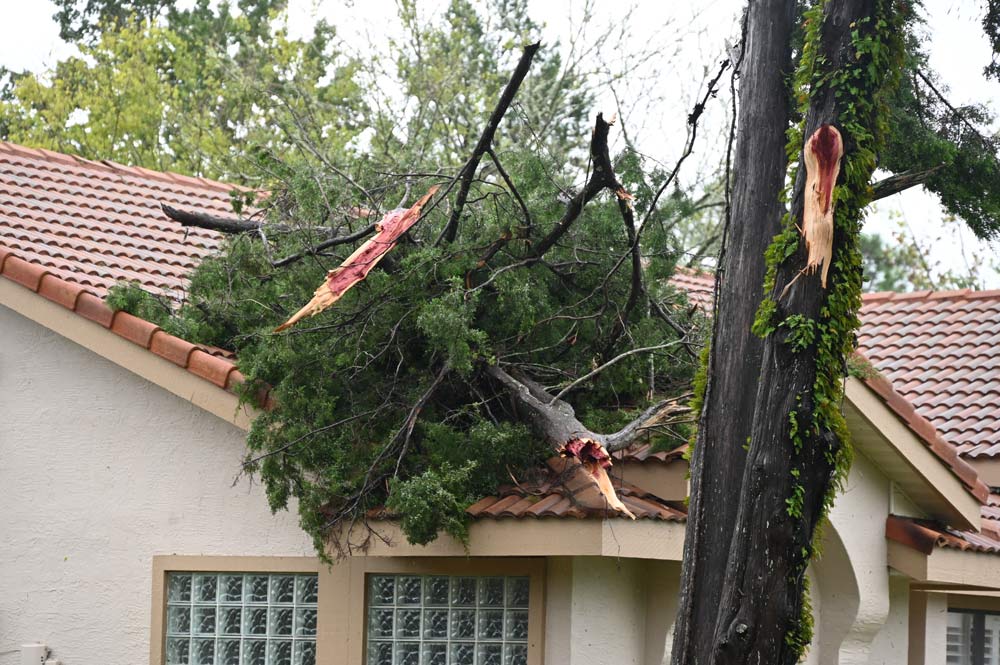 Last Updated: 4:50 p.m.
Note: if you have images of damage or damage reports, please text 386/503-3190.
A tornado touched down in Palm Coast's B-Section at 4:45 this morning, cutting a west-east swath from the area of Belle Terre Parkway at One Lakes Parkway to I-95, causing severe damage to homes along the way and making several homes inhabitable, authorities said this morning.
"We definitely had a tornado touchdown in the Indian trails neighborhood this morning, around 4:45," Palm Coast Fire Chief Kyle Berryhill said. "We will have a better idea of the total damage when we get a little bit better weather and daylight and all those kinds of things. But we know for sure that we've sustained multiple, severely damaged homes, but so far we've encountered no injuries. Fire crews, sheriff's deputies, [firefighters] from both fire departments, Flagler County Fire Rescue and Palm Coast are in the area right now."




The tornado touched down around 4:45 this morning, leaving a trail of downed trees, downed power lines, damaged roofs, fencing and power losses. There are no reports of injuries.
"I have reports of roof trusses into the ground like they were thrown to the ground like javelins, like multiple down the street from here, so definitely on the ground in this area," Berryhill said, speaking at the command center authorities established with the Sheriff's Office's mobile command at Indian Trails Sports Complex.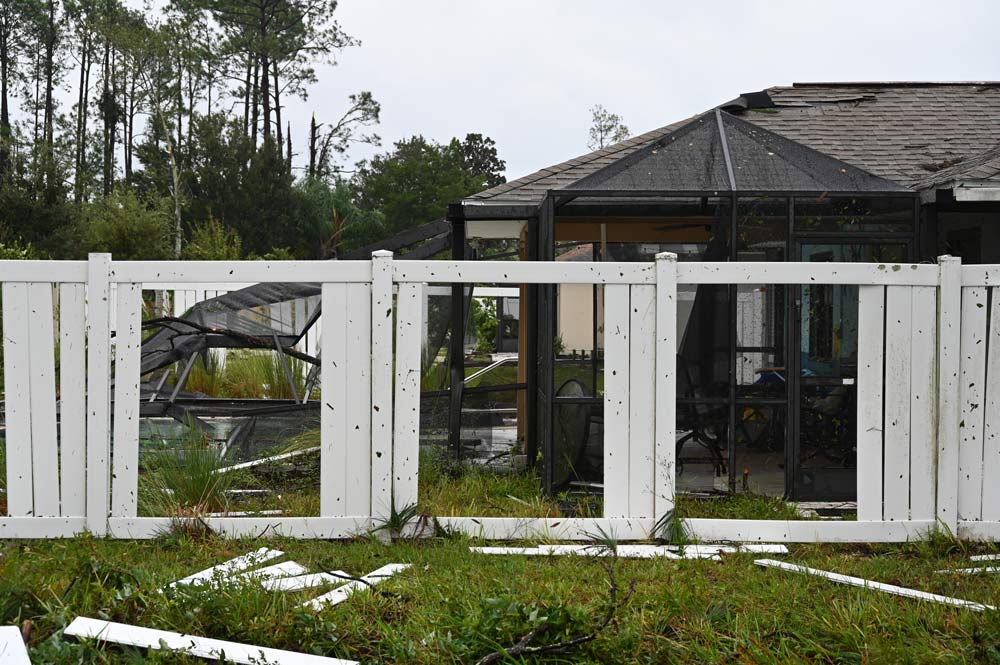 Reflecting the instability of the morning, Berryhill asked a reporter, Sheriff Rick Staly and sheriff's and city spokespersons to retreat to a Little League equipment building just before the interviews, as the area was again under a tornado warning.
At least three houses were known to have had their roofs blown off or been damaged enough to make them inhabitable.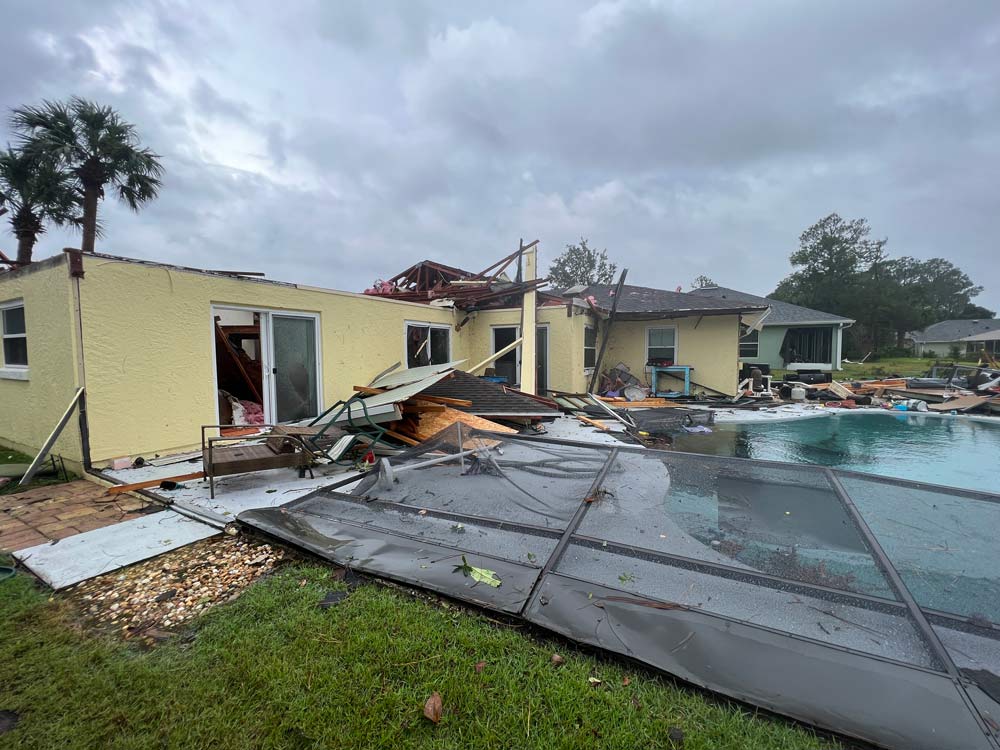 In late afternoon, Bob Pickering, Emergency Management's weather specialist, released the first estimates of the tornado's characteristics: its estimated peak winds were 115 miles per hour. That would make it an F2 tornado on the Enhanced Fujita Scale.
It traveled one mile (not counting its effects in western Flagler) and had a width of 200 yards. It touched down at 4:40 a.m. at 29.5691 latitude and -81.2483 longitude, desisting at 4:56 at 29.576/-81.2337.
The first touchdown was near the intersection of Belle Terre and Pine Lakes parkways, traveling north toward I-95. The tornado destroyed the roof of a house on Baltimore Lane, flipped a van on Birchwood Drive, and mangled several screened lanai enclosures, sheds and fences. Rainfalls so far today range from 2 to 4 inches, with continuing heavy late-afternoon downpours.




"Flagler County Emergency Management has set up at the Parkview church here on Belle Terre so both the church and county EM are there to help folks get to get some shelter for today if they don't have appropriate shelter right now," the fire chief said. Parkview is at 5435 Belle Terre Parkway. (As of 9:30, one family was already receiving assistance there.)
Several roads branching off of Belle Terre Parkway were restricted to local traffic, with traffic allowed out but not in.
On Bayside Drive at midmorning, three neighbors had gathered to debrief, across the street from several houses and yards with damaged roofs or downed trees. One of the residents described the experience as hearing a 10-second freight train pass by" "here and gone," he said of the 4:35 a.m. event. "That freight train went by for 10 seconds, down that side of the road, not this side." He pointed across the street from his driveway, to the affected side. He and his neighbors then enumerated the damage they'd heard about in their neighbors' properties, including a tree that had fallen on one neighbor's roof.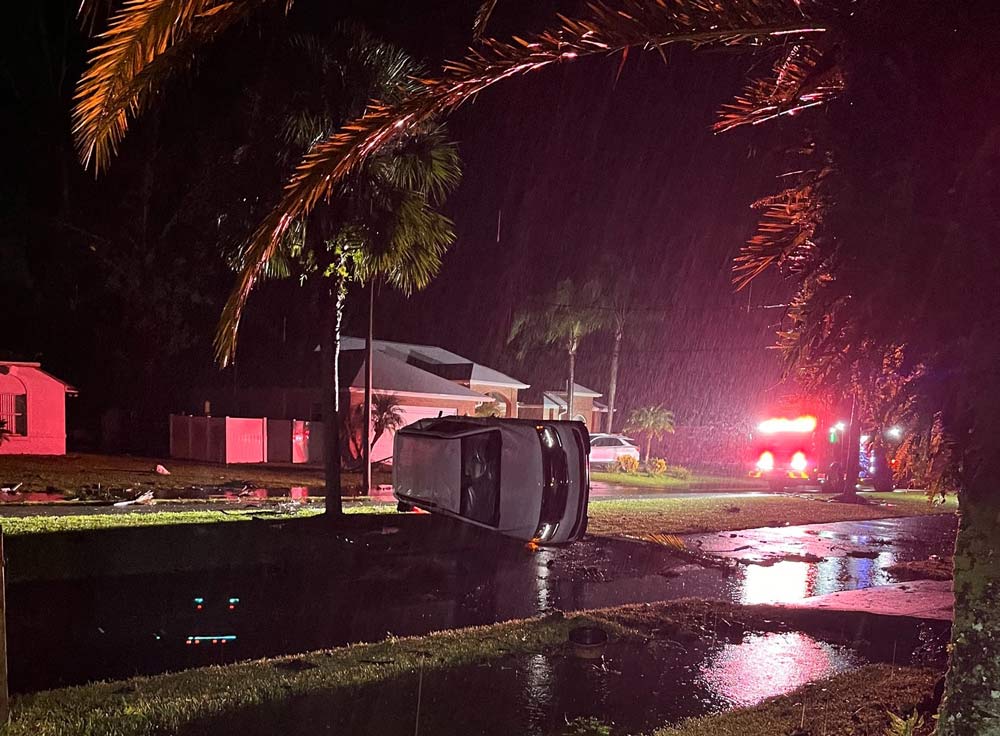 They said for two hours, the heaviest traffic had been of roofers and tree-cutting companies, knocking on every door. They weren't kidding: in the few minutes a reporter spent on Bayside Drive, three or four such contractors drove by, some stopping and handing their cards to whoever was on a property.
It appeared from observation that the tornado had cut a narrow path, in one area as if mowing through backyard after backyard along Bayside Drive, snapping trees, mangling lanai screens and whipping off fencing panels.



Jessica Myers, who runs Community Cats of Palm Coast and its thrift store at City Marketplace, happens to live on Baltimore Lane, a few houses from the affected area. "We have extended an invitation to the families here on Baltimore Lane, our neighbors, To come down to the thrift store and get any items, clothing bedding, any items that they need to get them through this," Myers said. "I would also like to extend that invitation to anybody else that may have been impacted. I know they have all been put up in hotels, but those personal items are probably what they're needing most right now."
The thrift store at 160 Cypress Point Parkway, Suite C101 (on the ground floor), is offering these items at no cost to those who need them. That include clothes, bedding or household items. "This may not be an animal related crisis, but I feel that if we have resources that can help someone in need in our community that we not only want to do so, but I think we have an obligation to help," Myers said, even providing her cell numbers for those who need to call after hours: 386/264-2684.
"We held over our night shift so we would make sure we had enough staff because we change shifts at 6 a.m.," Sheriff Rick Staly, who was at the command center, said. "Right now, we're not seeing the issues that we saw during the Starlight tornado but we won't tolerate any of that. That's why we have extra people out in these areas."
Staly was referring to the December 19, 2013 tornado that tore through Palm Coast's B, F and C Sections, demolishing numerous homes but also not injuring anyone. Deputies at the time patrolled neighborhoods to prevent looting of emptied homes, and to reduce the number of gawkers in scenes still strewn with potentially live wires and hazardous obstructions.
"And so you're going to see patrols throughout," Staly said. "The fire department and emergency management will do most of the cleanup throughout, the day. But we are here to assist them and make sure that there are aren't any issues. Also with our fire department, because it was so dark out, we were going door to door to make sure everybody was okay."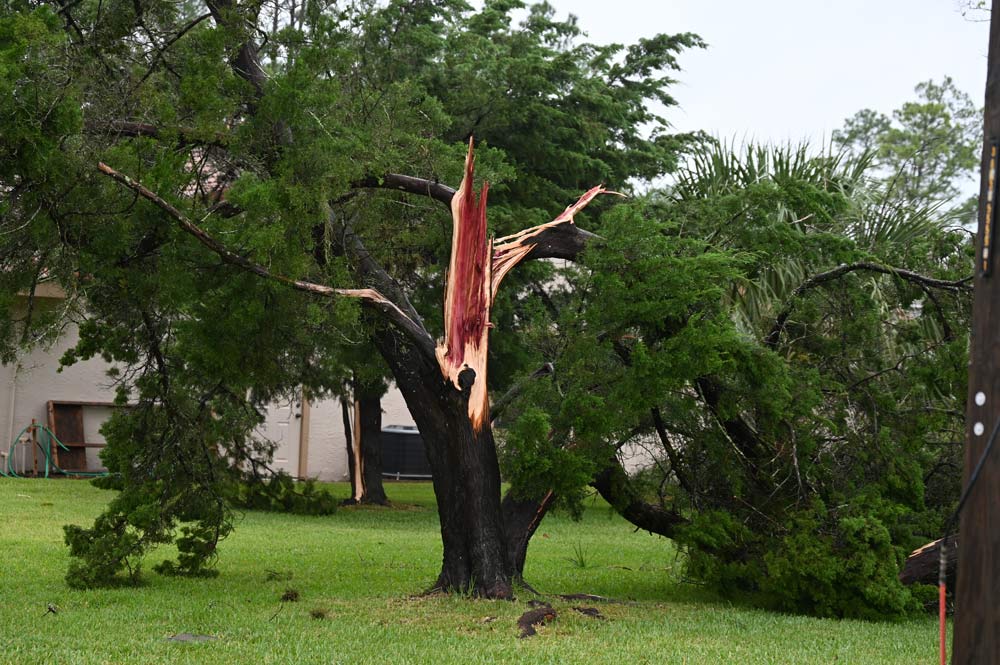 Damage has been reported in the area of Indian Trails–Birchwood Drive, Birchview Place, Barley Lane, Barrington Drive–with some 500 customers losing power initially, according to Florida Power and Light, though nearer to 8:30 a.m., that number was cut to 100. Crews were assessing the damage but darkness was making the job challenging.




"We also have some trees down on the western side of the county that could have been the initiation of the storm as it was heading heading that way, kind of in the 100, 75 and 302 area in Bunnell," Jonathan Lord, the county's emergency management director, said, referring to state and county roads.
"We do not have reports of structural damage there yet," Lord said. The tornado in the western part of the county may not have touched down, or if it did, it may have skipped and bounced.
Lord had been in the field with the Sheriff's Office, the Palm Coast Fire Department and Flagler County Fire Rescue, along with FPL and Palm Coast Public Works crews, some of which were clearing roads of tree limbs. "It's hard to see it right now, obviously daylight is when we can really see, but we don't know of any injuries at this point in time." But, he said, "we've definitely had some structures impacted. Definitely lots of wires down, trees down."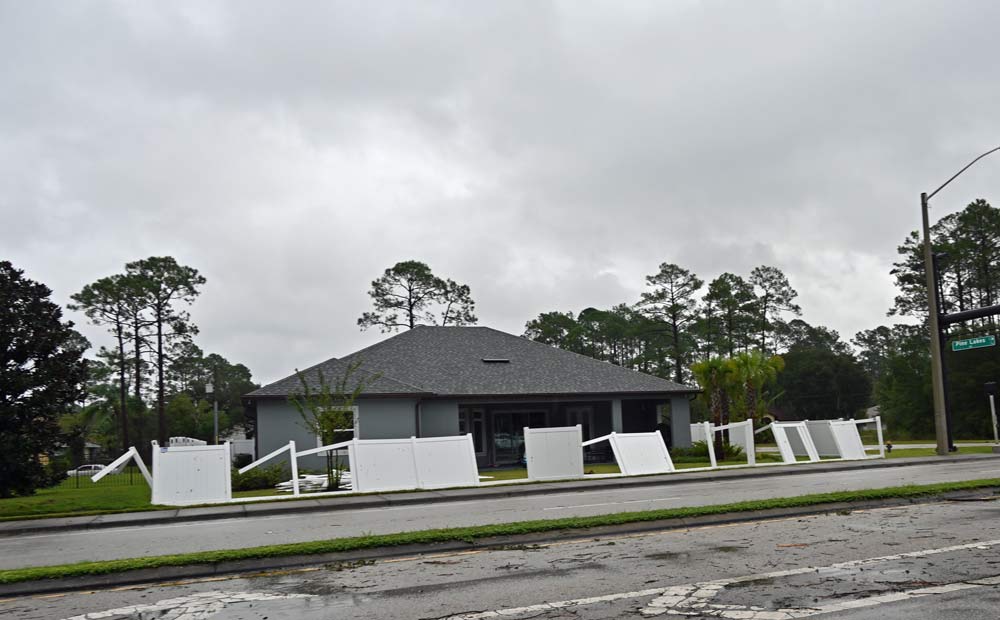 Describing what he saw before sunrise, he said, "there's definitely trees on wires on everywhere. A lot of water due to the heavy rain but that's probably all over Flagler County, as well as definitely some damage to a few homes, to roofs and things like that."
Staly again warned against gawkers traveling to the affected zones. "We know from FPL there's a little over 100 homes without power and so we want to assist those people," Stalky said, "but we don't need people right now coming into the area to gawk and look, power lines are down some trees are down. And so while it's not likely that these lines are live, they could be, so for their safety, we don't want people coming in right now. Of course daylight coming out now makes it a little easier to control egress into these areas."
There was no tornado warning locally, Lord confirmed. There was one for northern Volusia County. "I don't know what it was but it sure sounded like a tornado," Darla Pantaleone wrote on FlaglerWeatherInfo.




The city was drenched by a severe storm and whipped by strong winds in pre-dawn hours, part of a weather system that spawned confirmed tornadoes on the western part of the state around Clearwater and that moved rapidly from west to east. The National Weather Service was reporting possible touchdowns in the Clearwater Beach and Crystal River areas.
No homes were impacted on the western side of Flagler County.
The National Weather Service will determine whether in fact a tornado did touch down. "That will take over a day maybe two days," Lord said, "they have to come out, they have to look at the incident scene, they have to look at the debris pattern, then they look at their radar signatures and all that stuff. So that's not something that we'll know right away. And luckily, that doesn't really impact the response. That's kind of an after the fact."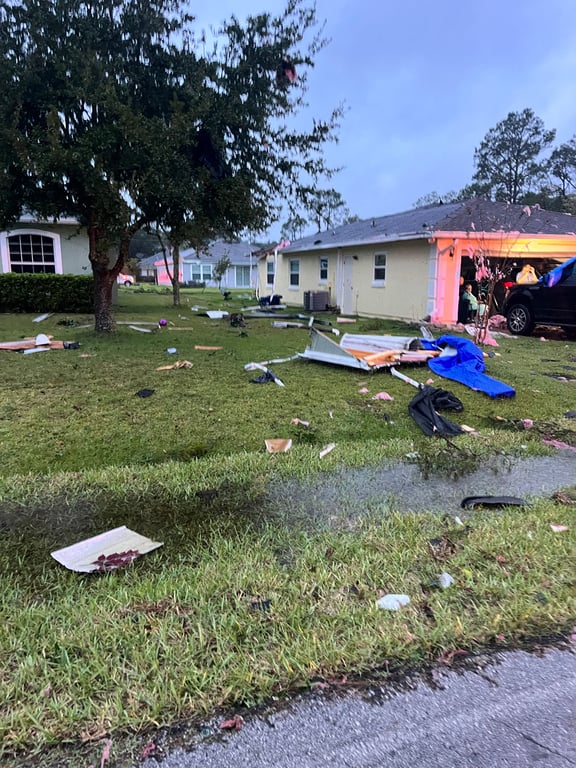 A tornado warning remained in effect for west0central Flagler County and southeastern Putnam until 7:15 a.m., according to the National Weather Service in Jacksonville. A severe thunderstorm capable of producing a tornado was located over Fruitland, or near Pomona Park, on the western side of Crescent Lake, moving northeast at 45 mph. The storm was expected to reach Andalusia in western Flagler County at 7 a.m.
At 7:04 a.m., the weather service reported that doppler radar was tracking gusty showers capable of producing a landspout over Andalusia, moving northeast at 45 mph.
A tornado watch was in effect for all of Flagler County until 9 a.m. and a flood advisory was in effect until 8:30 a.m. The weather service was forecasting continued thunderstorms with gusty winds and heavy rainfall this morning, with southwest winds 15 to 20 mph with gusts up to 35 mph.
A school district spokesperson said buses are running their normal schedule this morning.
[This is a developing story.]