The relief mixed with excitement was very evident in Jessica Myers' voice.
The Executive Director of Community Cats of Palm Coast (CCOPC), the non-profit cat rescue operation that forged the city's trap-neuter-release program, has had a rough few years, filled with court appearances and fights with her previous landlord at Alamo Business Center in Palm Coast.




But now, all that is behind Myers and her team. They're set for the grand opening of their new location at City Marketplace this Saturday from 1 to 4 p.m.
Community Cats of Palm Coast, which operates the adoption shelter at 160 Cypress Point Parkway, Suite B-110, and a thrift store there at Suite C-101 (upstairs and downstairs), has been in business for 10 years, helping rescue, trap and deal with feline problems in the area. Myers said they've rescued and helped more than 2,500 cats in the past decade. They are a separate entity from Flagler Humane Society, though Myers said they do a lot of rescuing and trapping for the society.
"We're so excited to have people find us and learn exactly what we do," Myers said. "Being located in this great space where everyone can see us will be great, it will make us even more a part of the community."
The thrift store helps generate revenue. It sells clothing, kitchen items, small appliances, linens, shoes, some electronics and flatscreen televisions, among other items.




For the last few years Myers and Community Cats have been embroiled in disputes with their previous landlord, some of which resulted in court appearances. The dispute led to the departure from the previous location.
Community Cats can house 15 to 20 cats at the new location, and also fosters approximately 60 others with families in and around Flagler County.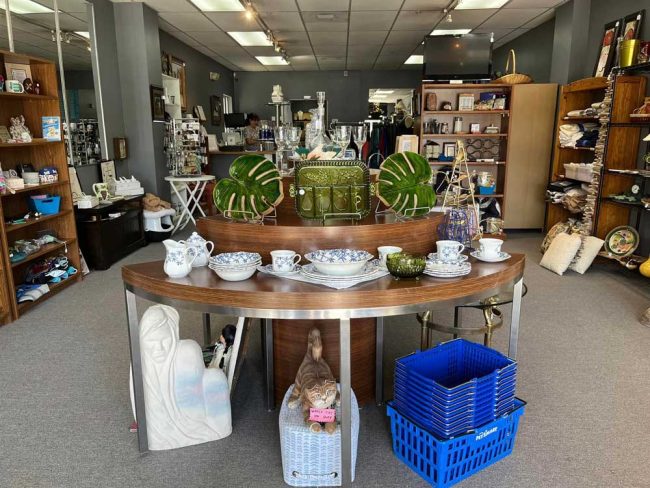 The new site "will be a free roam adoption center," Myers said. "That's a plus because people can interact with the cats, spend some time with them, and see if there's a cat that would be a good fit." It's not one way: Cats are known to be particular about who they choose.
Myers sought to clear up some misconceptions about Community Cats, its funding, and how animal control works in Flagler County and its towns. The cities of Bunnell and Flagler Beach have contracts with the Flagler Humane Society (FHS), also a non-profit, but Palm Coast does not.
Palm Coast has its own animal control services division, with three officers, operating within the Code Enforcement Department. But the city only deal with nuisance animals. Flagler County has an Animal Services Department funded by the county commission. It works with the Humane Society to shelter stray animals. FHS receives money from the county each time they take in a stray animal. This year's budget awards $276,000 to the Humane Society, up from $211,000 in 2020.
However, Community Cats is the only group in Flagler County that does TNR. Yet it receives no money from either the county or Palm Coast government.




"Flagler County has said we're welcome to bid on the entire contract to handle TNR, but that would mean also dealing with dogs, which we're not equipped to do right now," Myers said. "And we are often called to help with TNR by the Humane Society, and we get no funding for doing that as well."
There is a "huge" overpopulation problem with cats in Flagler County, Myers said, partly because it's one of the few counties in Florida that does not have a dedicated, active TNR program, leaving it to organizations like hers to handle.
Myers said the rent and expenses on their new locations for the thrift store and adoption centers is around $7,000 per month (compared to $4,500 at the previous location, according to court documents), and that Community Cats's annual revenue is just under $50,000 per year (All of CCOPC's staff are volunteers). In comparison, Flagler Humane Society had $1.5 million in revenue in 2020, according to that year's tax filing.
"It's frustrating to us sometimes because the public thinks that FHS is the county, when they're the same as us," Myers said.
As far as what people can expect if they're just discovering Community Cats, Myers added that potential adopters of the cats go through a process of an initial interview, and a rigorous screening and vetting process.
The thrift store acts as a fundraising tool for the adoption center, Myers explained, and they're hoping in their new site CCOPC can hold more adoption events and public gatherings.
"We're excited to show the community all the services we offer and have more people discover what we're about," Myers said.
–Michael Lewis for FlaglerLive