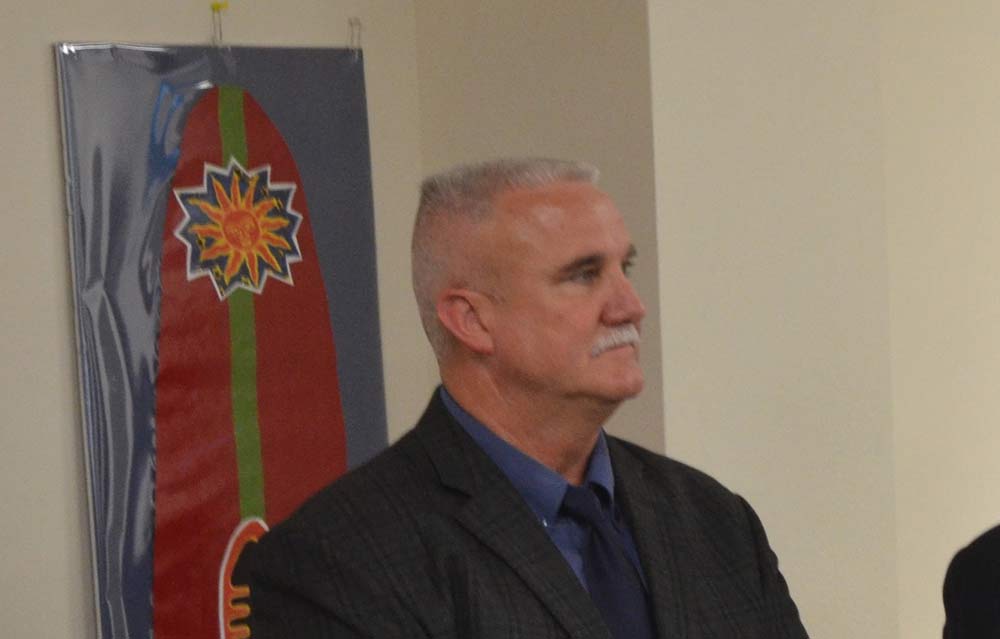 An attorney the Flagler County School Board hired to investigate various employee complaints about Wadsworth Elementary principal Paul Peacock concluded his work last week, and gave Peacock until Friday to respond. Peacock did. The attorney is currently reviewing the response before finalizing his report.
Today, when the district posted a list of 52 administrators the superintendent is reappointing, Peacock's name was not on it, as it had been year after year around this time since he began working in the district in 2005.




Board Attorney Kristy Gavin was quick to caution not to read too much into the name's absence. "That's not a complete list," she said. "That document continues to be updated until the night of the meeting when the board is going to take action." That meeting is on June 20.
At the same time, there was no question that Peacock's absence from the list was not incidental. "His name not being on it is because we are still awaiting the investigation's completion," Gavin said.
Peacock has been on paid administrative leave since May 8, when incoming Interim Superintendent LaShakia Moore hand-delivered his notice to leave campus pending the outcome of the investigation.
Controversy swirled around Peacock before that, since reports detailed to what extent his working relationship with Sally Hunt, the school board member, had involved some orchestration–and coaching on Peacock's part, in the form of an explicit email–on how to put in effect a motion to fire Superintendent Cathy Mittelstadt.




That was in February. The board voted 3-2 not to renew Mittelstadt's contract on April 4, with Hunt the swing voter. Hunt has since distanced herself from Peacock, ending her role as Wadsworth Elementary's board liaison.
Peacock had also brought a grievance to the board over a stipend he argued he was owed from previous service on the district's collective bargaining team. He lost the grievance, which may have been an attempt to divert attention from other issues, or set up Peacock's defense against unrelated complaints: he has since argued that the investigation by the independent attorney is retaliation.
The board hired David Delaney to conduct the investigation independent of district staff because Bob Ouellette, the district administrator who normally conducts all internal investigation, had investigated Peacock–only for Peacock to file a complaint against Ouellette. That complaint sidelined Ouellette, since it would have been a conflict of interest for him to continue investigating Peacock. In essence, Peacock's tactic removed his investigator.
Then came Delaney, a lawyer with Weiss Serota Helfman Cole and Bierman, the Gainesville law firm, and the school board attorney in Levy and Alachua counties. Delaney met with all the individuals he needed to meet with, including school board members. But as of today, the district was "still waiting on the final letter with the report."




Gavin did not disclose the report's findings since it was not complete, and could materially change based on what Peacock had turned in by Friday. "Whatever Paul gave him may impact his findings–I don't know," she said.
Peacock is represented by Michael Chiumento III, the Palm Coast attorney who had also sought to meet with Hunt in the run-up to Mittelstadt's firing, and who was part of a push from the local, self-styled chamber of commerce against Mittlestadt.
Normally when a district employee does not appear on a list of re-appointments, "that means his contract is not being renewed," Cheryl Massaro, who chairs the school board, said. "Every administrator in our system is on an annual contract." The superintendent either renews that contract or not, every year. "It's at the discretion of the superintendent."
There is no formal avenue of appeal., like a grievance, when a contract is not renewed, though pressure can be brought to bear on district or board officials in an attempt to reverse the decision. In this case, the fluidity of the list is such that Peacock's fate has not, in fact, reached the point of non-appointment until the board's vote in three weeks–or until the investigative report reveals something that would put a reappointment out of bounds.
Delaney is expected to finalize his report "within the next week to 10 days," possibly sooner, Gavin said.
Should Peacock not be reappointed, that would open the principal's position at Wadsworth Elementary yet again. Peacock was assigned there last summer after serving as a high-placed district administrator for operations, a reassignment he took as a demotion. The superintendent explained it as needing to have an experienced principal at a school that needed steering.
The appointment of a new principal, if it comes to that, would likely be the responsibility of Moore, as interim, since Mittelstadt's last day with the district is in a month.